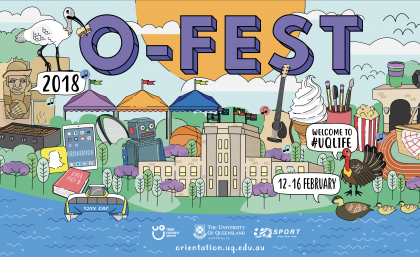 The University of Queensland welcomes more than 10,000 new undergraduate and postgraduate students this week to #UQLife – a fun-filled four-week festival of orientation activities and events.
The first cab off the rank is O-Fest – a five-day orientation extravaganza running from 12-16 February. Activities include program welcomes, campus tours, daily live entertainment, moonlight movies, sport and games, speed friending and a welcome BBQ.
For students new to the Faculty of Business, Economics and Law, Deanne Strachan, Manager, Student Experience (Student Support) said her advice was to make the most of O-Fest.
"Take advantage of all of the activities happening during O-Fest, which includes your compulsory program and Faculty welcomes," she said.
"I would add that what happens after O-Fest is just as important: remember to go to class next week. You'll miss out on so much if you don't."
Ms Strachan leads the BEL Student Experience Team, which provides invaluable academic and administrative support to undergraduate BEL students throughout their studies.
Ms Strachan said her team was available to field undergraduate students' questions and concerns.
"If you're a new student and you have any questions about planning your program or course enrolment, or you're a returning student wanting to know if you're on track to graduate, please contact us," she said.
"We're here to assist but we need you to reach out. We won't know you need help unless you tell us."
Returning students are also encouraged to get involved in the O-Fest festivities and mingle with the first-year cohort.
"This week, focus on joining UQ student societies and increasing your networks," Ms Strachan said.
O-Fest will run all week from 12-16 February. UQ's famous Market Day will be held at St Lucia on 14 February, featuring countless stalls, more than 200 UQU clubs and societies looking to sign up new recruits, music, performances, chill-out zones and giveaways including UQ t-shirts and showbags.
Compulsory BEL Faculty Undergraduate Student Welcome sessions for new students will be held on Tuesday 13 February and Wednesday 14 February during O-Fest. Students are only required to attend one session. 
Following O-Fest, the #UQLife festival continues with Connect Week (19-23 February), Culture Week (26 February-2 March) and Success Week (5-9 March).
View the full #UQLife program.
Any questions? BEL undergraduate students should contact the Student Experience Team. BEL postgraduate students should contact their School – Business | Economics | Law
Contact: BEL Communications, Alysha Hilevuo, media@bel.uq.edu.au, 07) 3346 9349.