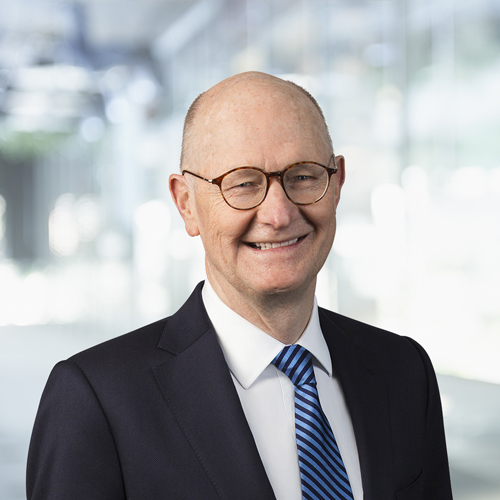 The University of Queensland (UQ) Business School today announced the appointment of Professor David R. Gallagher as the inaugural Malcolm Broomhead Chair in Finance.
The internationally regarded professor has held professorial appointments at UNSW Business School, UTS Business School, and a visiting appointment at the University of Texas at Austin.
During the period 2013-16 he was the Chief Executive Officer of the $41 million Centre of Excellence in International Finance and Regulation (CIFR), established by the Commonwealth Government and the New South Wales Government, and funded by consortium universities and industry partners.  CIFR actively engaged with Australia's cornerstone financial regulators to deliver relevant industry and policy research.
UQ Business School's Dean and Head Professor Julie Cogin said Professor Gallagher's research interests and expertise in the fields of investment management, superannuation and capital markets, coupled with his proven leadership and established national industry, government and media networks made him the ideal candidate for this highly anticipated position.
"After a competitive international search, I am incredibly excited to appoint exemplary academic Professor David R. Gallagher as the inaugural Malcolm Broomhead Chair in Finance," Professor Cogin said.
"Professor Gallagher's industry-centric approach, networks and enthusiasm to mentor other staff to engage with industry will accelerate our strategy."
The newly appointed position has been named in honour of Malcolm Broomhead, UQ alumnus and eminent businessman, in recognition of a $3 million gift to UQ Business School.
Mr Broomhead said that the primary purpose of the position is to provide leadership in the further development of the School's academic and research programs, to engage undergraduate and postgraduate teaming as well as to conduct high quality research.
"The University of Queensland Business School is one of the world leaders in its field and it is great to see the appointment of the new Finance Chair whom I am sure will further strengthen the prestige and performance of the School," Mr Broomhead said.
Professor Gallagher said that the prestige of holding the inaugural Malcolm Broomhead Chair in Finance at UQ Business School is a deep honour.
"Over the last 50 years, UQ has disproportionately produced some of the best finance students in the country, who have gone on to build stellar academic and industry careers. Malcolm Broomhead's generous gift will further strengthen UQ Business School's standing for excellence in teaching, research, leadership, mentoring and industry engagement," Professor Gallagher said.
"The financial sector in Australia has endured significant scrutiny and review from government inquiries over the past ten years. The current Royal Commission into the banking industry, once completed, will likely report wide-ranging findings and recommendations that will underscore the need to improve the culture, trust, integrity, transparency, and overall functionality of the financial industry.
"Importantly, this role will help facilitate the translation of finance scholarship to solve industry problems. Today academics as independent experts are required, more than ever, to play an increasingly important practical role in contributing their expertise and knowledge, in repairing the reputation of the sector, and enhancing its operation," he said.
Before his academic career, Professor Gallagher was a doctoral student, graduating with a PhD in Finance from The University of Sydney Business School in 2002, and prior to this was a financial analyst at Towers Perrin Inc (now Willis Towers Watson), an actuarial and investment consulting firm.
On the research front, Professor Gallagher has been widely cited and his research rank is within the top .5% of authors on the Social Sciences Research Network (SSRN).  He has more than 95 per cent of his scholarly publications published in A* and A journals.
He is one of the current Editors of Accounting and Finance and has previously served as Area Editor (Finance) and Deputy Editor for the Australian Journal of Management.
Additionally, he is positioned as a regular commentator in financial media, most recently on issues before the Royal Commission into the Banking Sector.
"There is no doubt in my mind that within the current climate, UQ is the place to further my academic and industry pursuits as we develop finance leaders with the knowledge, skills, and tools they will need in a fast-paced and innovative sector that is vital for the economic well-being of the country," Professor Gallagher said.