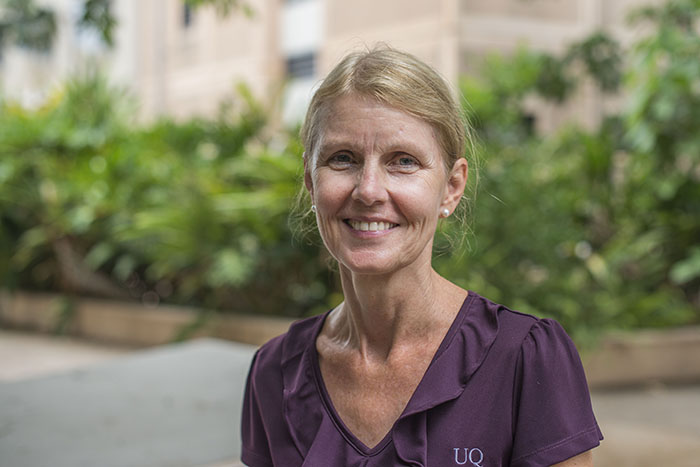 Bev Forrest
Finance Officer
Bev Forrest is a study in perseverance.
Although she is now one of the BEL Faculty's finance officers, Bev began her career in a wildly different field on the other side of the world. The job? Nursing and midwifery. The location? Cambridge, England.
After moving back to Australia, marrying her husband, Tim, and taking a 17 year career break to raise their four children, Bev's midwifery registration had lapsed.
Eager to try something new, she retrained in finance, worked briefly in the commercial sector then secured casual employment at UQ's School of Agriculture and Food Sciences in 2008. Soon enough, an opportunity opened up in the School's finance team.
Despite being new to finance at UQ, Bev was determined to master it all. She took several UQ staff development courses and began to learn the ropes. 
"The year UniFi was introduced, I came in," she said.
"It was absolutely wonderful because everyone was new to the system so I blended in perfectly. I learnt finance and I loved it, and haven't looked back."
Bev has been a mainstay at the University ever since. Over 10 years, she has also worked for the Institute for Molecular Bioscience, the School of Economics, the TC Beirne School of Law and the BEL Faculty (twice!).
In her busy new role at the Faculty, Bev works with the wider BEL finance team to assist staff and students with their transactions and travel.
"For academics, we check travel, make sure they have enough in their funds to process payment, and teach them skills using the systems in place," she said.
"We also help students with Endeavour Grants and scholarships, and we process claims for things like travel for competitions and overseas courses."
For Bev, there are more parallels between midwifery and finance than meet the eye.
"Both jobs have the same type of focus – the client," she said.
"The way you interact with your client in finance is quite similar to patient care. It's so important for whatever happens, good or bad.
"I think if I approached my job in finance as a desk job, it wouldn't work for me. It's all about the people.
"I absolutely love talking to and helping others; it gives me joy."
Bev's benevolent nature likely stems from her parents, who worked as missionaries overseas throughout her childhood.
"I went to boarding school from the age of six and attended eight different schools growing up," she said.
"We spent time in Taiwan, Australia, England and Malaysia.
"My first language was actually Hokkien, but because we moved around so much I've forgotten all of it."
Today, Bev is happily based in Brisbane with her family, most of whom have strong ties to UQ.
Her husband Tim is the School Manager of the School of Biomedical Sciences. Two of her four children – Joshua, a 26-year-old town planner, Rachel, a 24-year-old nurse, Ruthie, a 22-year-old chemical engineer, and Jake, a 20-year-old justice student – graduated from UQ.
Bev is also a proud Nanna; her gorgeous grandson Samuel was born in 2015.
When she's not at work, Bev loves simple pleasures: reading, taking daily walks with Tim, spending time with her family, and going for long, scenic drives.
Bev said she would describe her time at UQ as "amazing".
"It's an experience I never thought I'd have," she said.
"I feel grateful for the opportunities I've had, and the wonderful and approachable mentors, supervisors and colleagues who have helped me along the way.
"Working with the new BEL finance team has been great. We support each other and try to answer questions or give advice when it's needed. The sense of team is definitely coming together."