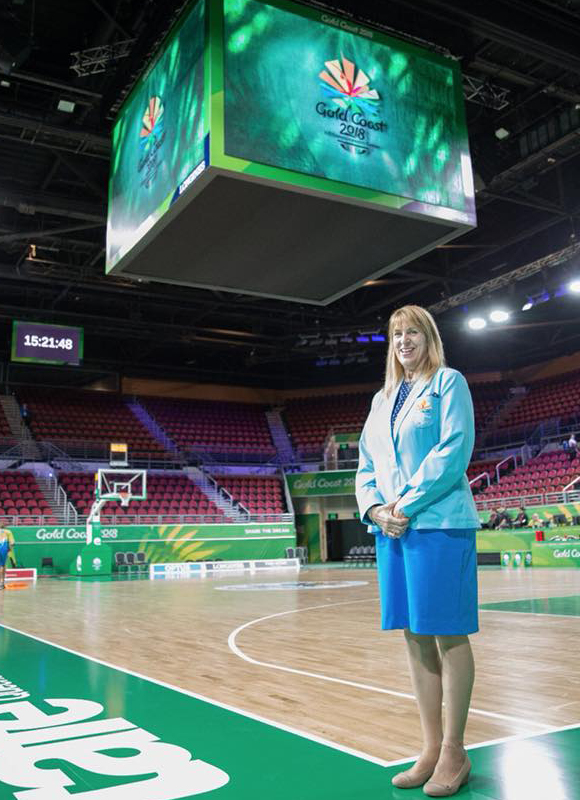 When you think of basketball, statistics (stats) isn't usually the first word that comes to mind. After a quick chat with Carlene Kirvan (Community Engagement Program Coordinator), you will conclude that the statistics processes behind the game are possibly more fast-paced and complicated than the game itself.
Having just returned from her volunteer role as a basketball statistician sitting alongside other technical officials at the Commonwealth Games, Carlene's passion for recording basketball stats knows no bounds.
A basketball statistician is a technical official who is responsible for recording the actions of both teams during the game. There are five statisticians working at each professional level game. Under the head stats supervisor, the "caller" calls the actions,  "inputter 1" enters the actions into the main computer, the "spotter" double checks the entries for accuracy, and "inputter 2" acts as a backup on a second computer. Throughout the tournament there are opportunities to swap roles, and the team must work harmoniously to ensure they keep up with the high speed and complexities of the game by recording the play-by-play accurately. This is not a job for the faint-hearted.
As a level 2 accredited statistician, Carlene's journey to the stats bench began when she was an assistant at her daughter's representative level basketball games in 2012. She picked up the skills quickly and was invited to work at the semi-professional Waratah League in New South Wales. Since then, Carlene has been a basketball statistician at national junior competitions, international wheelchair basketball competitions, the Women's National Basketball League in Sydney, the Queensland Basketball League, and Brisbane's National Basketball League team, the Brisbane Bullets.
Volunteering at the Commonwealth Games was a highlight for Carlene, both professionally and personally. While her transport and accommodation was covered for Cairns and the Gold Coast, the honour of being selected among statisticians all over Australia was reward enough and a testament to her expertise.

"It is funny how often we take what we know for granted," she said.
"I don't think I had fully assessed the level of knowledge and skills I have acquired over the years until I was selected as a technical official for CG2018. Even chatting about what it is that we do makes me appreciate the achievement even more."
A highlight of her Commonwealth Games career involved looking up across the court into the front rows to see one of Australia's top women's basketballers, Lauren Jackson, having a chat with Prince Charles while watching the game. Carlene believes that Lauren may have been giving the Prince of Wales some quick tips on how the game actually works.

"I was also fortunate to be rostered on the India vs New Zealand women's game, as well as the Australian vs England women's semi-final and two Australian men's games."
Some challenges Carlene overcame along the way involved learning an unfamiliar statistician program in three days, being restricted from posting about the games on social media until the closing ceremony, contracting a nasty virus, and missing her family. Despite these challenges, the friendships made and the experience Carlene gained has made it all worthwhile.

"The Longines (the CG2018 official timekeeper) basketball crew were very impressed with our ability to learn their software quickly and to work cohesively as a team that produced results with such a high level of accuracy," she said. "It is a testimony to our level of professionalism".
Along with a wardrobe full of official uniforms and some great merchandise to remind her of this wonderful experience, Carlene was awarded a commemorative medal and set of pins to thank her for her participation and dedication as a 2018 Commonwealth Games basketball technical official.