Spotlight on Belinda Van Der Merwe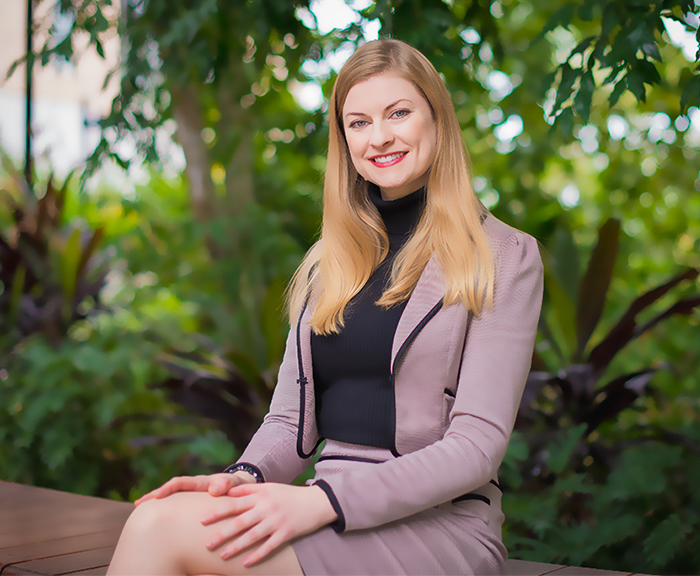 Belinda Van Der Merwe
Student Experience Officer
For BEL Student Experience Officer, qualified massage therapist and aromatherapist Belinda Van Der Merwe, healing is at the heart of everything she does.
Belinda is a part-time member of BEL's Student Experience Team, where she processes student applications, deals with progression checks and answers program-related enquiries.
"My role at UQ is really important to me," she said.
"I enjoy giving advice to students. I want the experience to be positive for them as much as possible; my goal is for each student to walk away with a sense of clarity and a good feeling about the service I've provided."
When she's not steering students on the path to academic success, Belinda owns and operates Essential Restorative Massage, her mobile and in-home massage therapy business. Since 2015, she has offered her clients aromatherapy and remedial, Swedish and oncology massage therapy.
"The power of touch to help people is incredible," she said.
"I have a special place in my heart for my oncology clients. It's humbling to be around them. They're exposed to a lot and in a vulnerable state, and for them to place their trust in me is huge.
"Oncology massage is very different to the other massage I do. It's gentle, quiet and calm, and tailored for whatever treatment my clients are experiencing and their type of cancer to make sure it's safe. It actually has a lot of benefits; it reduces pain, nausea and headaches and improves sleep. It can help with mental health too, reducing depression and anxiety for some patients.
"I also love aromatherapy massage because it's really nurturing. My aromatherapy clients are primarily women who are always looking after others, so it's nice that they can take some time for me to look after them."
Belinda is extremely hands-on with her business. A creative person by nature, she designed her own website and logo, and established a blog and a presence on Instagram and Facebook.
In 2017, she branched out and began selling therapeutic grade essential oils, as well as making and selling her own natural aromatherapy products, including face oils, natural aromatherapy perfumes and bespoke perfumes.
Belinda is also working towards a Diploma of Holistic Counselling, a qualification she hopes to earn by the end of 2019.
"I'm quite a heart-centred person; in everything that I do, I'm thinking about the bigger picture of how it's going to help other people. Again, it all leads back to my passion for healing," she said.
When she's not working or studying, Belinda loves listening to music, travelling (she has been to Europe, Singapore and Fiji so far), being in nature, and spending time with her beloved cat, Jill (who only responds to 'Pusscat').  
"Pusscat was originally a street cat so she kind of chose me," she said.
"I invited her in one day and she has been with me ever since, even moving with me across Australia. She's very chilled out and friendly to everyone, including my clients."
So how did Belinda get to where she is today? Born in Zimbabwe and raised in Perth, she started out working in administration, but her innate passion for natural medicine and health soon led her to a student support role at Endeavour College of Natural Health – and eventually her studies in massage and aromatherapy.
In November 2008, Belinda moved to Brisbane and took on a course administration role at the School of Economics in January 2009, joining the BEL Faculty in 2012. She continued to study massage while working full-time until she launched her business.
Belinda said she was grateful for the endless encouragement of her supervisors and team, who supported her in her decision to work part-time so she could pursue her dream.
"I'm thankful to have that balance with my job here but also the ability to follow my passion," she said.
"I'm proud to have strong working relationships; we have a wonderful team environment, which always makes a difference. I don't experience that with my massage work because I work alone, so coming to UQ and interacting with other staff is great."
Given her story, Belinda is a firm believer that anything is possible with a little focus, determination and spirit. 
"Running my own business has been a lot of hard work, but I feel that if you stick with something, you put in the effort and your heart's in the right place, it does pay off," she said.
"When I first started my business, I had all these thoughts: 'What if this doesn't work out? What if I invest money and nothing comes of it?'
"You've got to understand that fear is normal. Listen to your heart; what does it want?"