Spotlight on Aliisa Mylonas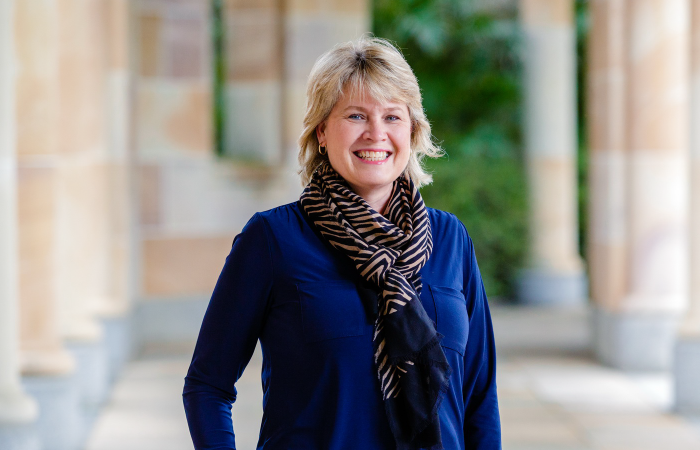 Aliisa Mylonas
Senior Education Manager
Aliisa Mylonas was destined to end up in education. As a child, she would gather her friends from the neighbourhood, line them up in front of the blackboard under her house, and teach lessons off the cuff.
But it wasn't until Aliisa's final year of school – when a teacher encouraged her to choose secondary teaching over journalism – that the pieces fell into place. She completed a Diploma of Teaching followed by a Bachelor of Education and quickly fell in love with the art of pedagogy. 
"The first moment I walked onto the campus, I just knew I belonged and it was what I needed to be doing," she said.
After graduation, Aliisa enjoyed teaching secondary business education in both the state and private education systems.
Although she eventually moved on, Aliisa never left the education sector. She completed her Master of Education and accepted a job as a lecturer in business education at QUT; from there, she moved into the university's teaching and learning support services.
Aliisa has been at UQ on and off (but mostly on) since 2009. Before starting her new position at BEL in September this year, she worked in various learning and teaching roles at the former School of Tourism, TEDI (now known as ITaLI) and UQ Business School.
She is also experienced in the learning and teaching awards space, having served as an awards mentor for two institutions and across multiple schools and faculties.
Aliisa is one of two new Senior Education Managers at the BEL Faculty, where she is focused on the first-year experience, academic skills development and support for students, curriculum and assessment design and development, and building a community of practice around teaching at the Faculty.
According to Aliisa, the BEL community of practice (CoP) is starting to take shape, with one in the area of blended learning already underway, and a second one about to launch. These communities support BEL academics in their learning and teaching practices by allowing them to reflect, review, share and progress their ideas in a safe and supportive environment.
"I'm passionate about ensuring that we have a great induction and support process for new and continuing staff, and that we make strong connections across our three schools," she said.
"Part of what I'm doing now is sitting on two schools' education committees. I loathe reinventing the wheel, so if I learn that someone is already doing something fantastic, I want other people to know about it.
"My job is to ask questions, listen, and try to proactively bring people together and get them all on the same page. We can do things better if we work together."
Aliisa said she felt very optimistic about the future of learning and teaching at BEL.
"I see that BEL has the capacity to be a leader in the learning and teaching space," she said.
"I'm keen to share our innovations and conversations with areas like ITaLI so we can help inform what's happening across the entire University."
Like her colleague Angie Knaggs, Aliisa's inbox is always open – but since she's frequently on the go, meetings over coffee are often on the cards. 
When she's not busy trying to make a difference in learning and teaching, Aliisa splits her time between her family and business interests, and some hidden talents and hobbies.
After a few years out of the game, she has recently started playing five-a-side soccer with a team of soccer mums. Aliisa is also a board member for the Australasian Promotional Products Association, a musical theatre enthusiast, a novice creator of kids' birthday cakes and self-confessed book junkie.
Given her love of reading, it makes sense that Aliisa is also a talented writer, with previous experience writing business textbooks for Queensland secondary school students.
Above all, Aliisa believes that education is the key to getting ahead, and she enjoys sponsoring educational initiatives in her community.
This belief stems from her colourful background as the proud daughter of two migrants, a Finnish father and a New Zealand-born mother of Irish-Scottish descent.
"Because they were new to Australia, my parents had to work extremely hard to establish their own business," Aliisa said.
"Watching them instilled in me and my siblings the understanding that education and a good work ethic were everything.
"To this day, I believe that's true. It's why I'm so invested in what I do."