Global Connection 2.0 Webinar - The future of work: How the COVID disruption is accelerating changes
18 November 2020

5:30pm

–

6:30pm
Date: Wednesday 18 November 2020
Time: 5.30pm - 6.30pm AEST
Cost: Free, but registration is essential
RSVP: Registrations will close at 10am on Monday 16 November 2020. For security reasons, only those registered will be provided with the Zoom webinar link.
About the event
For many of us, this year has seen a huge disruption to the way we work and our physical workplaces. Embracing digital and flexible work arrangements is going to be essential for organisations – large and small – to continue to operate. Productivity may be higher, but at what cost? Who benefits? What effect will this have on HR practices and how we will react to not only the way we work but also the way we interact with our peers and people close to us.
Join us at this special Global Connection 2.0 webinar organised by the Faculty of Business, Economics and Law (BEL) and hosted by Deputy Executive Dean, Professor Phil Bodman. Guest speakers Associate Professor Remi Ayoko (PhD '03, MBA '97), UQ Business School, and alumnus John Holding (MBA '12), Group Executive, People & Performance at Nufarm, will explore the topic "The future of work: How the COVID disruption is accelerating changes" using the Nufarm experience as a case study and discussing some of the lessons learned in leading through a crisis.
All UQ alumni are welcome to attend this webinar.
About the speakers
Remi Ayoko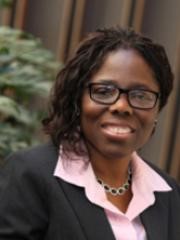 UQ Business School, Associate Professor, Remi Ayoko
MBA '97, PhD ' 03
Oluremi (Remi) is an Associate Professor of Management in the UQ Business School at the University of Queensland, Australia. Remi came to the UQ Business School in 2000. Prior to this, she has had extensive teaching experience in tertiary institutions across three nations. She is a Senior Fellow of the Higher Education Academy (SFHEA). Remi's principal research interests include conflict management, emotions, leadership, diversity, teamwork and employee physical work environment and territoriality.
The results of her cutting-edge research have been presented in several international (e.g. US Academy of Management - AOM, European Group for Organizational Studies-EGOS & International Association of Conflict Management - IACM conference) and national conferences (e.g. Australia and New Zealand Academy of Management-ANZAM).
Remi is an award-winning researcher and has published in reputable journals such as Journal of Organizational Behavior (JOB), Organization Studies (OS), Applied Psychology: An International Review (APIR), International Journal of Conflict Management (IJCM), and Journal of Business Ethics (JBE) and Small Group Research (SGR). She has also written many book chapters and co-edited a Handbook of Conflict Management Research published by Edward Edgar Publishers. Remi is the Editor in Chief of the Journal of Management and Organization and on the editorial boards of the International Journal of Conflict Management and Negotiation and Conflict Management Research Journal. She is a recipient (with others) of a highly coveted Australian Research Council (ARC) Discovery Grant awarded to study the impact of employee physical work environment (e.g. office configurations) on employees' territoriality, wellbeing and productivity.
She has appeared on radio (national/international), TV and newspapers talking about workspace issues. Remi is a member of the Australian Human Resource Institute (AHRI), US Academy of Management, and International Association of Conflict Management.
John Holding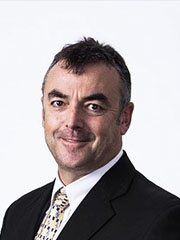 Group Executive, People & Performance, Nufarm
MBA '12
John Holding has over 25 years' experience managing business strategy and organisational change and has held Senior Executive positions in people development, HR, talent strategy and corporate management across various industries.  He has successfully delivered results and managed the nuances of emerging and developed markets with organisations going through both exponential growth and contraction. 
John has a passion for co-developing and implementing business strategy as well as spotting and deploying great talent, he subscribes to the idea that a constructive, customer-centric culture is the only sustainable to path to success.
He is currently Group Executive (People and Performance) at Nufarm, an ASX listed company specialising in agricultural chemicals and crop protection based in Melbourne.  Previously he was Global Human Resources Director at The Weir Group PLC, a worldwide engineering solutions provider employing over 7,500 staff located in 40+ countries. 
From 2009 to 2011 John was based in Hong Kong as Vice President Human Resources (Global Operations & Supply Chain) at Avery Dennison.  Prior to this he was Vice President Human Resources (Asia) at Nortel Networks from 1999 to 2008.  In addition to Hong Kong, John has lived in South Korea and Singapore.
John is married to Marie with two adult daughters and a recently arrived grandson. He resides on a hobby farm west of Melbourne where he and Marie tend their horse, sheep, bees and native flora plantation.
John holds a Masters Degree in Business Administration from The University of Queensland and a Post Graduate Diploma in Occupational Hazard Management from Federation University.
Global Connection 2.0
Global Connection 2.0 is driven by a network of BEL alumni volunteer co-ordinators who host regular virtual catch-ups where you can join and discuss current topics of interest. This webinar is a special event designed by the Global Connection co-ordinators featuring speakers with academic and industry expertise.
We hope you can join us!
Please direct enquiries to Ibari Hellmer, Alumni Relations Officer, at alumni@bel.uq.edu.au.