University is so much more than classes and assignments: it's also about the connections you make with the people you meet, the fun you have, and the contributions you make along the way.  
BEL Buddies are Business, Economics and Law students who contribute to the BEL community in many positive ways, from welcoming new students, sharing tips and helping peers settle into university life, to being a friendly face at student events and collaborating with staff and students on partnership projects. 
Becoming a BEL Buddy provides you with many personal benefits, such as: 
Increasing your social and professional network 
Gaining valuable experience for your resume 
Receiving a Certificate of Participation highlighting your annual contribution 
Achieving recognition towards the UQ Employability Award  
Gaining exclusive access to career development workshops 
For more information, contact belbuddies@uq.edu.au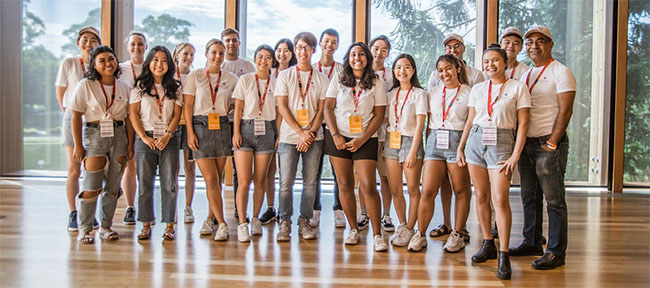 We have a number of exciting ways for you to get involved:
BEL Buddy Volunteers
The BEL Buddy volunteer program is for students interested in short-term volunteer opportunities. There are many ways to get involved as a BEL Buddy volunteer, including: 
Helping out at fun student events such as BELfest and BEL BLOOMS 
Sharing your tips and experiences regarding careers and employability with your peers
Creating content (eg, blogs and social media posts) for official BEL channels
Sharing your knowledge, wisdom and insights with new students during Orientation sessions 
And much more! 
Think the BEL Buddy volunteer role sounds like you?  
Sign up to be a Sem 2 2022 BEL Buddy now and we will notify you as opportunities become available.
BEL Get Set Mentoring
This student mentoring program is designed for current students (mentors) to help new students (mentees) make new friends, settle into UQ life and become part of our BEL community. 
We've partnered with UQ's Get Set mentoring to offer you an exciting mentoring program involving social events, support sessions and more.  BEL students can choose to be involved for either the first 4 weeks of the semester, or for the full semester, whatever works best for you.  
If you are interested in signing up as a mentor or mentee, please Apply via Get Set now! 
Mentee eligibility: all interested first semester students. 
Mentor eligibility: current students who have completed at least one semester at UQ. 

 
Student-Staff Partnerships 
Apply now to become a student partner!  
Draw upon your experiences and insights to contribute towards improving the UQ community through collaborating in partnership with students and staff members from across the University. 
Student partners receive payment for their contribution to these valuable projects.
Learn more about the Student-Staff Partnerships program, or check out BEL's current project listings.