293 Queen Street is an executive conference, events and training space, situated in the heart of the CBD.
Located across three extensively refurbished floors in a heritage-listed building, 293 Queen Street features a range of smart, functional and flexible corporate spaces available for students, alumni and industry to convene, collaborate and create change.

Part of UQ Brisbane City and blurring the boundary between a university campus and a contemporary workplace, this dynamic and vibrant business hub is the perfect place to invite the business world in and to connect with colleagues.

Our spaces are designed with your business needs in mind, and include an executive boardroom, an exclusive executive lounge, high-tech meeting rooms, small private rooms and an open-air terrace.
Intelligent learning facilities
Featuring state-of-the-art learning spaces and flexible meeting rooms, 293 Queen Street is designed to give students and professionals the edge for staying ahead.
293 Queen Street is designed to make collaboration easy. Whether it's a casual coffee chat, a full board meeting or a high-profile business launch, we've got you covered.
Smart conference solutions
Resources on hand include staffed reception, Wi-Fi, printing, phone and laptop recharging, Zoom conferencing, wireless-presenting enabled meeting rooms and catering.
Our venue boasts a variety of spaces ranging from 6 and 8-person meeting rooms, an 18-person boardroom, to our 130-seat or 200-person standing ground floor auditorium space.
Executive education and postgraduate study – more accessible, more flexible.
Students and professionals from UQ Business School's MBA program and Executive Education courses are taught in smart, functional and flexible learning facilities, with break-out spaces where students, staff and business guests can continue the conversation.
UQ Executive Education offers everything from short courses and training for individuals and organisations to tailored programs and consultancy across the private sector, government and industry.
Challenging the boundaries of traditional executive education, our interactive learning model uses a combination of cutting-edge research, case studies, presentations, teamwork, simulations, guest speakers and experiential learning to give you a fresh perspective on contemporary management and leadership issues.
The venue is suitable for training and workshops, seminars, boardroom meetings and AGMs, presentations and networking events.
Our room capacities and configurations have been temporarily revised to comply with COVID-19 requirements.
Please make an enquiry for the latest advice on how we can best serve you.
Venue brochure      Enquire and book
Please note, early morning and Saturday bookings are currently unavailable.
A lounge you won't just lounge in.
The Executive Lounge – meeting your every business need.
The Executive Lounge and companion rooms on Level 7 afford The Dean's Society members and other invited guests a sophisticated, comfortable and convenient venue to work, meet, do business and create change.
With its open-air terrace and leafy indoor gardens, the Executive Lounge resonates with UQ's St Lucia heritage while projecting a contemporary corporate context.
Members can order barista-made coffee, delicious pastries and other catering from the street level café, The Daily Coffee Co., or request complementary tea and coffee from the Venue team.
The Daily Coffee Co.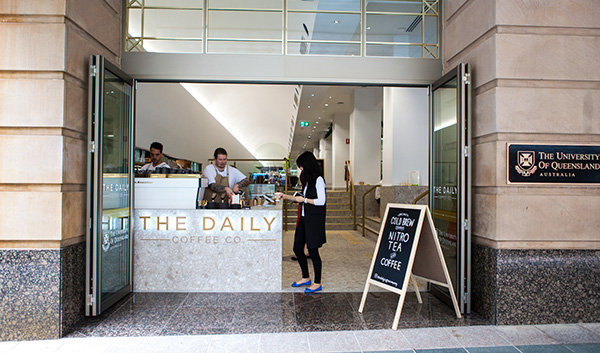 The Daily Coffee Co., run by the award-winning team from premier Brisbane riverside function venue Customs House, welcomes students, staff, members, their guests and other city professionals at the street entrance.
Exquisite pastries and wholesome quick lunches are the mainstays of a menu that changes seasonally, transforming the freshest ingredients into enticing options that reflect current trends.
The Daily Coffee Co.'s social media pages promote special events, including coffee cupping experiences.
Hours of operation
293 Queen Street
8.30am – 4.30pm
Monday – Friday*
*Excluding public holidays
UQ Business School Executive Education
8.30am – 4.30pm
Monday – Friday*
*Excluding public holidays
UQ Business School MBA
8.30am – 4.30pm
Monday – Friday*
*Excluding public holidays
Access to 293 Queen St
All spaces at 293 Queen Street are accessible to wheelchair users and people who are blind or have low vision.
Please note: there are no bicycle or storage facilities available. For bike parking locations in Brisbane city, visit the Brisbane City Council website.
Closest car park is Queens Plaza, enter via Edward Street.
Closest train station is Central Station.