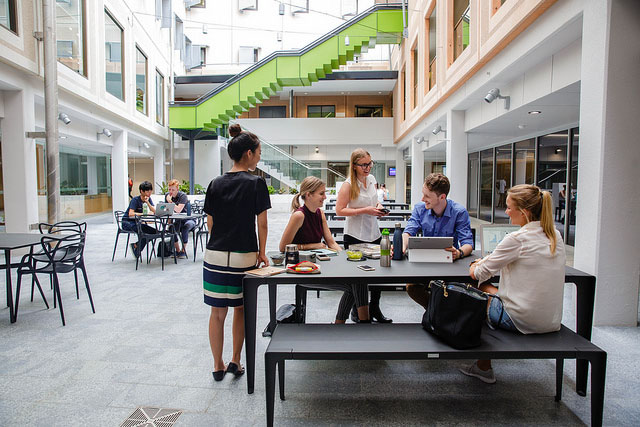 The Faculty of Business, Economics and Law (BEL) incorporates three schools – UQ Business School, the School of Economics and the School of Law – and two research centres – the Australian Institute for Business and Economics (AIBE) and the Centre for the Business and Economics of Health (CBEH).
With more than 500 staff and over 12,000 enrolled students, including 6600 international students, the BEL Faculty is UQ's largest.
The Faculty offers a wide range of undergraduate and postgraduate programs at the St Lucia campus. It also operates UQ Brisbane City, the University's newest site in the heart of the Brisbane CBD.
Home to students and professionals from select postgraduate programs and UQ Executive Education courses, UQ Brisbane City is a unique space where students, alumni, industry and government can create, connect and innovate.
The Faculty's high-achieving students are taught by leaders in their fields, many of whom are renowned researchers and consultants to companies around the globe. Students can also connect with the Faculty's award-winning Student Employability Team to increase their employability, access opportunities and manage their careers.
The Faculty boasts a global, tight-knit alumni network of more than 67,000. BEL alumni hold leadership positions in the private sector, in government and with not-for-profit organisations worldwide.
Faculty profile
| | |
| --- | --- |
| Total students | 12,000+ |
| Undergraduate students | 7,400+ |
| Postgraduate students | 4,800+ |
| International students | 6,600+ |
| Female/male ratio | 52% female / 48% male |
| Alumni | 67,4000+ |
| Staff | 500+ |
UQ Business School is independently ranked as one of the top business schools in Australia and among the leading institutions worldwide. Our mission is to cultivate courageous thinkers who empower future leaders to positively transform business and society.
Based at the St Lucia campus as part of the Faculty of Business, Economics and Law, the School brings together 10,000 students and 130 subject experts.
UQ Business School also has a presence at UQ Brisbane City, the University's newest site in the heart of the Brisbane CBD. At UQ Brisbane City, students and professionals from the School's Master of Business Administration (MBA) program and Executive Education courses are taught in smart, functional and flexible learning facilities.
The School offers a wide range of degree programs. Our eight main areas of academic strength are represented by discipline clusters – accounting, business information systems, finance, international business, management, marketing, strategy and entrepreneurship, and tourism.
UQ Business School is renowned for its cutting-edge research, outstanding academic staff, depth of educational programs and close links with leading global organisations. The School also carries AACSB International and EQUIS accreditation – the first school in Australia to receive this prestigious accreditation across its full range of programs.
UQ's School of Economics is a leading provider of economics education in Australia, with a strong reputation for research and teaching worldwide.
Located on the St Lucia campus as part of the Faculty of Business, Economics and Law, the School is home to more than 1200 domestic and international students, 17 professional staff and 70 active teaching and research staff. Its accomplished scholars claim a large share of Australia's economics honours, national teaching awards, competitive research grants, fellowships, publications and media coverage.
The School of Economics is consistently ranked in the top five per cent of economics research institutions internationally. It is among the leading economics research departments in Australia, with all research ranked as well above or above world standard by the 2018 ERA assessment. The School also has an established research centre and an active seminar and visitor program, providing exposure to researchers from around the world.
The School's high-quality teaching programs benefit significantly from its research across economic theory, econometrics and applied economics. Students have access to Australia's largest range of undergraduate economics courses as well as several master's programs, many of which include an interdisciplinary focus. Courses and programs are designed to give students the knowledge and skills they need to secure successful careers in an increasingly connected and competitive world. This challenging academic environment attracts the top economics students from around Australia and internationally.
Based at UQ St Lucia as part of the Faculty of Business, Economics and Law, the TC Beirne School of Law is the oldest and most prestigious law school in Queensland, and one of Australia's leading research-intensive law schools.
Currently, the School employs 18 professional staff, 50 full-time academic staff and several adjunct professors. The School's talented and committed researchers and educators include national and international scholars, distinguished alumni and leaders of the legal profession who are recognised for their research and teaching excellence both nationally and internationally.
With law programs that are ranked #43 in the world by the 2019 QS World University Rankings by Subject, the School offers students a premier legal education through small group teaching complemented by a comprehensive co-curricular program. The School attracts the best and brightest students from Australia and abroad through its competitive entry requirements. It cultivates exceptional legal thinkers and leaders who use their discipline, ingenuity and initiative to change and enrich the world.
The School's home, the west wing of the Forgan Smith building, recently underwent an extensive refurbishment to ensure future generations of students will continue to enjoy the highest quality and most relevant legal educational experience. Today, the School boasts world-class, state-of-the-art facilities, including one of Queensland's largest law libraries and the Sir Harry Gibbs Moot Court.
The Australian Institute for Business and Economics (AIBE) is a research centre within UQ's Faculty of Business, Economics and Law (BEL).
Established in 2014 thanks to a generous donation from a UQ alumnus, AIBE leverages world-class collaborative research capabilities across UQ's Business School, School of Economics and TC Beirne School of Law. The Institute focuses on Australian and global innovations, and new horizon research to address the current needs and future challenges of businesses.
Working with AIBE is a unique experience, offering clients a one-stop shop for their research needs. The Institute is strategically positioned as an intermediary for academic researchers and organisations, and has developed strong partnerships and a real understanding of the requirements of governments and businesses. AIBE delivers tailored outcomes, produces results that are rigorous and credible, conducts research that is of world-class standard, and ensures projects are quality controlled, on-budget and suit clients' timeframes.
The University of Queensland's Centre for the Business and Economics of Health (CBEH) delivers leading economic evidence, analyses and insights to help policy- and decision-makers create sustainable healthcare systems that promote better patient outcomes and value for all Australians.
Through collaborative and customised research, CBEH aims to inform and improve how governments and care providers respond to and plan for the changing and complex healthcare needs of a diverse population.
The Centre is also building human capital and capability in the healthcare sector through postgraduate research opportunities and executive education programs for current and future leaders, focusing on change management, evaluation, resource allocation and innovation.
CBEH was established in 2015 and is a joint initiative of UQ's Faculty of Business, Economics and Law, Faculty of Health and Behavioural Sciences, and Mater Research Institute-UQ.