The top two students of UQ's elite new Bachelor of Advanced Finance and Economics (Hons) will be recognised each semester thanks to the generosity of UQ alumna Susan Buckley (B Econ 1985, MBA 2010).
Ms Buckley, who leads QIC's Global Liquid Strategies and chairs the Brisbane Alumni Ambassador Council, pledged $20,000 to provide prizes for the top male and top female student each semester over four years.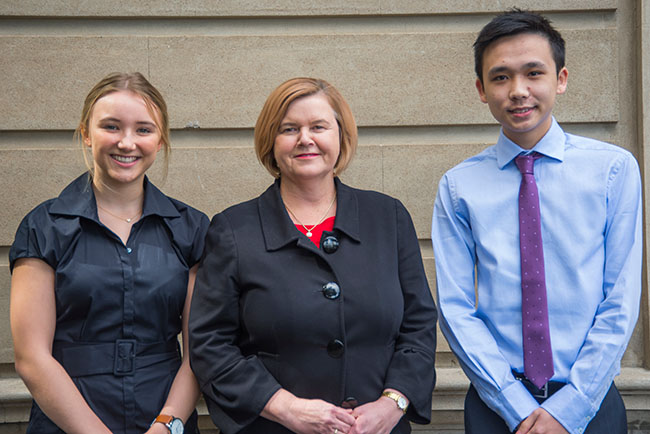 The inaugural winners for Semester 1 2016 were Josephine Auer and Richard Khuu.
Ms Auer and Mr Khuu joined Ms Buckley for a celebratory lunch along with three other students  – Laurence Bristow, Emmanuel George and Marie To – who all achieved an overall mark of more than 91 per cent for the semester.
The Bachelor of Advanced Finance and Economics (Honours) is the first program of its kind in Australia, aimed at high-achieving school leavers aspiring to become future leaders in finance and economics.
Ms Buckley said she was passionate about economics and finance, and the new program resonated with her. 
"The aim is to support students who are academically gifted and promote diversity in the male-dominated industry," she said.
Ms Buckley is also providing informal mentoring to the students.
Ms Auer said receiving the award was a "wonderful surprise" at the end of a challenging semester.
"The learning curve has been pretty steep from the get-go, but it's lovely to reflect back on just how much we've learnt, from microeconomics and finance to accounting," she said.
"Susan is an aspirational figure and a wonderful role model for us all.  It was enlightening to meet her and learn about her professional journey in an often male-dominated industry."
Mr Khuu thanked Ms Buckley for her support and generosity.
"The program is challenging and exciting and this award is another motivator for me to continue the hard work," he said.
Ms Anthea Barry, Acting Advancement Director of the Faculty of Business, Economics and Law, said Ms Buckley's generous support was an example of the positive effects of philanthropy on the UQ student experience.
"The commitment from alumni like Susan is a strong indicator to our students of the confidence the broader UQ community has in their ability and potential and we are very grateful for her generosity," she said.
Faculty of Business, Economics and Law Associate Dean (Academic) Associate Professor Phil Bodman said he was delighted with the high performance of the students in what was a fast-paced, challenging program.