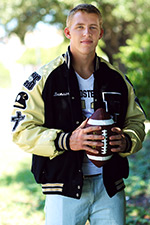 University of Arizona business student Bronson Teles has been named the 2016 Mark Loane Medalist and will next year have the opportunity to participate in the UQ Rugby Academy and play for the famous University of Queensland Rugby Club in 2017.
The University of Queensland medal annually recognises the outstanding potential of America's best high school rugby player based on their skills, ability and aptitude, both on and off the rugby field.  
It was commissioned in 2015 to commemorate the achievements of alumnus and former Australian Wallabies rugby captain Mark Loane AM.
The 2016 medal will be awarded to Mr Teles at the annual UQ Rugby Dinner in New York City in November, hosted by the Faculty of Business, Economics and Law.
Mr Teles said he was honoured to be receiving the award.
"The Mark Loane Medal represents exemplary character and integrity," he said.

"I am honoured to be selected and beyond excited for this opportunity and experience.

"It has been a dream of mine since I was a kid to play rugby overseas.

"I am very excited as I know it will open up many doors on and off the field, and broaden my knowledge of the game.

"I will work hard and I'm sure I will enjoy every minute of it.

"I would like to thank my coaches and my family for the continuous support and guidance they provide me."
Mr Teles said he fell in love with the game at a young age, playing for the Katy Barbarians Rugby Club, in Texas, for the past nine years and as captain for three of them.
He was awarded MVP by Katy, and was a two year recipient of the Forward of the Year Award presented by Rugby Texas.
He has played for the Texas All Star for four years and was varsity captain this past season.   He was Man of the Match and chosen to be on the All Star Tournament Team at the Rocky Mountain Regional Cup Tournament in June.
Bronson represented the High School All Americans, USA Rugby u18-19 this year playing both 7s and 15s. He was also selected for the USA u20s (Men's Junior All Americans) and played in the 2016 Junior World Trophy in Zimbabwe.
Fans voted Bronson 'Player of the Month' and 'MVP of the month' in March in Goff Rugby Reports.
He graduated from Foster High School in Richmond, Texas this year and is a freshman at the University of Arizona studying business, and playing rugby for the Wildcats.