A team of students from The University of Queensland Faculty of Business, Economics and Law (BEL) have devised a winning formula to help the Royal Flying Doctor Service (RFDS) roll out telehealth programs across rural and remote Queensland.
Their project came to fruition through the Community Engagement Program (CEP), a BEL Faculty initiative designed to give students hands-on experience in real industry projects for the not-for-profit sector.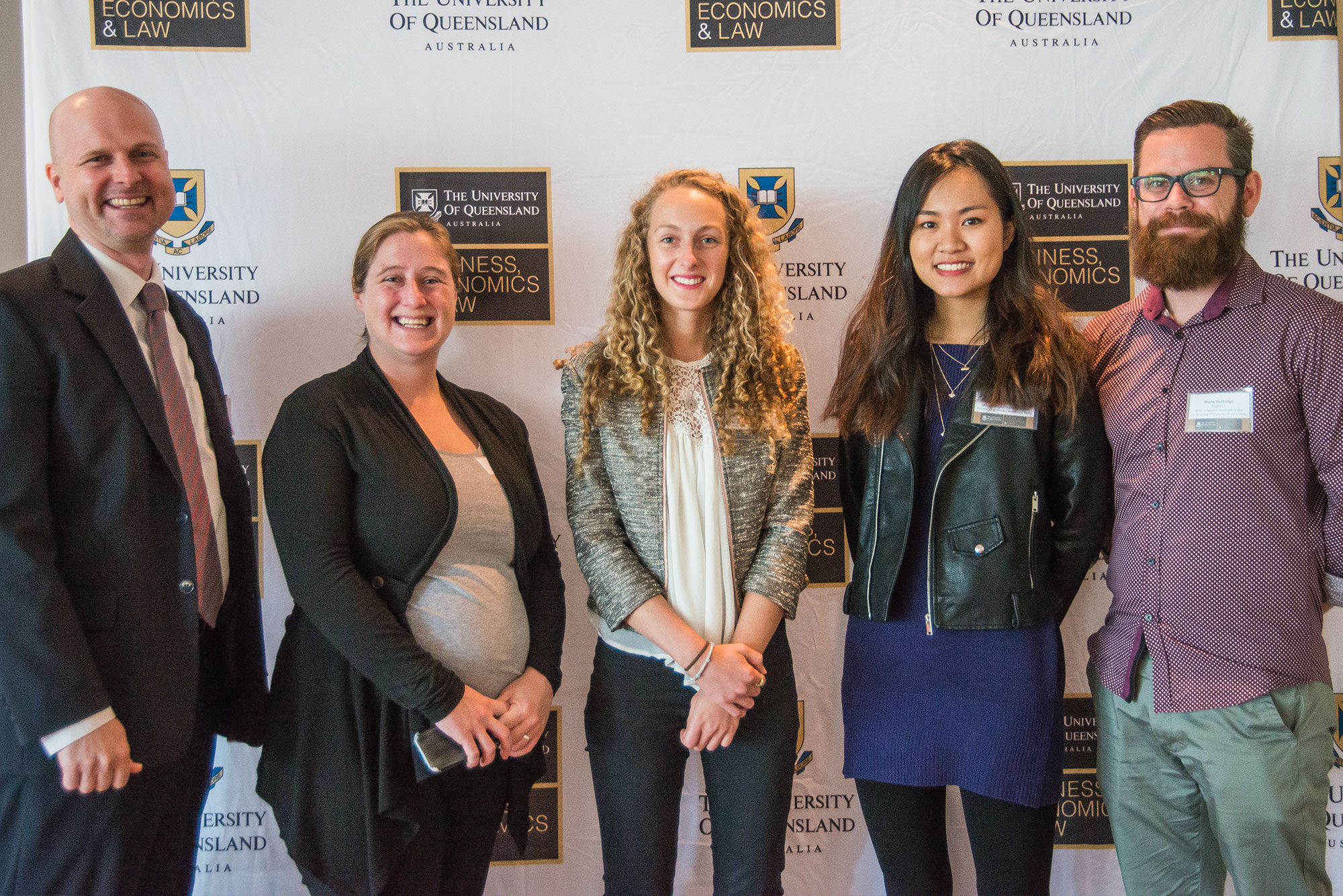 Team members Marielle Allan, Phoebe Bardsley, Sophie Galbraith, Lu Lin, Sacha Robinson and Shane Sturtridge took home the winning team prize in the bi-annual CEP awards. Ms Allan was also named the individual CEP award winner for her outstanding work as team leader.
Bachelor of Economics student Ms Bardsley said the group faced the daunting task of drafting a plan to introduce telehealth video conferencing to remote Queensland communities – many of them hundreds of kilometres away from GPs and specialist clinics.
"The original project brief was very broad and it took us several weeks to really narrow it down," she said.
"In the end, we came up with a flexible flowchart that allows the RFDS to match unmet community healthcare needs with appropriate telehealth technologies.
"This was through a needs assessment and an infrastructure assessment – so we've outlined the key questions that the RFDS needs to ask to find solutions to the issues these communities face."
Using the outback Queensland town of Yowah as a case study, the team consulted UQ researchers and stakeholders from the RFDS and Queensland Health to develop their flowchart model.
Head of Clinical Governance at the RFDS Queensland, Trent Dean, said working with the CEP student team was invaluable.
"We got to benefit from the students' insights, their innovation and their youthful exuberance," he said.
"For us, it's really important that we improve the health outcomes of our rural and remote Australian communities, and the students' project will go a long way to helping those communities.
"Queensland being such a vast state, it's a real challenge to get to some of them, as far as they are from the main centres. We're obviously a not-for-profit with a finite amount of resources, particularly financial but also staffing.
"Getting telehealth video conferencing up and running in the way the students are proposing will allow us to supplement our existing services to these hard to reach communities. It will personalise the experience; we'll still maintain face to face contact but we can use this other mechanism to be there in a virtual sense."
According to Mr Dean, the team impressed all and sundry – so much so that they will continue their work with the RFDS as the telehealth roll out begins in October.  
"The key thing for us is they focused on the client and patients, and that's what this is all about; they really nailed that from the start," he said.
The team has subsequently been invited to the RFDS base to present a high-level summary of their report findings to the RFDS CEO and COO.
CEP Coordinator Carlene Kirvan said this particular project team was a stand out for many reasons.
"The team was awesome from the get go," she said.
"They were just really engaged and asked a lot of questions.
"They had a big challenge because the project brief was quite complex, and they had to do a lot of research to figure out what their approach was going to be, but they got there. They handled the entire project very professionally and delivered quality results for each CEP milestone."
Ms Bardsley said the CEP experience was incredibly rewarding.
"Working with a team that was extremely motivated to deliver a fantastic project was so inspiring, and the whole thing has ignited my interest in health economics, in telehealth in particular," she said.
A total of 83 students completed 15 projects in this semester's CEP. Two further project teams were highly commended for their work with Karakan and the YMCA.
CEP information sessions for Semester 2, 2017 will be held at the end of this month. To register, click here.