University of Queensland alumnus Jen Geale understands all too well the road ahead of up-and-coming entrepreneurs.
The School of Economics ('08) graduate, Telstra Business Award winner and co-founder of e-commerce startup Mountain Bikes Direct recently gave her time and advice to a group of eager UQ Idea Hub students.
UQ Idea Hub is a startup pre-incubator for aspiring entrepreneurs, offering students access to workshops, experienced mentors and guest speakers, a dedicated 24/7 innovation space, and a network of innovators to help grow their ideas into something tangible.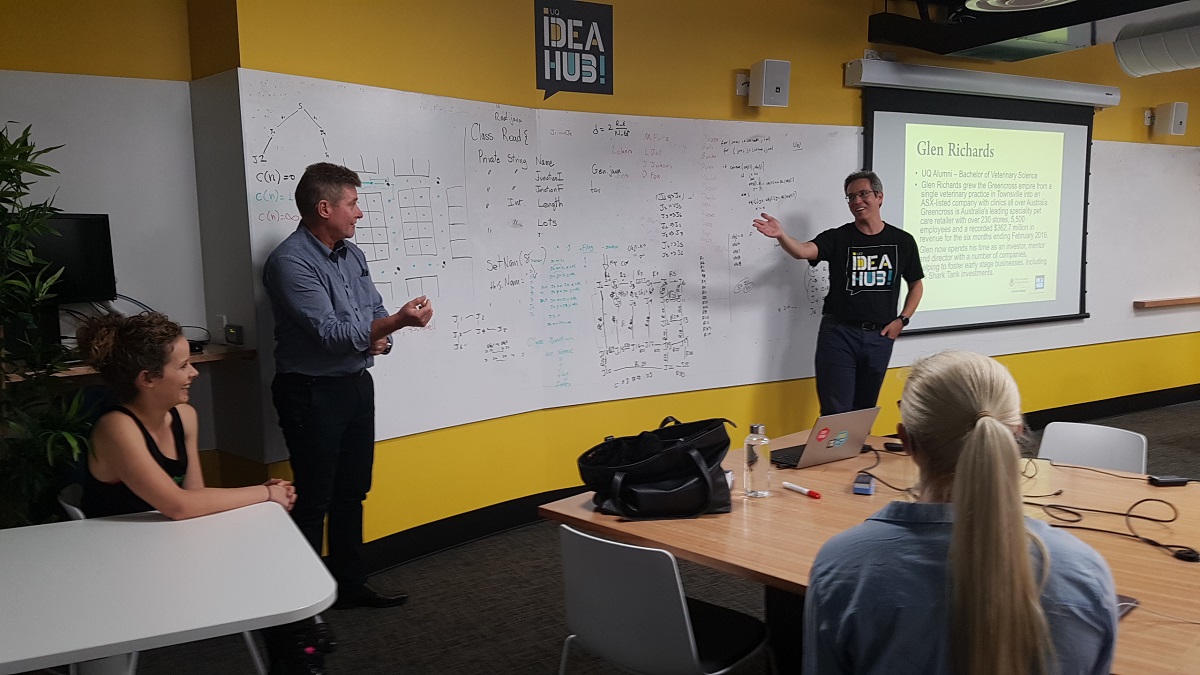 Ms Geale's guest presentation – covering her career journey and the ups and downs of startups – was part of one of six workshops offered to students in the program. Her fellow guest speaker was none other than UQ Bachelor of Veterinary Science (Honours) alumnus and Shark Tank judge Glen Richards, who gave tips on pitching to investors.
When the call came, Ms Geale said she jumped at the chance to give back to her alma mater.
"I was so excited that UQ had invested in a program to help entrepreneurial students explore different pathways," she said.
"After I finished my Bachelor of Economics, I went on to work for one of the big four firms as a consultant – the traditional pathway for someone coming out of the BEL Faculty. Now, with initiatives like Idea Hub, students can pursue many other options.
"As a UQ graduate, I was more than happy to share my business insights. Hearing from others is really important; over the years, I've got a lot out of listening to people talk about their own business journeys and experiences."
Ms Geale said she was impressed with the enthusiasm and attentiveness displayed by the Idea Hub students.
"Those students were there by choice after a full day of lectures," she said.
"They were all very engaged; I could see them in their groups participating in conversations and sharing ideas.
"I went in there to provide a bit of inspiration and explain what running a business and being an entrepreneur is like. It was about saying 'I was you not all that long ago, and this is where I'm at now'.
"They had some really great, specific questions for me. Obviously, they're thinking about what they're doing and why, and where they're going in the next few years."
According to Ms Geale, innovation and entrepreneurship initiatives like Idea Hub are so valuable because they bring people with different strengths and skill sets together. 
"They connect students whose paths might never cross in the course of their academic lives, but they have this common thread – wanting to end up in entrepreneurship or business down the track," she said.
"At Mountain Bikes Direct, we have staff whose backgrounds are so incredibly different but the thing that unites us is business. In the startup world, you'll go far if you can step outside your discipline and work with people with different areas of expertise.
"Networking is also important. Rather than seeing the uni experience as something they do to get their piece of paper, students should keep their eyes and ears open to forums like Idea Hub where they can gain experience and meet people with similar visions and goals."
Mountain Bikes Direct was founded in 2012 by Ms Geale, her husband Michael and two of their friends.
The startup has gone from strength to strength, appearing on the SmartCompany Smart50 list of Australia's fastest growing companies in 2016, and picking up the 2017 Telstra Queensland Micro Business Award. Their mission: to make it possible for Australian customers to buy mountain bike products and parts from a local online retailer at globally competitive prices.
Although working at a booming startup may seem worlds apart from her economics studies, Ms Geale said most of the skills she brings to the table stem from her UQ degree.
"If you're not doing something technical or traditional with a degree like economics it's easy to think you're not using it, but I would disagree with that very strongly," she said.
"Economics is really about understanding how and why people make decisions and how markets and systems work. That's exactly what I do now.
"Even though it seems left field from traditional economics, that ability to analyse the products we're selling, the service offerings we have, new marketing campaigns, all of that – that's what I learned in my economics degree."
Ms Geale said she was eager to maintain her connection with UQ and help future leaders navigate new business frontiers. She has already followed through, serving as a student mentor during UQ's recent Weekend of Startups.
"I spent a very important part of my life at UQ," she said.
"I really didn't have to think too hard about it. To me, it makes sense to come back and contribute to the community."
To learn more about UQ Idea Hub, visit ideahub.uq.edu.au
Give through BEL
Support BEL Faculty researchers and students as they strive to create change locally and globally. Please donate online, or update your details to keep in touch.