Hosted by The University of Queensland's Faculty of Business, Economics and Law and spearheaded by New York-based alumnus Brian Macnish, the 2017 UQ Rugby Benefit Dinner raised funds for outstanding student athletes and bolstered ties between UQ and its North America-based alumni and friends.
Australian rugby royalty Tim Horan AM – a dual Rugby World Cup winner – moderated the much-anticipated panel discussion and Q&A featuring fellow Australian rugby legends Nick Farr-Jones AM, Mark McBain, Brendan Nasser, Joe Roff and Nick Stiles.
Mr Horan said he was keen to lend a hand to support UQ and the next generation of rugby players.
"My son, Alex, has played for the UQ Rugby Club for three years," Mr Horan said.
"My family and I watch every game and we really enjoy the experience, so we wanted to give back to the club and the University any way we could.
"I was happy to be there to show my support and raise funds for UQ players and programs.
"The dinner also gave everyone in the room the opportunity to network with UQ alumni and supporters, including Australian expats based in New York."
BEL Faculty Executive Dean Professor Andrew Griffiths said the dinner and presentation of the Mark Loane Medal was a highlight of the calendar year.
"As always, I want to acknowledge our panellists, who gave up their time to talk all things rugby and share stories from their professional careers," Professor Griffiths said.
"I hope their insights have inspired our 2017 Mark Loane medallist, Patrick Madden, to achieve his sporting dreams.
"We look forward to welcoming Mr Madden to UQ next year."
The Mark Loane Medal recognises and rewards the skills, ability and aptitude of America's best high school rugby player. It was named after Dr Mark Loane AM, a UQ alumnus and legendary Australian Wallabies rugby captain.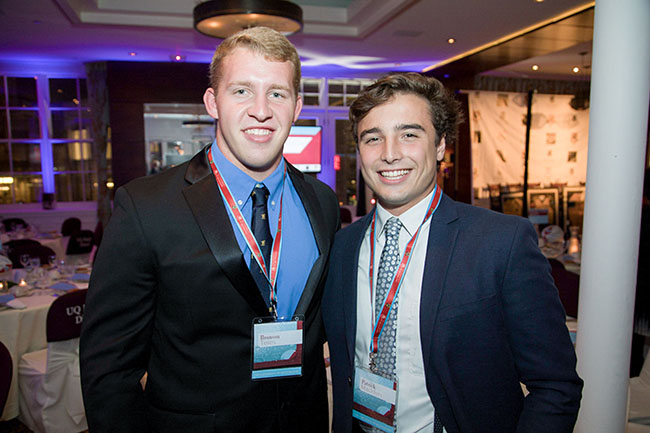 As the current medallist, Mr Madden - from California Polytechnic State University - will travel to Australia to train with the UQ Rugby Academy and play for the UQ Rugby Club in mid-2018. 
Mr Horan said it was wonderful to share words of wisdom with Mr Madden at the dinner.
"It was great to hear how excited Patrick and his family were and how much it meant for him to receive the Mark Loane Medal," Mr Horan said.
"Supporting up-and-coming players is so important, and this medal will give him the chance to experience UQ rugby and the Australian rugby culture."
BEL Faculty Director of Advancement Ted Wynn said the 2017 dinner was a huge success.
"On behalf of our UQ Rugby Club scholar athletes, I would like to thank our donors and supporters for their generosity, which enables student success in the classroom and on the playing field," Mr Wynn said.
"Through table sponsorship, the live auction and raffle draw, we raised over US $45,000. Bidders walked away with prizes including priceless rugby memorabilia and overseas vacations."
The 2017 UQ Rugby Benefit Dinner was held in partnership with The University of Queensland in America, Inc. (TUQIA) and sponsored by Flight Centre Travel Group.
Event proceeds will support future medallists and UQ Rugby initiatives, including a concussion management program and the UQ Rugby Sevens Program for men and women, as well as Play Rugby USA – a non-profit organisation dedicated to developing young people through rugby.
For enquiries about the 2018 dinner, UQ Rugby Benefit Dinner sponsorship opportunities or to contribute to the Mark Loane Medal scholarship, please contact Anthea Barry, BEL Faculty Deputy Director of Advancement.
Media: Alysha Hilevuo, a.hilevuo@uq.edu.au, +61 (0) 428 884 097.
View the event photo gallery
Give through BEL
Support BEL Faculty researchers and students as they strive to create change locally and globally. Please donate online, or update your details to keep in touch.