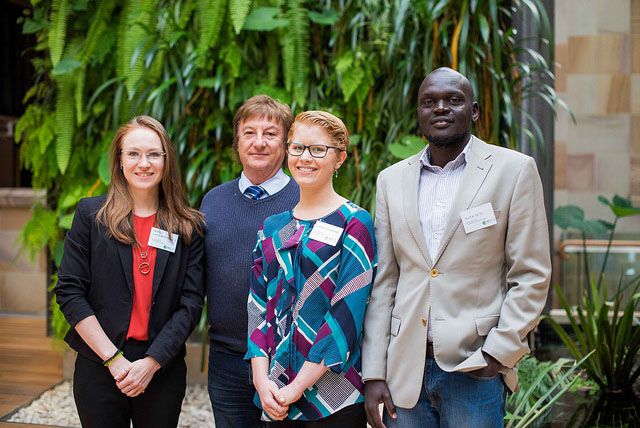 Four of The University of Queensland's most ambitious higher degree by research students had their moment to shine at the Faculty of Business, Economics and Law's annual Three Minute Thesis (3MT®) competition.
The 3MT® challenges Research Masters and PhD students to describe their research within three minutes to a general audience.
Students at this year's Faculty competition covered a wide range of topics, from intellectual property and the Kakadu plum to employment as a developmental force for youth.
BEL Associate Dean (Research) Professor Victor Callan said the competition was designed to develop students' academic, presentation and research communication skills.
"Now more than ever, our higher degree by research students must learn how to communicate the impact of their research at conferences, to their colleagues and to non-specialist audiences outside of academia," Professor Callan said.
"The Three Minute Thesis builds confidence and gives students insight into how to engage audiences with succinct snapshots of their research.
"Congratulations to all BEL students who participated in the Faculty competition and school heats. Your new skillset will prove invaluable throughout your research careers."
Jocelyn Bosse from the TC Beirne School of Law was the winner and the audience-voted People's Choice at the BEL Faculty competition. Ms Bosse received $1500 in research funds and will go on to compete in the UQ 3MT® final at Customs House on Wednesday 12 September.
Runner-up Maria Golubovskaya from UQ Business School received $500 in research funds. Ms Golubovskaya recently competed in the UQ 3MT® Wildcard Competition for a spot in the UQ final. The UQ Wildcard winner was Samantha Nixon from the Institute of Molecular Biosciences.  
The 2018 BEL 3MT® judges were Associate Professor Bernard McKenna (UQ Business School), Associate Professor Heiko Gerlach (School of Economics) and Dr Allison Fish (TC Beirne School of Law).
Competitors were assessed on their comprehension, content, engagement and communication.
The 3MT® competition began at UQ in 2008. In 2018, over 400 institutions across six continents held 3MT® events.
View the event photo gallery and BEL 3MT presentations below.
Jocelyn Bosse, TC Beirne School of Law: Winner and People's Choice
Thesis title: Fragmentation of Access and Benefit Sharing Laws for Biodiscovery in Australia: The Case Study of Kakadu Plum
Research collaborations between Indigenous communities, scientists, and industry could address the issues of food security by harnessing the unique properties of Australian native foods, such as the Kakadu plum (Terminalia ferdinandiana). However, intellectual property law and other international regulations place strict requirements on the transfer of research materials and subsequent use of biological resources. For my case study, I will work directly with Indigenous communities and scientists to understand the 'real life' impacts of the law on Kakadu plum research and development. I seek to ensure that these regulations are facilitating ethical and productive research partnerships.
Maria Golubovskaya, UQ Business School: Runner-up
Thesis title: Tourism and hospitality youth employment
Frontline roles across many service businesses are filled with significant numbers of young, often adolescent workers. Many are in their first 'real' jobs, exposed to the world of work for the first time. However, we know very little about the way these young workers perceive work and develop personally and professionally as a result of these experiences.  Socializing workers into the workforce, a critical responsibility bestowed on the employers of adolescents, is a surprisingly neglected research area. This study focuses on young workers as a distinct entity, and explores the way early work experiences shape youth development.
Mark Deng, TC Beirne School of Law
Thesis title: Democratising the Sudan People's Liberation Movement:  A Test of Vision and Political Will for the Government of South Sudan
South Sudan achieved independence in 2011, ushering in a new dawn of hope for the South Sudanese people. However, the euphoria for independence was short-lived. Two years into independence the country plunged into yet another atrocious civil war. One of the major causes of the civil war is power. The current constitution of South Sudan centralises power, creating an autocratic government. My thesis is about addressing this power concentration problem in South Sudan. It argues that the solution to this problem is constitutional reform. Through a genuine constitutional reform, a reform that is people-driven (inclusive and participatory), peace is possible.
Peter Ellis, UQ Business School
Thesis title: When planning for growth, one size does not fit all: Towards a theory of size, growth, and the growing pains of micro, small, and medium enterprises
Growth is not the norm, most enterprises start, trade and finish as micro enterprises. Extending research on enterprise size, which currently focusses on employee number and turnover. This thesis develops a matrix specifying the different mindsets, skills, structure, governance and culture of enterprises in different size categories.
Media: Alysha Hilevuo, media@bel.uq.edu.au, +61 7 3346 9349, +61 409 612 798.