Most economists agree that diversity– of people, ideas and products– is a good thing and benefits all of us. So why is it still so hard to achieve in a profession that knows the data inside and out?
Four women in economics reflect on the challenges they've faced, and share how they're working to inspire the next generation of leaders and change the game for the benefit of the profession and society. #uqwomencreatechange
On the surface, Associate Professor Renuka Mahadevan, Associate Professor Alicia Rambaldi, Dr Priscilla Man and Dr Rigissa Megalokonomou don't appear to have much in common.
These four women hail from different corners of the globe – Singapore, Argentina, Hong Kong and Greece, respectively. They have diverse tastes and world views, and differing research interests.  
But one common thread ties them together: they are all women researchers in economics, historically a male-dominated discipline.
Although they agree that their experiences at The University of Queensland's School of Economics have been overwhelmingly positive, they have each faced their fair share of gender-based obstacles – and they're working hard to change the game for current and future generations.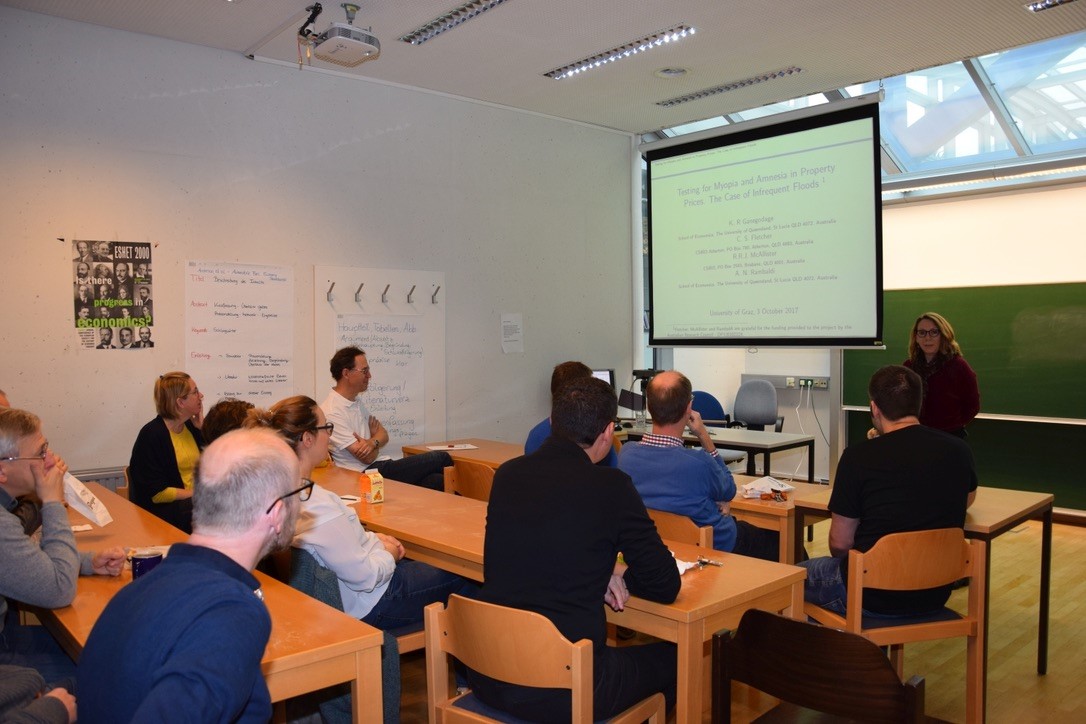 Associate Professor Rambaldi – an applied econometrics expert – said some women researchers experienced career setbacks when they took time off to start a family.  
"There are norms and expectations around what researchers should do or how much they should achieve within a certain amount of time," she said.
"Unconsciously, people look for those milestone achievements. If you're a woman and you haven't hit those milestones because you have taken maternity leave, for example, you don't fit the 'norm'.
"To be highly regarded in academia, you must be seen at certain conferences and your work must be published in a timely way. A big challenge for women can be managing those expectations and trying to fight their way back to the top of the research agenda after career disruptions."
A self-fulfilling prophecy
Associate Professor Rambaldi also described dealing with unconscious gender bias from former colleagues, something that economic theory researcher Dr Man observed as a graduate student.
"Women and men typically react differently when they face problems," Dr Man said.
"Most women like to talk about it, whereas the male response tends to be 'I can handle it alone'."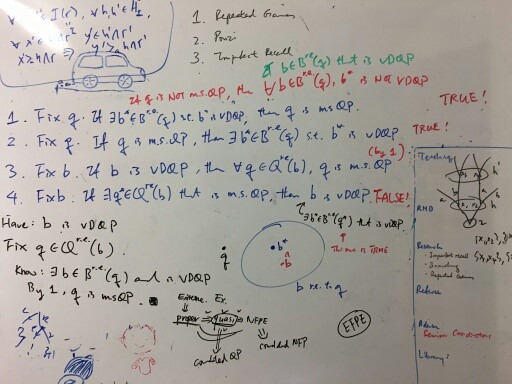 But Dr Man said that not all teachers and supervisors were aware of these gender differences.
"What this means is that if a female research student encounters a problem and wants to talk it out, their supervisor could perceive this approach as a weakness, whereas the typical male student approach would usually be perceived as a strength, even if the opposite was true," she said.
"This kind of response from the supervisor can reconfirm the female student's idea that she isn't doing well. When this happens, many students withdraw from the problem, which of course slows them down and sometimes discourages them from going further with their thesis.
"It's a self-fulfilling prophecy."
The struggle to be assertive
Development economics researcher Associate Professor Mahadevan said she had also experienced unconscious bias along cultural and racial lines.
"As a result, I learnt from a young age what I needed to do to be recognised: stand up for myself, be assertive and keep at it," she said.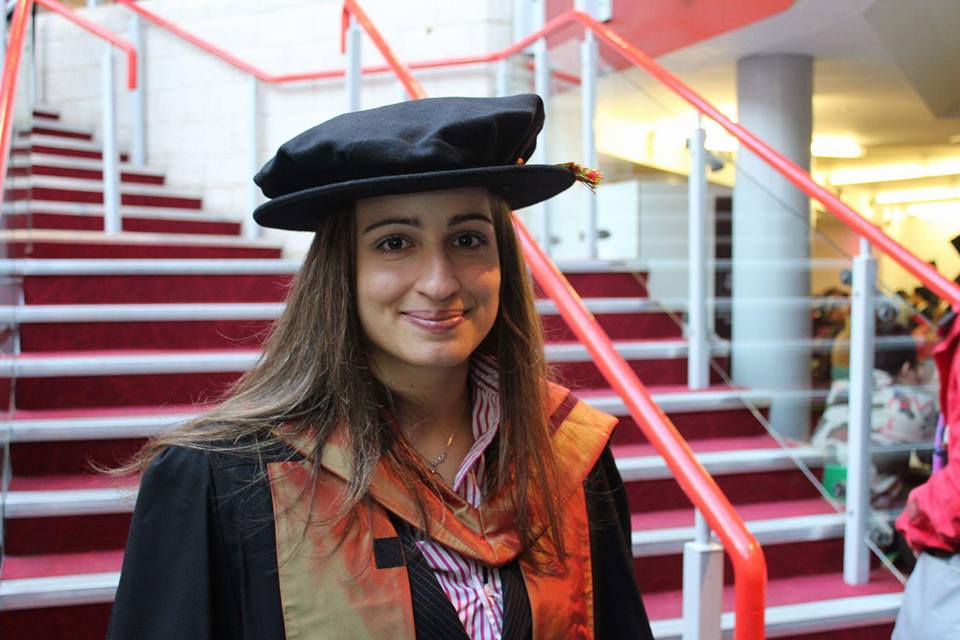 However, education economics expert Dr Megalokonomou said many women in research struggled with being outwardly assertive and shied away from competing with their male colleagues.
"In general I think people need to be more understanding of gender differences," she said.
"At the same time, women also need to work on building their confidence, learn not to be discouraged by criticism, and work hard to prove these gender stereotypes wrong."
A shortage of role models
Perhaps because of these (and other) obstacles, there is a distinct lack of female economics researchers in senior academic roles – and therefore a shortage of role models for young women considering a research career. 
"We have noticed that quite a few women begin their studies in economics, but then the numbers start tapering off," Associate Professor Mahadevan said.
"I believe that we must address this, and ensure our women in economics feel supported and encouraged from the start of their undergraduate degree until the end of their research career."  
Economics: a worthwhile pursuit
Despite the challenges, Associate Professor Rambaldi said young women shouldn't be discouraged from pursuing careers in economics.
"I believe things have changed over the years and the situation is more positive for women in economics today," she said.  
"Beyond that, because it's so difficult to say exactly what the future will look like, it's extremely important for the next generation to study a broad, solid degree like economics.
"Economics underpins a large number of other areas. It provides training on how to think mathematically, and teaches about uncertainty and how to observe behaviours, solve problems, and propose solutions for some of the world's biggest challenges."
Associate Professor Mahadevan said she found her work as an economics researcher personally fulfilling because her research has had a tangible impact on society.      
"My research interests are varied, so I take my economic modelling and apply it wherever I see a gap," she said.
"I'm passionate about issues like income inequality, agricultural reform and the social value of events. It's gratifying that my research in these areas has the ability to positively influence society and government policy."
Grassroots solutions
There are yet more reasons to be optimistic when women like Associate Professor Mahadevan have already started to tackle the issues faced by women in economics.
In collaboration with a UQ Business School colleague, she has organised a series of events for UQ Belles, a grassroots support network for women academics from the Faculty of Business, Economics and Law.
UQ Belles events allow women in research to mingle, offer each other friendly advice and support, and participate in professional development activities including assertiveness and peer coaching workshops.
Associate Professor Mahadevan said she had recently been in discussions with other faculties to help them roll out their own discipline-specific support networks.
Similarly, Associate Professor Mahadevan and Dr Megalokonomou are committee members of the Economic Society of Australia's Women in Economics Network (WEN).
"WEN has helped enormously with my confidence as an early career researcher," Dr Megalokonomou said.
"It's wonderful to get advice from women in industry and academia who have experienced similar situations, especially when they're at the most senior level in their career."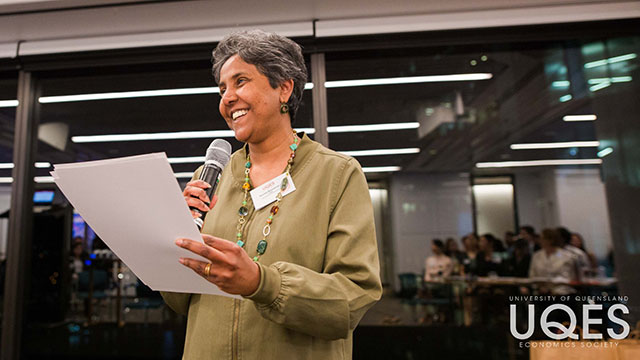 Encouragingly, Associate Professor Mahadevan said her undergraduate students had also picked up on the work of the WEN and UQ Belles. 
"The UQ Economics Society recently hosted a Women in Economics Hackathon and networking event series, which I was involved in as a judge and mentor," she said.
"It was inspiring to see our students present their ideas on how we could improve the representation of women in economics."
The importance of mentoring and diversity
All four women said they took their responsibility to mentor the next generation of women in economics very seriously.
"I take pride in the advice I give my students," Dr Man said.
"I want them to know that they shouldn't let others put them down. They know who they are and what they're capable of, and if other people don't understand or pass them over for silly reasons, it's not their problem."
Associate Professor Mahadevan said she wanted future women economists to not feel disadvantaged in any way, to be bold enough to seek support and to ask for what they deserve.
"When my female students tell me 'I look forward to your class because you're my first female lecturer', it means so much because I know I'm making a difference," she said.
"It's important to foster gender and cultural diversity in academia for the simple fact that people from diverse backgrounds look at issues from different perspectives.
"Diverse perspectives enrich our research and ensure that it's applicable to a broader range of people."
Associate Professor Rambaldi said she believed the tide had begun to turn over the last few years.
"Hopefully, as more and more women become part of the in-group that decides what the economics discipline looks like in the future, it will adapt and become more welcoming to women, to minority groups, to anyone who is 'different'," Associate Professor Rambaldi said.
"In the meantime, I will continue to mentor my students and my early career researcher colleagues and explain how it works, because you need to be inside the club to change the way things operate.
"If you're shouting from the outside, you won't make a difference."  
Media: Alysha Hilevuo, media@bel.uq.edu.au, +61 7 3346 9349, +61 409 612 798. 
---
About the researchers
Associate Professor Renuka Mahadevan is interested in empirical and policy analysis in development and agricultural economics, tourism economics, international trade and energy, and productivity growth analysis using econometrics and macroeconomic models. In 2018, she received a prestigious Understanding China Fellowship. The fellowship allows recipients to undertake joint China-related research with researchers from leading Chinese universities.
Associate Professor Alicia Rambaldi's research interests include applied econometrics, time series econometrics, state-space models and spatial time series models. Her current research projects include an ARC Discovery Project grant examining the reliability of purchasing power parities (which can be used to measure poverty across countries), and an ARC Linkage Project grant in partnership with the Victorian Government exploring how urban land is allocated, used and priced.
Dr Priscilla Man is an economic theory expert with special interests in game theory, mathematical economics and microeconomic theory. In 2017, she received an ARC Discovery Early Career Researcher Award grant for her research examining the effect of imperfect memory on economic decision-making and the implications for firms and government agencies.
Dr Rigissa Megalokonomou is a microeconomics researcher who focuses on policy-relevant questions in education, migration and labour economics. She received a UQ Early Career Researcher grant in 2018 to explore the roles of teacher favouritism and gender peer effects on the lack of women in STEM fields.