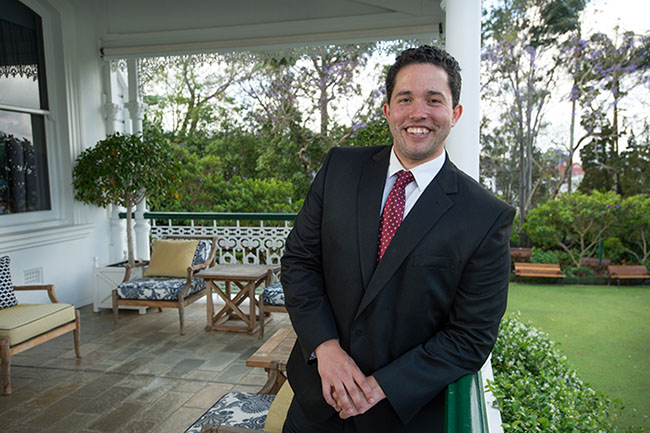 A University of Queensland graduate has been named the Queensland 2019 Rhodes Scholar.
Jordan English holds a Bachelor of Laws and Bachelor of Commerce (First-class honours) from UQ and was awarded a University Medal in Law.
He is currently a Bachelor of Civil Law candidate at the University of Oxford.

Mr English has worked with Brisbane law firms in dispute resolution during his studies and after graduation, and has been a Judge's Associate at the High Court of Australia.
An Indigenous lawyer, Mr English was an Aboriginal and Torres Strait Islanders Studies Unit ambassador throughout his studies at UQ and supervised and mentored Indigenous high school students during week-long InspireU Law camps to provide insight into law school life.

He has participated in mock moots for Indigenous primary school students, met with high school students considering tertiary study and spoken at the Indigenous Schools Queensland Constitutional Convention and mentored students in the Aboriginal and Torres Strait Islanders Legal Moot.

"Ensuring diversity in the law is, and will be, one of the greatest challenges," he said.

"To address this, I am putting all my efforts into being a role model and mentor for young Indigenous Australians seeking to enter and progress through the legal profession. 
"Secondly I aim to improve representation of Aboriginal and Torres Strait Islander people in the legal profession and the judiciary."
Mr English has taught corporations law at the Australian National University and published 10 articles in leading English and Australian journals including the Oxford University Commonwealth Law Journal, and Lloyds Maritime and Commercial Law Quarterly.
He and a colleague are writing a manuscript for a text on the law of tracing to be published by Federation Press.

After completing the Bachelor of Civil Law, Mr English plans to complete an MPhil at Oxford and transition into the DPhil program in the area of obligations with a particular focus on remedies.

He will then return to Australia to practise at the Queensland bar with the ultimate aim of being appointed an Indigenous judge of a state or federal court.

Apart from his writing achievements, Mr English spent 14 years participating in the performing arts in dance and acting and was a regular Eisteddfod competitor in Queensland and New South Wales.

Mr English attended Calvary Christian College in Brisbane where he was Dux of 2011, 2010 and 2009.

Queensland Governor Paul de Jersey announced the 2019 Queensland Rhodes Scholar at Government House on Tuesday.
Media: Carolyn Varley, communications@uq.edu.au, 07 3346 7890, 0413 601 248.