Pursuing their passions abroad will be made easier for four University of Queensland business, economics and law students thanks to financial support from the Australian Government's 2019 New Colombo Plan program.
Fifth-year Arts/Laws student Zachary Frazer and third-year Advanced Finance and Economics (Hons) student Han Tang were two of five UQ students to receive New Colombo Plan scholarships.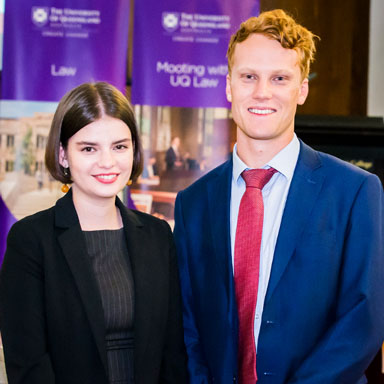 Third-year Economics/Laws student Isabelle Peart and fifth-year Business/Laws student Hayden Fabe were two of 270 UQ students to receive New Colombo Plan Mobility Program grants.
Mr Frazer said he was excited for his upcoming adventure to India, and proud to continue an excellent record of UQ law students successfully receiving competitive New Colombo Plan funding.
"I feel very honoured to be chosen as a New Colombo Plan Scholar, which will assist me to study international law at O.P. Jindal University and intern with the United Nations Development Program in India for eight months in 2019," he said.
"India is such an important country for Australia's future. It's soon to have the largest population on earth, with one of the largest economies.
"It's vital there are strong people-to-people connections between Australians and Indians.
"At present, I think Australia lacks the same links to the Indian legal community as those which we enjoy with other countries in Asia."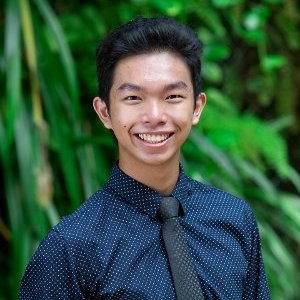 As New Colombo Plan scholars, Mr Frazer and Mr Tang will gratefully receive financial support and numerous other benefits such as health and travel insurance and learning materials.
Thanks to his scholarship, Mr Tang will study languages, finance and economics at the National University of Singapore and undertake an internship in the field of consulting or finance.
Also heading to O.P. Jindal Global University in India will be Mr Fabe, currently undertaking an internship with Credit Suisse Investment Banking and Current Markets.
"The news of my funding was a very pleasant surprise and will enable me to experience unique career development opportunities I otherwise would not have access to," Mr Fabe said.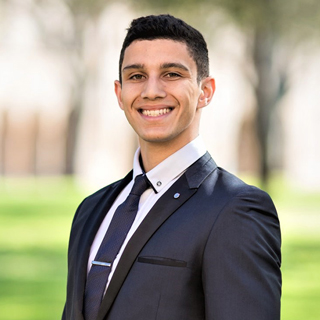 "In the long-term I would love to contribute to the growth of businesses on an international scale, with particular interest in emerging markets such as India and Africa."
Ms Peart, who has already demonstrated an interest in upholding justice for migrants, will use her New Colombo Plan Mobility Grant to undertake studies at the University of Indonesia.
"After I graduate, I aspire to work in international law, specialising in international dispute resolution," Ms Peart said.
"In the immediate future I want to broaden my knowledge of international trade and economics through studying courses such as Islamic Economics and Finance in Jakarta.
"I also want to learn about the practical ways in which human rights law and policy can help promote women's rights through an internship at United Nations Women Indonesia.
"It was a big relief to find out I had received this mobility grant as, to be able to go on exchange for one semester, I had to resign from my part-time job.
"The grant has provided me with peace of mind and helped me feel more secure about my financial situation."
Ms Peart's Indonesian aspirations evoke elements of fellow New Colombo Plan alumnus Chloe Widmaier, who visited Australia's northern neighbour to investigate anti-corruption legislation.
Previous UQ Law students selected as New Colombo Plan scholars include Zoe Brereton, Sam Bullen, Sophie Ryan, Alex Williams, Murray Buchanan and Muirgen O'Seighin.
UQ students and staff can explore current and upcoming global mobility and funding opportunities via the UQ Global Engagement website.
Media: BEL media, media@bel.uq.edu.au, +61 7 3346 0700.