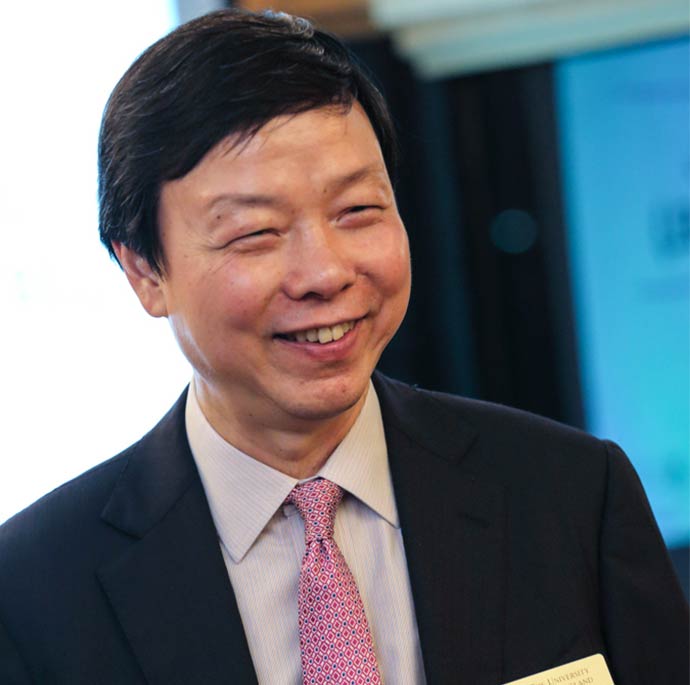 Alumni News spoke to Hong Kong financial services pioneer and banking executive Lawrence Au (Master Business Administration '82) to hear his views on entrepreneurship.
As a thought leader in securities and a pioneer in Hong Kong's financial sector, Au led two banking business start-ups from fledglings to the status of Asia Pacific market leaders, but unlike most financiers of the 1990s, he came from humble beginnings.
Growing up in 1960s Hong Kong with hard-working but often-absent parents, Au, who then dreamed of becoming a journalist, was driven to pursue a better life through education.
"My dad was a seaman so I only saw him less than two weeks a year… and my mum worked in the factory so I didn't get to see her that much either," Au said.
"It was a tough life, but that wasn't unusual in Hong Kong during the 50s and 60s."
Au's commitment to his study earned him a government scholarship for secondary school, and afterwards a Bachelor of Arts from the University of Hong Kong. As a result, he gained a position as club reporter at the South China Morning Post.
However life as a reporter did not live up to his ideals, and Au found his personal life suffering as a result of long hours with minimal rest.
"Compared to my peers, the pay was low. I went to work at 4pm and finished work at 3am and weekends were scheduled on rotation," he said.  
"I lost a lot of my social life and after two years reality sunk in and I thought this can't be my whole life."
In a time where entrepreneurship was not encouraged, Au applied to study a Master of Business Administration (MBA) in a bid to reset his career.
At the suggestion of one of his former professors, Au chose to apply for universities in Australia based on their affordable, but high-quality education.
After successfully receiving an offer to study at UQ, Au resided at Emmanuel College while completing his MBA between 1980 and 1982.
"I had a wonderful time living in Brisbane," Au said. 
"I think the education that I received at UQ initially was tough, especially when someone who doesn't have a business background has to catch up."
It was through Professor Frank Finn, who held several positions at UQ including Head of the School of Commerce; Dean of Faculty, and Director of Studies for the Faculty of Business, Economics and Law, that Au discovered his passion for finance.
"Professor Finn's research showed that passively investing in indexes rather than active management was a better move, and that was in 1981," Au said.  
"As students we all scratched our heads, thinking that can't be right. People pay a fund manager a lot of money to manage their portfolio … he was really ahead of his time."
After graduating from UQ, Au went into finance and has not looked back. While many attribute a career in finance to earning a high income, it is the lifelong learning component of the industry that Au is really passionate about.  
"There's no doubt that there's an element of making money, otherwise why do we invest? But what is fascinating is that the subject of finance is changing all the time. There are new instruments, new market conditions, so it becomes a lifetime of learning."
In the early 90s, the finance industry blossomed and Au amassed a wealth of experience.
Early on in his finance career, he worked for The Bank of New York and J.P. Morgan in regional sales and relationship management roles.
For the next 16-years, he was CEO with the securities services business of BNP Paribas and Northern Trust respectively, and took the start-up platforms of the two banks off the ground to become market leaders in the region. 
Au was an 'intrapreneur' before the term became mainstream, and he firmly believes that there are a lot of opportunities for entrepreneurship within large organisations.
"Organisations value entrepreneurs. They need people to have new ideas, whether it's a new business, a new product, or a new process."
While the skills that come from a way of entrepreneurship-thinking are highly sought after, Au suggested companies can do more to power innovation from their staff.
"First of all you need to create the kind of culture that implies you are willing to try. Give staff the leeway to try new things, encourage them, support them and although things may not always work out, take collective responsibility," Au said.
"Some companies are better than others at doing this, but I think gradually they are more enlightened because there's very tough competition out there.
"These days there are a lot of disruptions and new technology, therefore, new ideas and innovation are very important," he said.
With organisations and traditional work roles changing through the influence of technology, Au said graduates needed to focus on building adaptive skills to thrive in the new job economy.
 "I'm glad I graduated in '82 and have finished my corporate career because the next 30-years probably will be very tough. There will be artificial intelligence and robotics that are going to take most of the jobs," he said.
"In order to survive, our graduates should learn the skills to analyse and how to adapt to these changes."
After a long and distinguished career in his field, Au took some well-earned rest on sabbatical before co-founding a business consulting practice. A proponent for the UQ community as Alumni Ambassador for Hong Kong, he now sits on the board of Not If, When - the Campaign to Create Change.
"Looking at my situation back in the 80s, UQ helped to get me where I am today," Au said.
"I'm not a billionaire with the wealth to make big philanthropic donations, but I can help mobilise a lot more people to support UQ."
"Studying at UQ was one of the key turning points in my life. I thoroughly enjoyed the experience I went through and after listening to our campaign stories I decided I have some capacity to benefit a lot more people."