The University of Queensland's Faculty of Business, Economics and Law (BEL) Career Mentoring Program facilitates mentoring partnerships between ambitious BEL students and experienced industry professionals within a shared learning environment
The benefits of the program are twofold, with student mentees gaining industry insight and advice on how to make the transition from study to work, and mentors developing their leadership and coaching skills.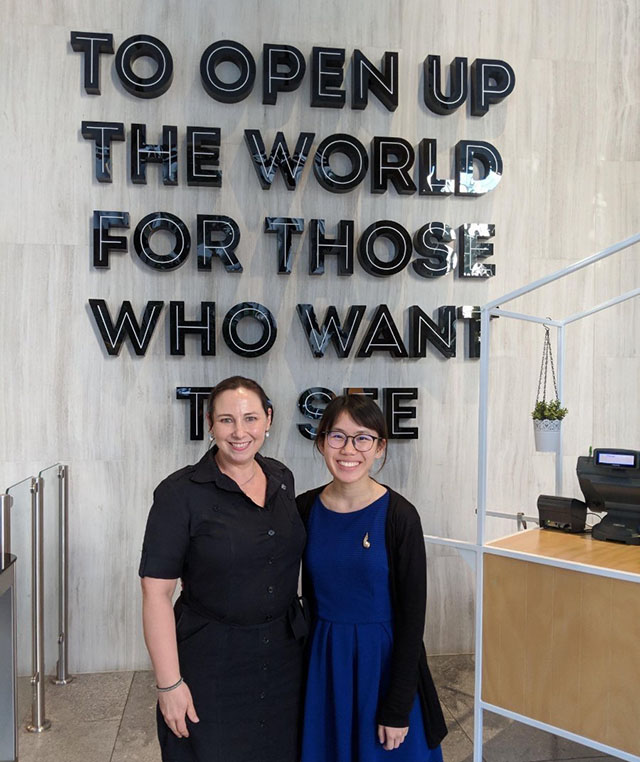 We asked 2018 mentee Winnie Sim and her mentor Veronica Beilby to share their experience.
How would you describe your mentoring program experience?
Winnie:  I have had such a great experience participating in this program. As an international student, this opportunity gave me a better understanding of Australian work culture, and I really enjoyed getting to know my mentor. Veronica was always very approachable and honest. I especially appreciated how open she was to sharing her personal and professional experiences with me.
Veronica: I am truly grateful to have had Winnie as a mentee. Her organisational skills and commitment to the program have made our mentoring experience a truly positive one. I always looked forward to our meetings and I learned a lot from her, so it's definitely a two-way learning experience.
How did you prepare for your mentoring meetings?
Winnie: I would email Veronica questions and topics prior to our meetings so that she could start thinking about her responses and add to any discussion topics.
Veronica: I really appreciated how Winnie would send me a list of topics to discuss. It gave me the chance to consider the topics and reflect on my answers prior to our meetings.
What did a typical meeting look like?
Winnie: Most of our meetings were held in cafes near Veronica's office. We discussed a range of topics such as leadership, factors to consider before moving to another city for work, learning from mistakes and career regrets.
Veronica: Winnie actively listened in our conversations while making notes on her laptop and asking relevant questions, which really demonstrated her desire to learn and grow, both personally and professionally.
What are your top tips to get the most out of the program?
Winnie: One of my ultimate tips is to email your mentor with topics you'd like to discuss prior to each meeting because this gives them the opportunity to really consider their answer – plus they really appreciate it! I also think it's important to take notes during each meeting so that you can refer back to them in the future.
Veronica: Being organised and prepared will help you make the most of this experience. It was really beneficial for both Winnie and I that we connected quite promptly after we were matched, thanks to Winnie reaching out right away. Winnie's preparation of discussion topics prior to each meeting also really helped to guide our conversations and make sure that we covered all of the areas we had hoped to.
To participate in the BEL Career Mentoring Program, please register to become a student mentee or industry mentor.