The University of Queensland has defeated The University of Sydney in the grand final of the 20thInternational Maritime Law Arbitration Moot, marking UQ's second consecutive world-title win.
Law students competed in a complex scenario involving a commercial shipping dispute in the five-day competition in Rotterdam, The Netherlands.
UQ Law's Tessa Boardman, Jonathan Hohl, Matt Singer and Mia Williams, and UQ alumnus and coach Leo Rees-Murphy, beat 30 other teams to win the coveted title.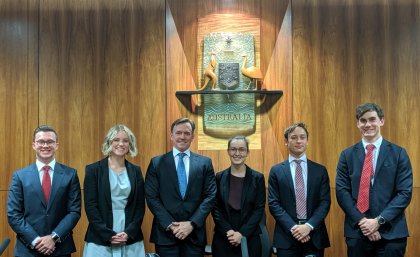 Head of School and Academic Dean Professor Patrick Parkinson congratulated the team for returning the championship trophy to UQ.
"This is a truly international and highly-competitive event, and our win marks another great mooting achievement for UQ," Professor Parkinson said.
"To win in consecutive years is a great indication of our strength in legal advocacy training and our global excellence in international trade and maritime law research.