Career mentoring unlocks potential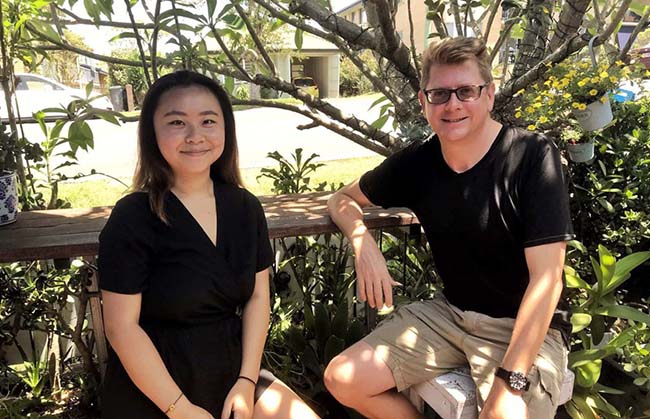 The BEL Career Mentoring Program puts high-achieving, motivated students from The University of Queensland's Faculty of Business, Economics and Law in contact with experienced industry professionals – often members of the UQ alumni community.
The industry mentors provide insight into the students' chosen industry, as well as providing coaching to help students make informed decisions about their professional development. This was certainly the case for 2018 BEL CMP mentee Sena Wanling Liu and her mentor Michael Doyle.
Why did you choose to participate in the 2018 BEL Career Mentoring Program?
Sena: Taking part in this program meant that I had the perfect opportunity to connect with someone in the industry that I wanted to be involved in in the future. I gained relevant knowledge and life lessons based on the mentor's own experiences and developed the ability to problem solve development challenges.  
Michael: It gave me an opportunity to help someone leaving university make some decisions and take some actions for their initial direction in their professional life.
What did you enjoy most about the BEL CMP experience?
S: I enjoyed talking about how I was progressing toward achieving my goals, as my mentor always praised and encouraged me to continue improving and building my confidence. Moreover, I really enjoyed when my mentor used his own experience to inspire me to achieve my own goals.
M: I really enjoyed helping someone break through blocks and think differently to achieve their goals. The program also helped me reflect on the choices I've made and the experiences I've had in my professional journey.
How did you approach and run your mentoring sessions?
S: We met in person to discuss my professional development goals, particularly any progress that I was making and how to overcome challenges and achieve those goals. This mentorship and coaching from Michael helped me to feel more motivated and more efficient.
M: We would take two hours to meet in person, and use a mixture of coaching and mentoring to work through the mentee's goals. I used coaching when I believed the best answer was inside the mentee, and mentoring when the mentee was looking specifically for the steps I took in accomplishing my professional achievements.
How would you describe a great mentor/mentee?
S: A great mentor is someone who sees more talent and ability within you than you see in yourself, and helps bring those abilities out of you.
M: A great mentee is not afraid to take the first action, is responsible for identifying what they want to achieve from the experience and is committed to taking the actions to achieve their goals.
To participate in the BEL Career Mentoring Program, please register to become a student mentee or express your interest to be an industry mentor.