UQ Brisbane City offers a unique space where students, alumni, industry and government can connect.
Conveniently situated in a heritage-listed sandstone building at the heart of Brisbane's financial district, The University of Queensland's newest site features three floors of flexible, world-class learning and meeting space.
Located at 293 Queen Street, UQ Brisbane City presents an original shopfront in the business world, positioning UQ's Faculty of Business, Economics and Law at the forefront of learning and networking in a globalised economy.
Students and professionals are immersed in a dynamic and vibrant learning hub, where they are exposed to and can network directly with decision makers and influencers in business and government.
UQ creates change, reimagining how higher education can be experienced and delivering it differently. That's why UQ Brisbane City blurs the boundaries between university campus and contemporary workplace.
Executive education and postgraduate study – more accessible, more flexible.
Students and professionals from UQ Business School's MBA program and Executive Education courses are taught in smart, functional and flexible learning facilities, with break-out spaces where students, staff and business guests can continue the conversation.
Spacious and visually appealing with the hallmarks of UQ tradition in a contemporary corporate setting, this is where new ideas take shape and thrive.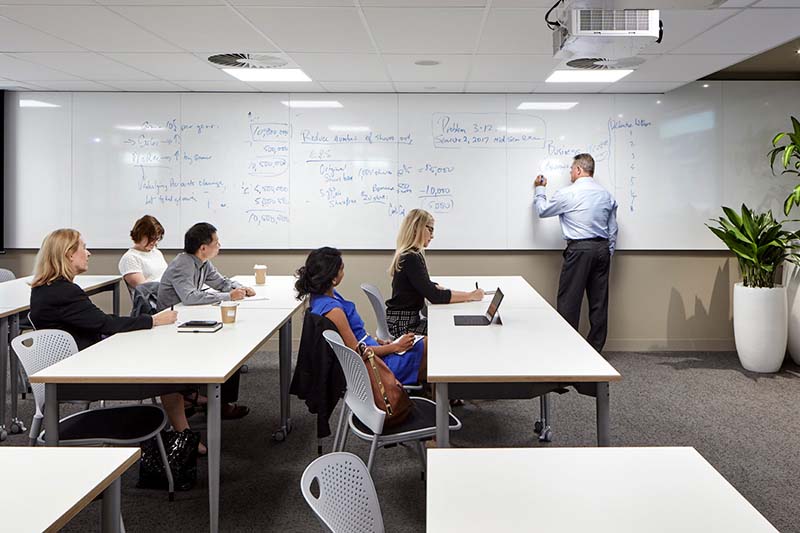 Collaborative workspaces – convenient and confidential
In business, collaboration is not just a strategy. It's a competitive advantage and the key to success.
UQ Brisbane City is designed to make collaboration easy. Whether it's a casual coffee chat, a full board meeting or a business launch, you're covered.
A lounge you won't just lounge in.
The Executive Lounge – meeting your every business need.
The Executive Lounge and companion rooms on Level 7 afford The Dean's Society members and other invited guests a sophisticated, comfortable and convenient venue to work, meet, do business and create change.
With its open-air terrace and leafy indoor gardens, the Executive Lounge resonates with UQ's St Lucia heritage while projecting a contemporary corporate context.
Members can order barista-made coffee, delicious pastries and other catering from the street level café, The Daily Coffee Co., or enjoy continuous complimentary tea, coffee, fruit and biscuits.
The Daily Coffee Co.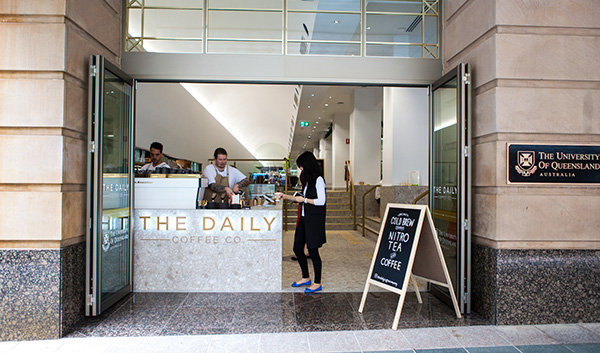 The Daily Coffee Co., run by the award-winning team from premier Brisbane riverside function venue Customs House, welcomes students, staff, members, their guests and other city professionals at the street entrance.
Exquisite pastries and wholesome quick lunches are the mainstays of a menu that changes seasonally, transforming the freshest ingredients into enticing options that reflect current trends.
Everyone who buys a coffee at The Daily Coffee Co. creates change, with 20 cents from every coffee purchase going to a giving destination, such as student projects, scholarships and start-ups, and community organisations that involve UQ students, alumni or researchers.
The Daily Coffee Co.'s social media pages promote special events, including coffee cupping experiences.
Hours of operation
UQ Brisbane City ground floor
8am - 6pm
Monday - Friday*
*Excluding public holidays
UQ Business School Executive Education
8am - 6pm
Monday - Friday*
*Excluding public holidays
Executive Lounge
9am - 5pm
Monday - Friday*
*Excluding public holidays