BEL Faculty 3MT® Competition
An 80,000-word PhD thesis would take nine hours to present.
Their time limit is three minutes.

Three Minute Thesis (3MT®) is a global competition that challenges higher degree research students (MPhil and PhD) to describe their research within three minutes to a general audience.
Congratulations to our BEL winner and runner up
Michelle Tran

Winner and People's Choice Winner

Michelle proceeds to the UQ Final at Customs House.

Jocelyn Bosse

Runner up

Jocelyn proceeds to the UQ Wildcard competition.
2019 BEL Faculty Final competitors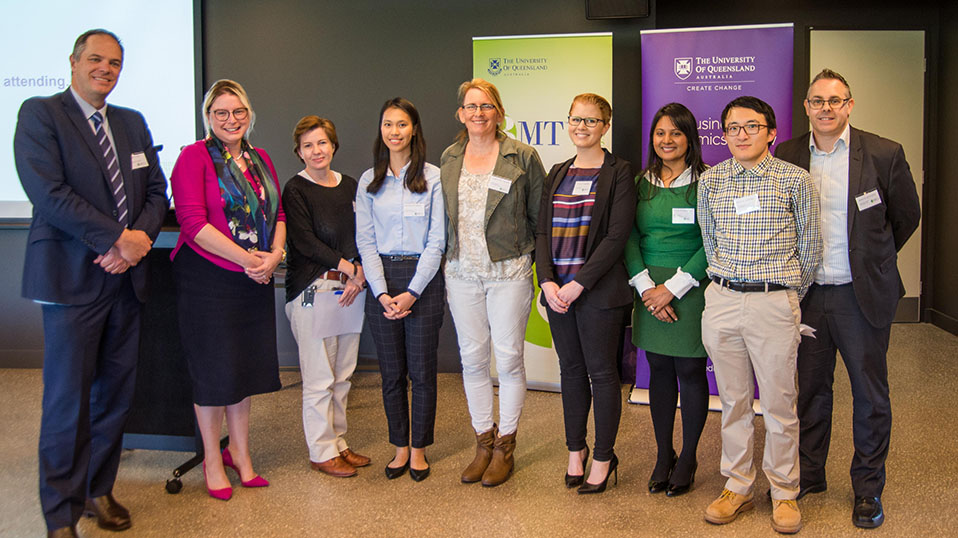 From L-R: Mr John Thynne, Prof Karen Hussey, Dr Teegan Green, Michelle Tran, Corinne Unger, Jocelyn Bosse, Anne Pickering, Beile Zhang, Prof Brent Richie
Jocelyn Bosse
Law heat winner
Fruitful partnerships: Science, law, and the Kakadu plum
Intellectual property law and other international regulations place strict requirements on research collaborations between Indigenous communities, scientists, and industry. Jocelyn's thesis explores the 'real life' impacts of the law upon research partnerships that seek to harness the unique properties of Australian native foods, such as the Kakadu plum (Terminalia ferdinandiana).
Anne Pickering
Law heat runner up
Building pathways for inclusive land reform - customary land holding in the Pacific and beyond
Reform of customary land tenure poses special challenges to countries seeking to modernise land tenure and achieve economic prosperity. Anne's thesis uses two case studies (Sri Lanka and Solomon Islands) to demonstrate that customary land tenure arrangements can be accommodated in land tenure reform in pluralistic societies and explore options for reform. 
Kieu My (Michelle) Tran
Economics heat winner
Silver Tsunami! Are we ready?
In spite of the fact that older people are living longer, there is little evidence to suggest that they are living healthier lives. Michelle's thesis uses an economic model and a large dataset to investigate how adult children could contribute to improving their ageing parents' health.
Corinne Unger
Business heat winner
The (non)management of insidious risks: a practice-theoretical perspective
Corinne's thesis presentation addresses insidious risks by her research into the closure planning of mining companies and the consequences a lack of closure planning can have on the environment and community. Her research also analyses ways to implement proper closure planning, including progressive rehabilitation.
Beile Zhang
Business heat runner up
Is the Airline Trustworthy? Airline companies credibility and Voluntary Carbon Offsetting
While aviation voluntary carbon offsetting (VCO) programs become a way to mitigate the influence of increasing tourism carbon emissions from air travels, the actual low uptake of these programs by air passengers reflects potential marketing and communication issues. This thesis proposed and examined a marketing model concerning the communication and design of aviation VCO programs, which could enhance the academic understanding of air passengers' purchases of aviation VCO programs and assist airline companies in improving their aviation VCO programs and communication strategies.
How it works
Active MPhil or PhD candidates who have successfully passed their confirmation milestone are eligible to participate in 3MT.
BEL Faculty students competed first in their school's heats in June with a winner and runner up from each of the school heats going on to compete in the BEL Faculty Final in August.
The winner of the BEL Final will go on to compete in the UQ 3MT final in September against winners from other UQ faculties and institutes.
If successful the winner is entered into the 2019 Asia-Pacific 3MT competition in October!
Photo gallery - 3MT BEL Faculty Final 2019
Winner's presentation, Michelle Tran - 3MT BEL Faculty Final 2019
Runner up's presentation, Jocelyn Bosse - 3MT BEL Faculty Final 2019
Slideshow - 3MT Law heat 7 June 2019
Click through photos from a recent heat held at the law school.
2018 BEL Faculty Winner & People's Choice
More than 250 UQ HDR students participated in the competition in 2018. Here's what our BEL 2018 winners, Jocelyn Bosse and Maria Golubovskaya had to say.
"It was interesting to hear about what other PhD candidates are doing, especially because I don't interact often with people in the Business School. Even people in my own School – I know vaguely what they're working on but it was fantastic to learn more.

The competition helped me unpack my own research and work out how to communicate what it is that I'm doing in a very short time frame to people who aren't in my field. Now I have something I can go to as a framework to explain it really quickly – I have my elevator pitch ready!"

- Jocelyn
Jocelyn Bosse | Fruitful partnerships: Science, law, and the Kakadu plum
Watch Jocelyn's 3MT presentation below or read her story.
2018 BEL Faculty Runner-Up
Maria Golubovskaya | Tell us what you really think! The voice of youth at work
"I enjoyed the exercise of having to communicate what my thesis was about in very general and succinct language. The 3MT is great for your research portfolio, but it's also an opportunity to see whether you can convince others of the importance of what you're doing, and whether you understand it well enough to be able to explain it in a short amount of time to a broader audience."

- Maria
Watch Maria's 3MT presentation below or read her story.
2017 BEL Faculty Winner
Ashley Ding | This forecast is actually accurate!
2017 BEL Faculty Runner-Up
Anne Pickering | Building pathways for inclusive land reform - customary land holding in the Pacific and beyond: Solomon Islands, Vanuatu and Sri Lanka
2017 BEL Faculty People's Choice
Joseph Lelliott | Unaccompanied minors: Developing law and policy to protect the most vulnerable migrants
2016 BEL Faculty Winner & People's Choice
Sam Boyle​ | Capacity and treatment refusal: How law does and should deal with the case of anorexia nervosa
2016 BEL Faculty Runner-Up & People's Choice
Chelsea Gill​​ | Retreat. Restore...Refresh. Exploring the role of corporate retreats in restoring directed attention
2016 BEL Faculty People's Choice
Nazila Babakhani​​​ | The eyes never lie: Essays on the usefulness of psychophysiological methods for sustainable tourism research
About 3MT®
Three Minute Thesis (3MT®) was developed here at UQ in 2008 and has spread to over 600 universities across more than 65 countries worldwide.