BEL Faculty 3MT® Competition
An 80,000-word PhD thesis would take nine hours to present.
Their time limit? Just three minutes.

Three Minute Thesis (3MT®) is a global competition that celebrates the exciting research conducted by higher degree research students (MPhil and PhD) and cultivates students' academic presentation and research communication skills.
The competition challenges students to effectively explain their research in three minutes, in a language appropriate to a non-specialist audience.
2020 3MT Virtual Competition
This year, due to COVID-19 physical distancing requirements, all 3MT competitions are being conducted virtually, which allows HDR candidates to hone their communication skills, receive peer review, and develop skills presenting their research to a general audience.
Final presentation
This presentation includes Q&A between the judges and each competitor and to further explore their thesis. Introduction by Prof Brent Ritchie, BEL Faculty Associate Dean (Research).

3MT BEL Faculty Final 2020 from UQ Law on Vimeo.
Presentation timestamps
09:08 - Rebecca Barber
The competence of the UN General Assembly to better respond to human rights and humanitarian crises.
15:43 - Yvonne Breitwieser-Faria
The Prevention of Atrocity Crimes - Legal Obligations and State Responsibility: 'We can, and we must, do better'.
22:30 - Sabrina Lenzen
Be active, prevent dement!
29:20 - Vitor Sobral
Leveraging regular sport team events for tourism
36:02 - Kieu My Tran (Michelle)
How healthcare should be distributed?
48:23 - Feedback from lead judge, Jocelyn Bosse.
Congratulations to our 2020 BEL Faculty winners!
Winner and People's Choice:  Sabrina Lenzen, School of Economics.  'Be active, prevent dementia!'
Runner-Up:  Vitor Sobral, UQBS. 'Leveraging regular sport team events for tourism'
Watch the 2020 individual competitor entries.
Why participate?
Develop academic, presentation and research communication skills
Build these skills in a supportive environment and hone your ability to effectively explain your research in language appropriate to a non-specialist audience.
Build a research culture in schools and institutes
3MT provides a valuable opportunity for HDR candidates to come together, get to know one another and talk about their research.
Build your professional network
Gain exposure for your research among other researchers, businesses and the media and build your professional network.
"3MT has given me an amazing opportunity to develop myself both professionally and personally. Through the competition, I was able to share my research with a broader audience and expand my professional network. I have also gained so much more confidence in public speaking which, I believe, is a critical skill in both academic and non-academic environments. I truly enjoyed the experience and I strongly encourage other HDR students to participate in the 3MT this year."

Michelle Tran, BEL Faculty 3MT winner, 2019
2019 BEL Faculty Final competitors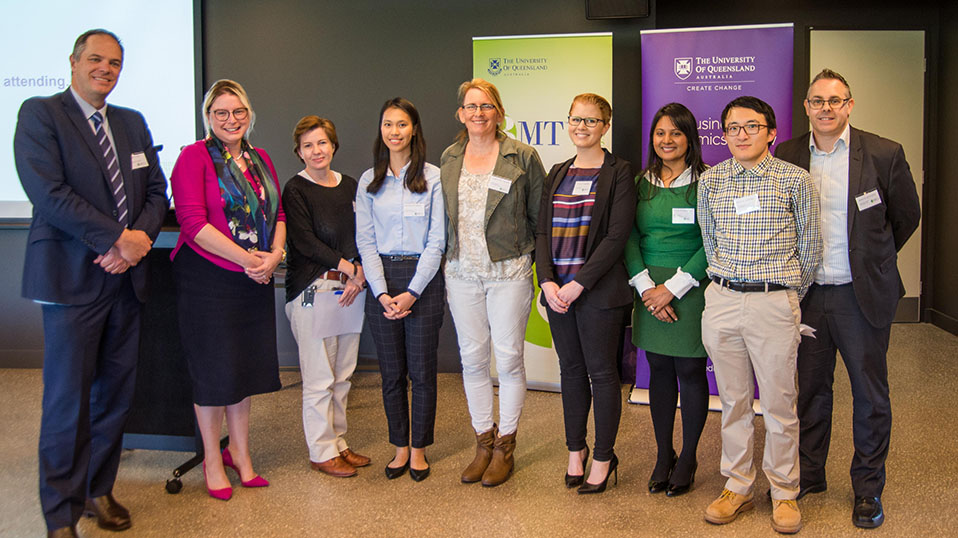 From L-R: Mr John Thynne, Dr Teegan Green, Prof Karen Hussey, Michelle Tran, Corinne Unger, Jocelyn Bosse, Anne Pickering, Beile Zhang, Prof Brent Richie
About 3MT®
Three Minute Thesis (3MT®) was developed here at UQ in 2008 and has spread to over 600 universities across more than 65 countries worldwide.