Mark Loane Medal: inspiring the next generation of outstanding student athletes at UQ.
Mark Loane AM, former Australian Wallabies rugby captain and University of Queensland alumnus, is regarded as one of the finest rugby players ever to emerge from Queensland.
To commemorate the achievements of one of our greatest sports legends, The University of Queensland has commissioned a medal to be awarded annually to America's most outstanding high school rugby athlete.
The award of the Mark Loane Medal, which takes place at the annual BEL UQ Rugby Dinner in New York City, recognises and rewards the outstanding potential of America's best high school rugby player. The award is based on the player's skills, ability and aptitude, both on and off the rugby field.  
The medal recipient will be given the opportunity to participate in the UQ Rugby Academy and play for the famous University of Queensland Rugby Club. The recipient's travel expenses and on-campus accommodation are included as part of the award.
Please note there were no recipients for 2020-2022 (inclusive), due to COVID and travel restrictions.
Aiden Kemp
University of Arizona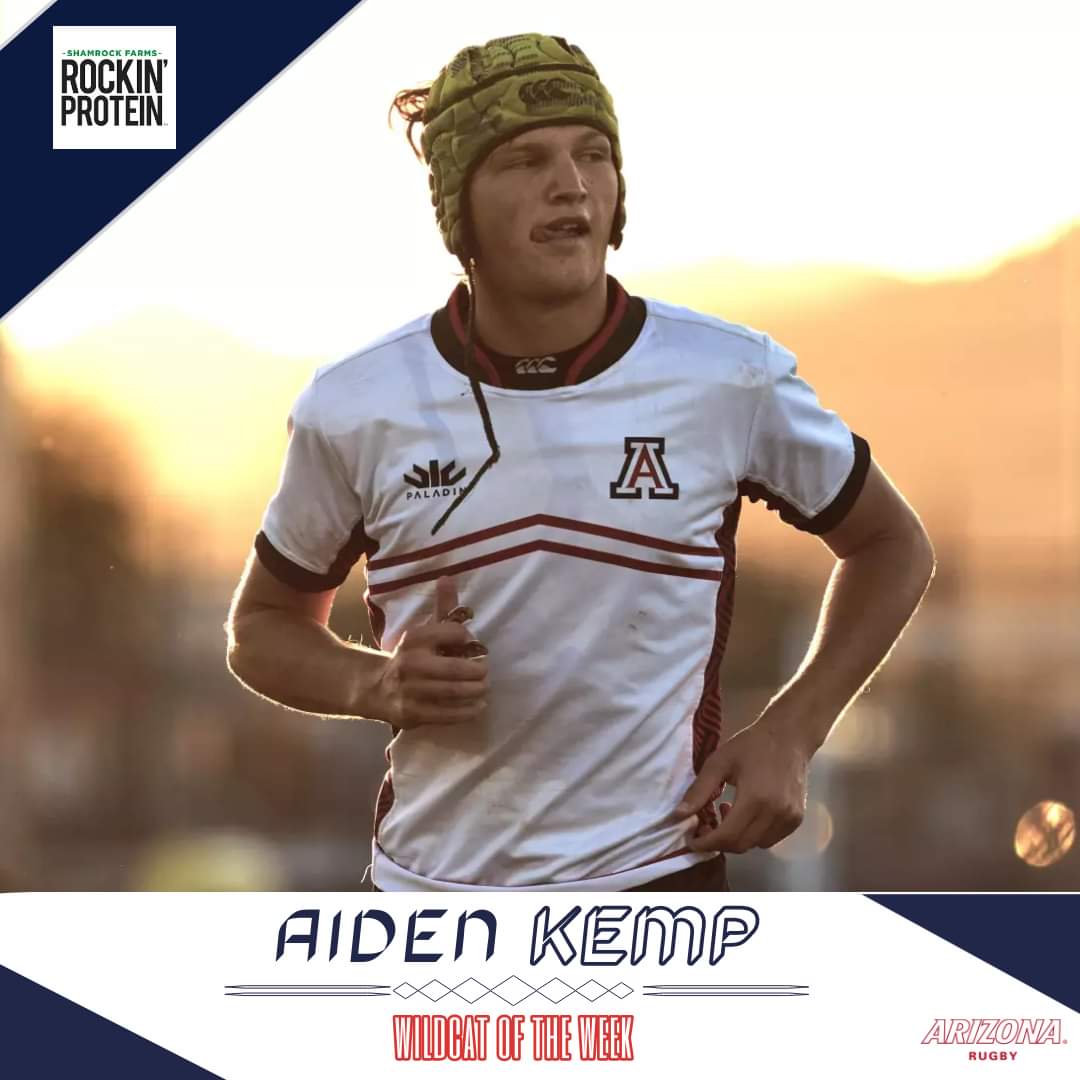 Aiden Kemp is a first-year Wildcat at the University of Arizona rugby who's been making waves in the desert with a USA Under 18s invite for their upcoming Sevens assembly on top of a very special bit of recognition by the US Rugby community.
Aiden completed a tour with our resident Mark Loane Medallist selector, Salty Thompson, in Spain earlier in 2023, where he was outstanding as a player, but equally as a teammate. Aiden is of high character and is a young man that will represent well in Queensland.
Aiden is studying aerospace engineering at the University of Arizona.
Aiden will participate in the UQ Rugby Academy as part of the Mark Loane scholarship in 2024.
Russell Lemaster
Indiana University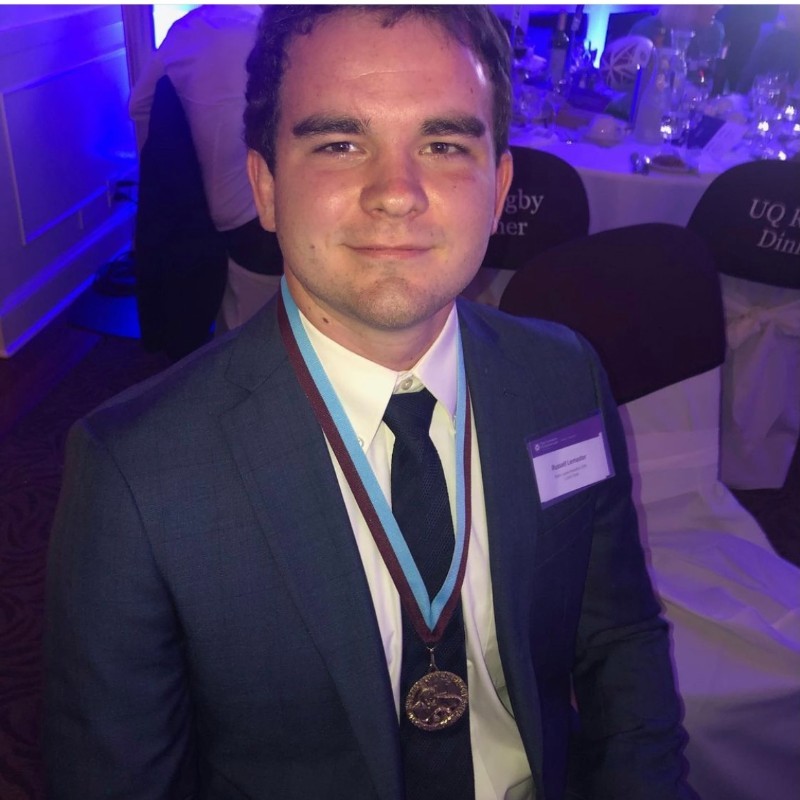 Originally from Indianapolis, Indiana, Russell is studying at the Kelley School of Business at Indiana University, majoring in Finance. As the Mark Loane Medallist, Russell will travel to Australia to play for the UQ Rugby Football Club and attend the UQ Rugby Academy in 2020.
"I am most looking forward to receiving top notch coaching and high levels of competition while playing rugby in Queensland." Russell said. 
"I am eager to see what life if like in Australia for a college rugby player, and the environment in which they play." 
Rusell fell in love with rugby as soon as he started playing in the fourth grade, after finding it offered him more than American Football could. F
"In youth football leagues, there is a weight limit restricting which kids can run the ball. I've always been big for my age so I could never play those positions." Said Russell. 
"Rugby gave me the ability to carry the ball and participate in offense. This aspect along with the close brotherhood of my middle school team, Broad Ripple Park Rugby, led me to not only put a lot of focus and energy into rugby, but encourage my other friends to come try it." 
Russell's talent and dedication has already seen him offered opportunities to play at an elite level. He has played on multiple Eagle Impact Rugby Academy tours in Canada and Ireland, and his high school freshman year at the age of only 14, was selected as a High School All-American. 
"But even more memorable is winning the High School National Championship in 2017 with my home team, Royal Irish, and sharing that with my teammates I'd known since I started playing." said Russell.
Russell plans on making the most of the his visit to Australia, both in exploring a new country and in advancing his skills in rugby, which he hopes will leave him well-placed to continue playing after college. 
"Ultimately, nothing would be better than to represent my country as a USA Eagle." Said Russell. 
Ethan McVeigh
Cardiff Metropolitan University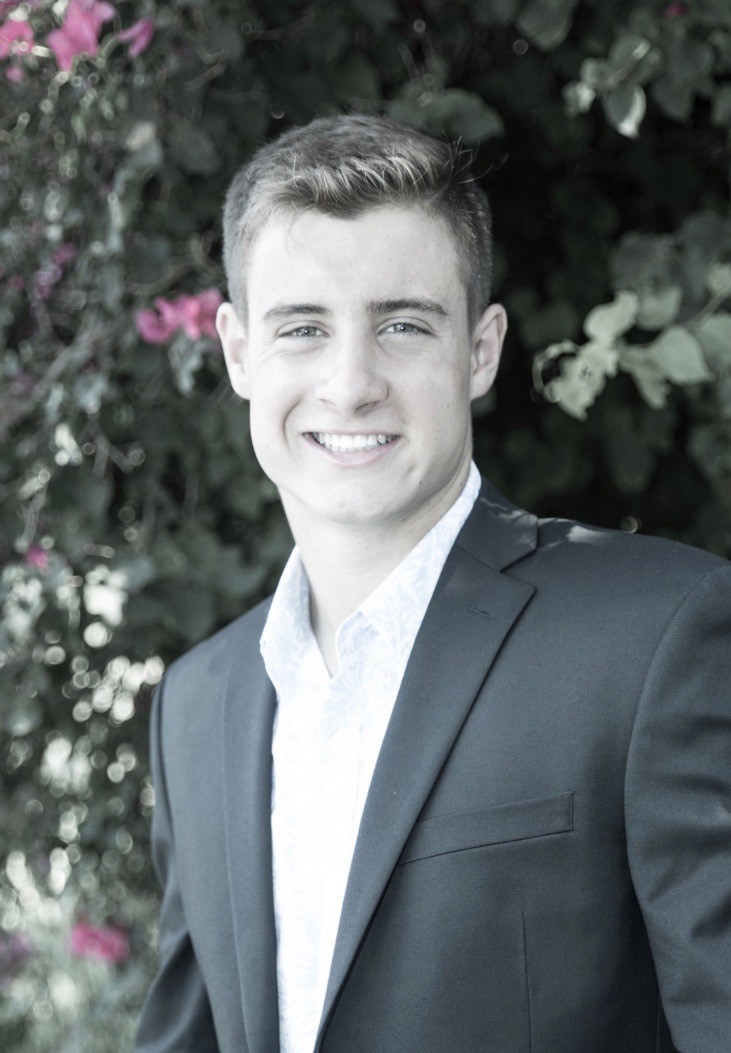 Originally from San Diego, California, Ethan is in his freshman year studying sports management at Cardiff Metropolitan University in Wales.
He began playing club rugby at age eight at the OMBAC Wallabies Youth Rugby Club in San Diego. A born leader, he also helped coach and mentor his younger teammates.
Ethan attended Saint Augustine High School, where he was a four-year rugby varsity letterman and named to the San Diego All-League team in his senior year. He helped lead the Saintsmen to victory in the San Diego County Rugby Championship, and to runners-up in the Southern California grand final.
Ethan has had the privilege of playing multiple representative honors. As a high school freshman, he began playing for the Eagle Impact Rugby Academy (EIRA) in Southern California. This led to opportunities in Regional All-Star Tournaments, including travelling to British Columbia, Canada and participating in the Las Vegas Invitational 7s Tournament.
During high school, Ethan was selected to play in the 2017 USA U18 European Championships in France, and the 2018 USA U20 World Rugby Trophy qualifier against Canada.
Patrick Madden
California Polytechnic State University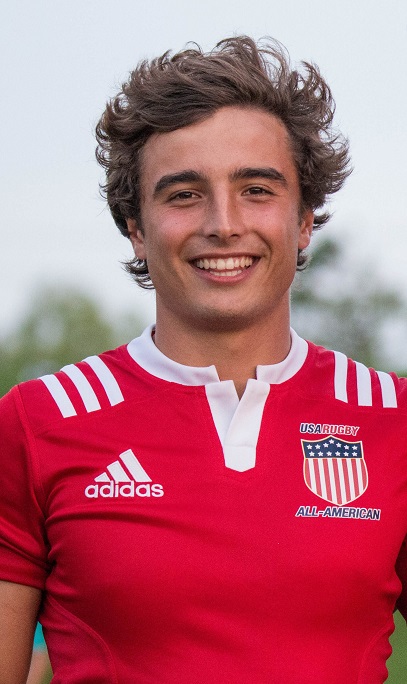 While growing up in San Diego, California, Patrick played for the San Diego Young Aztecs/Aztec Warriors. In his 12 years with the club, he has been a captain every year at every age-grade and earned awards for Best Forward and Best Back, as well as the Coaches Award.
For Patrick, a club career highlight was jetting off to New Zealand to play against Mount Albert Grammar School and Rongotai College. Patrick also founded, captained and played rugby at his high school, University City. He was named Player of the Week multiple times in the Goff Rugby Report.
Patrick has played select-side rugby since his freshman year of high school, starting with the Southern California Youth Griffins. Soon afterwards, High School All-American (HSAA) Coach Salty Thompson launched the Eagle Impact Rugby Academy (EIRA). Patrick was one of the original and youngest players in the program.
As captain, Patrick went on to lead the EIRA to national titles in 7s and 15s, secure MVP honours in the Las Vegas Invitational Tournament and win the title of the Ramblin' Jesters' Young 7s Player of the Month for his performance.
In 2015, Patrick was brought into the HSAA program as a high school sophomore for their tour to France and Belgium. He would go on to represent the HSAA and Stars and Stripes sides in both 7s and 15s on tours to Canada and in high-profile matches around the US. He was also selected for the Men's Junior All-American U19 side that played Canada at the Olympic Training Centre in the winter of 2016.
Bronson Teles
University of Arizona Rugby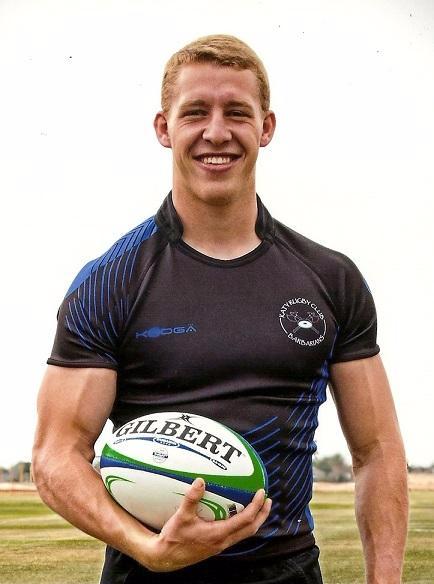 Bronson Teles fell in love with rugby at a young age, playing for the Katy Barbarians Rugby Club in Texas for the past nine years, three of them as captain. He was awarded MVP by Katy, and was twice the recipient of the Forward of the Year Award presented by Rugby Texas.
In March 2016, Bronson was voted 'Player of the Month' and 'MVP of the month' by fans in the Goff Rugby Reports.

He has played for the Texas All Star for four years and was varsity captain in 2016. He was chosen to be on the All Star Tournament Team at the Rocky Mountain Regional Cup Tournament in June 2016.

Bronson represented the High School All Americans, USA Rugby u18-19 in 2016 playing both 7s and 15s. He was also selected for the USA u20s (Men's Junior All Americans) and played in the 2016 Junior World Trophy in Zimbabwe.

Bronson is currently studying business at the University of Arizona and playing rugby for the Wildcats.
Steven Branham
University of Arizona Rugby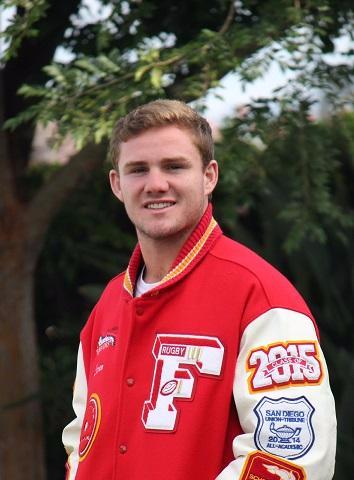 Named as the 2014-2015 High School MVP in the Goff Rugby Report, Steven Branham enjoyed a successful high school rugby career at Fallbrook High School (CA) where he served as team captain.
Following the conclusion of the 2012 under-18 club season, Branham was invited to try out for the Griffins and was the only Fallbrook player selected to the under-18 Griffins squad.
In early 2013, Branham was invited to be part of the All-Americans squad and spent spring break of his sophomore year in England playing international matches with the U17 All-Americans.
Branham's participation in various camps and all-star tournaments led to his berth on the USA Rugby Boys High School All-American squad for the Rugby 4 Nations Cup in 2014. He was also one of three Americans to be named to the all-tournament team.
Steven participated in the UQ Rugby Academy as part of the Mark Loane Medal scholarship from June until early August 2016. While with UQ Rugby, he played in the Premier Colts.