A warm welcome to the Business, Economics and Law Faculty community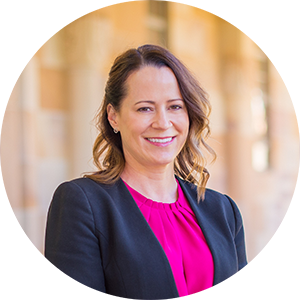 It is an incredible privilege to be working within the BEL Faculty. Our alumni are important advocates for our university and our partnerships can have many transformative impacts, such as setting aspirational goals for our current and future students.
I  am impressed by the work of the Alumni Ambassador Council, who are outstanding in progressing our engagement agenda across the globe. I appreciate the commitment of members of our community who have chosen to partner with us to provide diverse opportunities for our current and future students through philanthropic endeavours. 
We are deeply grateful to our community who continue to support the faculty, and thankful for those that are considering such a journey with us in the future.  It is a poignant reminder there are many examples of those who simply cannot access a higher education.  What an incredible honour it is for us to create these opportunities through scholarships and bursaries.  Not to mention the opportunity to attract staff, improve facilities, prizes and other such initiatives, which all go a long way to enhance the student experience.
Please do not hesitate to contact me with any questions you may have regarding our Advancement programs within the Faculty.
Jo Nitz
Director, Advancement
BEL Faculty
An alumni network that opens doors
Our alumni network is a vibrant and supportive community of more than 68,000 UQ Business, Economics and Law graduates spread across the globe.

Whether you graduated in 1978 or 2008, being active in your alumni community has a range of benefits to you both personally and professionally. You can stay connected to UQ, reconnect with fellow alumni, make new professional connections and support current students during their program.
Help our students and recent graduates as they prepare for and enter the global workplace.
The Dean's Society recognises our annual and lifetime donors who provide the philanthropic leadership and vision to our students, academics and programs.
Alumni news and features
Read about our alumni achievements and breakthroughs in their fields, and feature articles from the fields of business, economics and law.
Alumni events
Find out about upcoming BEL Faculty Alumni events, in Australia and around the world.
The Global Connection
Organised by UQ alumni, for UQ alumni, The Global Connection is a series of regular, informal meet-ups held in nearly 20 cities worldwide.
BEL Alumni Events
The Faculty of Business, Economics and Law (BEL) is pleased to offer a range of alumni and community engagement events as part of our commitment to professional development and life-long learning with UQ.
Annual Rodney Wylie Lecture Series
This series brings a globally-respected visitor to the University to provide intellectual leadership and engage with alumni and community through its annual public lecture series.
Create Change: Masterclass offers inspiring teaching from leading UQ thinkers and shines a spotlight on the journeys of proven change-makers. Dive in now to see how UQ can help you create change – in your life and the world.
Alumni ambassadors
To help graduates connect with fellow alumni in their local community, we have established ambassador councils who we work with to provide a range of events, networking opportunities and ways to connect with UQ alumni.
Update your details
Stay up to date with alumni news, hear about events in your area, and connect with your fellow alumni.
Give through BEL
Give through BEL Faculty and support researchers and students as they create change locally and globally.