The University of Queensland alumna Lina Tchung has a lot on her plate.
The high-achieving Bachelor of Business Management/Bachelor of Commerce graduate is juggling a full-time job, a busy family life, and a steadfast commitment to making a difference in the lives of women facing inequality and violence.
Lina is a Director in the financial services team at EY in Sydney. For the past seven years, she has also served as a volunteer Non-Executive Board Director for YWCA NSW, a non-profit organisation dedicated to improving gender equality and eradicating violence against women.
Funded by donations, government grants, and profit-for-purpose businesses, YWCA NSW offers invaluable women-focused programs and services including youth mentoring and domestic violence and homeless support.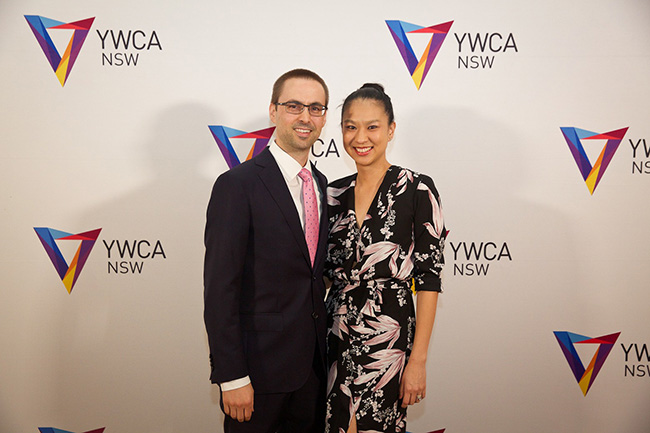 According to Lina, the YWCA NSW chapter is part of a national and global movement.
"There are YWCAs in over 120 countries around the world, each focusing on social and economic justice, women's rights, and empowering women to be leaders," she said.
"We're all about women leading the charge; that's the core of our work. 
"We have a particular focus on the domestic violence space and making sure we support women when they're in crisis, but also before that by trying to break intergenerational cycles of violence – for example, teaching school kids about respectful relationships."
Lina said the YWCA NSW initiative she's most proud of is a program run in conjunction with the Nowra police station.
"Some of the program staff are co-located at the station, so when a woman experiencing violence walks through the station doors the police will refer her to them," she said.
"Our staff will guide her as much as possible with finding accommodation and refuge, providing her with basic necessities, helping her through the legal process, and supporting her with finding a job if she doesn't have one.
"The goal is to ensure she doesn't end up as just another statistic." 
In addition to her duties on the board, Lina also sits on the YWCA NSW's finance and merger committees. She is currently assisting with amalgamating the 11 Australian YWCA associations into one to ensure the organisation has a greater impact on women across the country. 
Despite her hectic schedule, Lina said she was thrilled to be so involved. 
"If you're passionate about something, you make it work no matter how busy you are," she said.
"When I first read up about YWCA NSW and the impact they've made on women and girls, it inspired me to participate and use my professional skills in a different way.
"I feel really honoured to be involved. I'm not at the frontlines, but whatever I can do in the background to ensure YWCA NSW is sustainable in the future, that's how I know I'm contributing.
"I have a young daughter and I want to set a positive example about giving back to the community."
Lina's time at YWCA NSW has shown her that community support is crucial for women experiencing violence or hardship.
"For many women, sometimes the most difficult thing is seeking help," she said.
"If you can see the warning signs in someone close to you, reach out and ask if they're okay. Try to be supportive and let them know there's nothing to be ashamed of."
Lina, who graduated in 2001, said her UQ experience gave her the building blocks for both her finance career and her involvement with YWCA NSW.
"Some people go to uni and graduate without getting involved in student life," she said.
"For me, I was in this incredible learning environment, picking up new skills and having new experiences, but I also spent a lot of time trying to build connections and relationships through student societies.
"UQ was great for my professional development and gave me a fantastic foundation for the next chapter of my life."
Although she moved to Sydney to start at EY shortly after graduation, Lina's connection to UQ has endured.  
In a twist of fate, she met her future husband while on secondment in San Francisco only to learn that he was a former UQ exchange student. The pair married in UQ's Great Court in 2012. 
Like Lina, UQ's Faculty of Business, Economics and Law is committed to shining a light on the social and economic impacts of domestic violence in Australia. The Faculty hosted a Domestic Violence Awareness Luncheon in 2016 which was profiled for the Queensland Government's Not Now, Not Ever campaign. It is also home to one of Australia's foremost domestic violence law researchers, Professor Heather Douglas from the TC Beirne School of Law.