A group of student mentees from The University of Queensland's BEL Career Mentoring Program are creating change in their lives and careers with a little help from professional coaches.
The students are the beneficiaries of a brand new partnership between the Mentoring Program and the International Coach Federation Australasia - Queensland.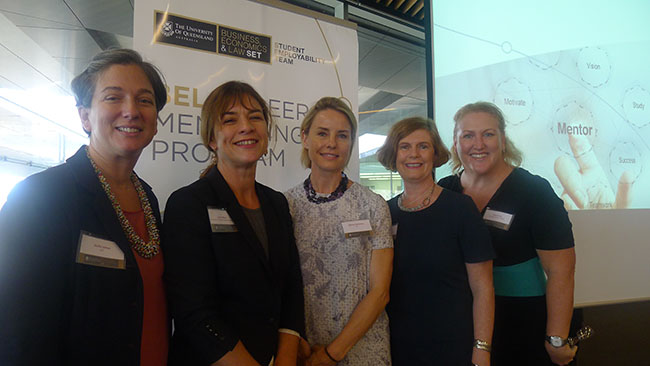 Cate Clifford, Employability Specialist - Mentoring for the BEL Student Employability Team, said the partnership kicked off earlier this year with an exclusive competition for student mentees. 
"We invited all current BEL mentees to submit an application to win four individual coaching sessions with an ICF-accredited coach to complement their mentoring experience," Ms Clifford said.
 "We're thrilled that 23 of our mentees are now working with these highly qualified coaches on setting goals, tapping into their leadership potential, and improving their outlook on work and life.
"Coaching builds on the industry and career-specific advice the students get from their mentors.
 "With access to both mentoring and coaching, students have the opportunity to enhance their professional and personal development, boost their employability, and graduate with a competitive edge."
International law student Sophie Rougeron said her coaching sessions added to her mentoring experience.  
"We're a team trying to reach the same goal," Ms Rougeron said.
"My coach is helping me with my personal skills so I can be more confident in my future career, while my mentor is assisting with career advice.
"Thanks to them, I have a better understanding of my weaknesses and strengths and I can work on them. They have helped me find myself and start my global career."
Zsofia Juhasz, President of ICF Australasia - Queensland, said she was delighted to be partnering with the BEL Career Mentoring Program for the first time.
"Working with students is a new area for us, and we're very excited to help shape the next generation of leaders," Ms Juhasz said.
Ms Juhasz believes coaching is ideal for university students eager to take charge of their future.
"The focus is on discovering opportunities for development based on your individual strengths," she said.
"It's a self-directed, goal-oriented process. You are the expert of your life; I'm just here to help you get there. "
Member of the ICF Australasia - Queensland Leadership Team, Kathryn Donaldson said there were many different reasons students might seek out professional coaching.
"Coaching can help students get in touch with what they really want to do, or help them answer the question 'what makes me unique and attractive to an employer?'" Ms Donaldson said.
"It can also provide clarity around the steps they need to take to best position themselves for success, or how to network and build relationships.
"Mentors offer wisdom and guidance based on their own experience, and then a coach provides a fresh perspective and helps empower students to set and meet goals as they transition from study to work."
Ms Rougeron said the experience has relieved some of the stress that comes with being an international student.
"My coach and my mentor have helped with so much, including my confidence in English," Ms Rougeron said.  
"Having such awesome humans believing in me has made me push myself further to avoid disappointing them. I've realised that being an international student is a strength, and opportunities like this one can help me cultivate it."
Ms Rougeron said she would encourage all BEL students to make the most of the programs available to them through the BEL Student Employability Team.
For more information on the BEL Career Mentoring Program, click here.