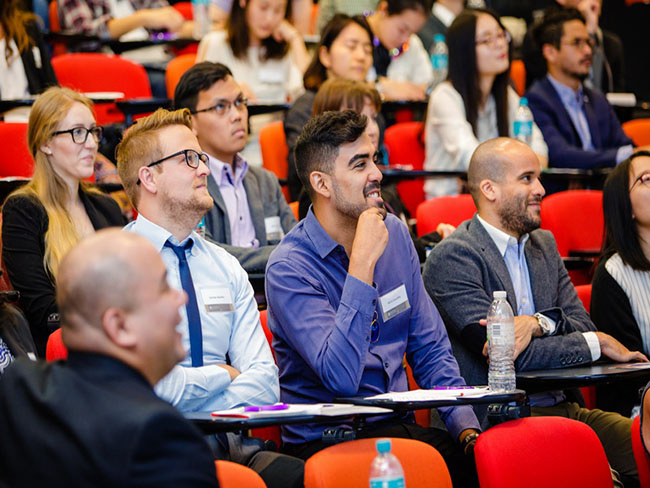 More than 100 international postgraduate students from The University of Queensland's Faculty of Business, Economics and Law (BEL) took their first steps towards career success at the inaugural BEL International Student Employability Conference.
The free, exclusive conference was coordinated by the Faculty's Student Employability Team (SET)  and supported by the BEL International Services Team.
BEL SET Director Rhea Jain said the conference was created specifically for international postgraduate students looking to advance their employability skills and career aspirations.
"Designed and delivered by our award-winning BEL Student Employability Team, students heard from guest speakers and participated in interactive workshops that were of the strongest interest to them," Ms Jain said.
"Topics included networking, personal branding and LinkedIn, stand-out applications, interviewing secrets, gaining work experience, and next steps for career change professionals.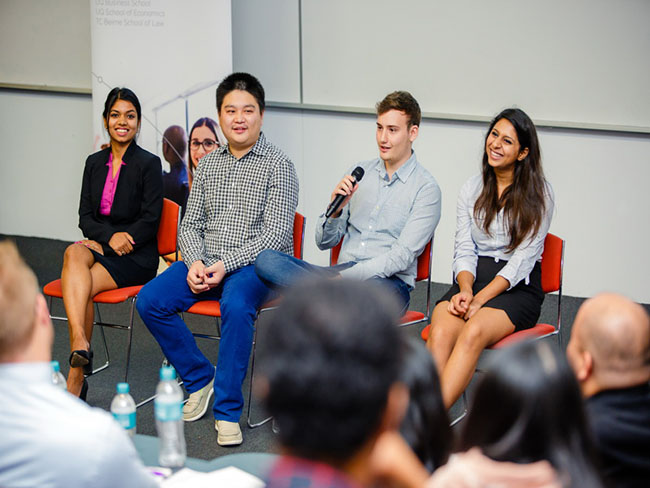 "Students walked away with the motivation, skills and confidence to achieve their career aspirations, plus new networks, strategies for success, an understanding of current and future trends and a professional LinkedIn photo to help them create a powerful online profile."
BEL Faculty Senior Manager of International Services Brendon Lutwyche said employability was a hot topic for international students.
"It's imperative that international students are aware of and meet the requirements of the competitive international job market," Mr Lutwyche said.
"We encourage our students seeking graduate jobs in their home countries to take on work experience in Australia. This international experience can add value to their CV and make them an asset to graduate employers around the globe.
"The programs run by our BEL Student Employability Team provide real experiences and tools for our students to gain that edge and add to their employability outcomes while they're UQ students."
The conference was modelled on the runaway success of the BEL Student Employability Conference, which is held twice annually for all current BEL students and recent graduates.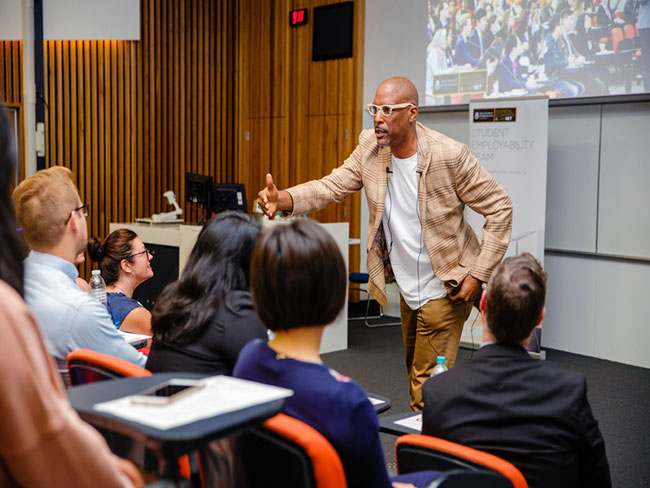 Off the back of his appearance at the July Student Employability Conference, former NBA and NBL star Eric Bailey returned to delight students and staff with his keynote address.
Mr Bailey, now an activational speaker, urged students to visualise their future, be patient and be consistent.
"Wherever you're from, your goals and dreams can be realised and accomplished if you do this," Mr Bailey said.
"When we're talking about employability, you're in a global market space. You have to be resilient; you can't quit on yourself because things look bleak.
"The most successful people look at a challenge and convert it to an opportunity."
Mr Bailey also advised students to take advantage of the BEL SET programs and opportunities on offer, which he described as "the ultimate preparation".
Master of Business student Yash Mukesh Gupta said attending events like the conference was "very important" for international students.
"There is so much you can do while you're here at UQ," Mr Gupta said.
"In the working world, things change very fast and you need to be ready. You should grab hold of opportunities like this one as much as possible.
"What I've gained, especially from the networking and work experience workshops and Mr Bailey's presentation, is inspiration, self-belief and the skills to help me be a better person, advance my engineering career, and adapt to the Australian working environment."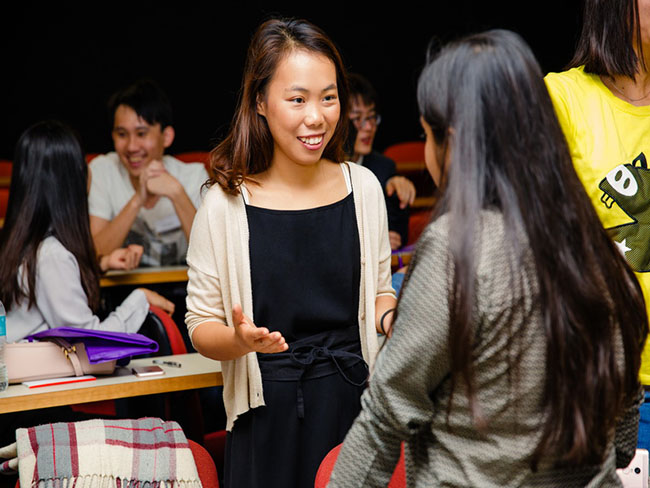 Ms Jain said she would encourage all new international postgraduate students to take the plunge and sign up for future iterations of the conference.
"It's important to invest in yourself and develop your personal and professional brand," she said.
"I would recommend that international students come to be inspired by industry leaders, hear about what employers look for and how they can stand out in a competitive market, and learn the behind the scenes secrets for success."
To learn more about the BEL Student Employability Team or to book an appointment, visit their website.
Watch Mr Bailey's full presentation:
See photos from the conference: