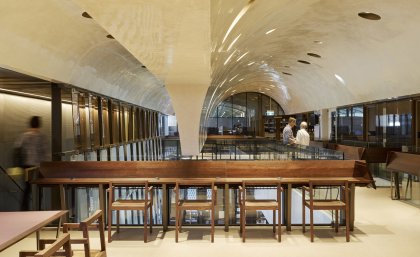 National architecture firm BVN won the national awards for educational architecture and interior architecture for refurbishing the heritage-listed Forgan Smith building, which is home to the TC Beirne School of Law and Walter Harrison Library.
The judging panel noted that the project team went to great lengths to ensure their design reflected the traditions and substance of the legal profession while creating a state-of-the-art collaborative space for teaching and research.
The design was also informed by the three legal pillars of knowledge, learning and inquiry, with each pillar visually represented throughout the building by colours and details.
Head of School and Dean of Law Professor Sarah Derrington said the awards were a credit to the teams involved and their work would transform teaching and learning for the next generation of legal leaders.
"These prestigious awards acknowledge the success of our partnership with BVN and their in-depth understanding of the law school, the legal profession and our desired outcomes for contemporary teaching and research spaces, partnered with an impeccable attention to detail," Professor Derrington said.
"The building has never been busier, with our staff and students making the most of the interactive research spaces, break-out rooms, independent study areas and innovative learning, research and academic facilities."
TC Beirne School of Law Forgan Smith Reimagination from TC Beirne School of Law on Vimeo. Credit: BVN and design.film
BVN principal architect Brian Donovan said it was rewarding to see the project recognised at the national level.
"The award juries have endorsed the University and the School's strategy to adaptively reimagine this historic Queensland building as a memorable, contemporary and globally influential law school," Mr Donovan said.
"Implicit in this strategy is the commitment to the capacity for architecture to provide both an identity and a place that ultimately benefits the broader community."
The Forgan Smith building refurbishment project also won the educational architecture and interior architecture categories at the Queensland State Architecture Awards in June, and has been shortlisted for the INSIDE World Interior of the Year Awards in the health and education category.
Media: TC Beirne School of Law Communications, Caroline Enright, c.enright@uq.edu.au, +61 7 3365 2596.