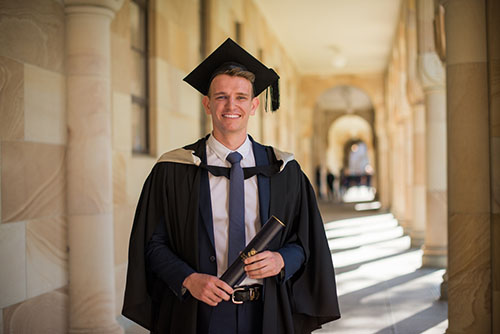 When University of Queensland graduate Charles Coverdale accepts his Bachelor of Economics/Bachelor of Science testamurs today, he will no doubt be dreaming of his next startup idea.
During his five years at UQ, Mr Coverdale discovered a flair for the School of Economics' applied economics courses, and a passion for development economics, policy and climate research.
And he has built on a long-term fascination with the startup and entrepreneurship landscape – an interest he traces back to his high school years in northern New South Wales. 
"I think the trigger was watching a 2011 series called Startup Bus, where teams of entrepreneurs had to pitch their startup ideas to investors while travelling across the US," Mr Coverdale said.
"This was before startup weekends were all the rage. I remember thinking 'that looks like fun'."
Fast-forward seven years, and Mr Coverdale is graduating with one startup already under his belt.
He developed the Finlit financial technology company through UQ's ilab startup accelerator program.
Mr Coverdale said the idea for Finlit came in 2016 when his housemate quit his job and decided to become a food delivery rider.
"These riders are considered contractors and not employees, which means they have different rights and obligations," he said.
"The problem was that my housemate had no idea how to register as a contractor.
"I realised that there are many young people who are going into the workforce, who might never be employees, always contractors, and they are woefully underprepared for that future.
"I spoke to my other housemate and eventual co-founder, and we decided to work on software tools to facilitate the contractor management process."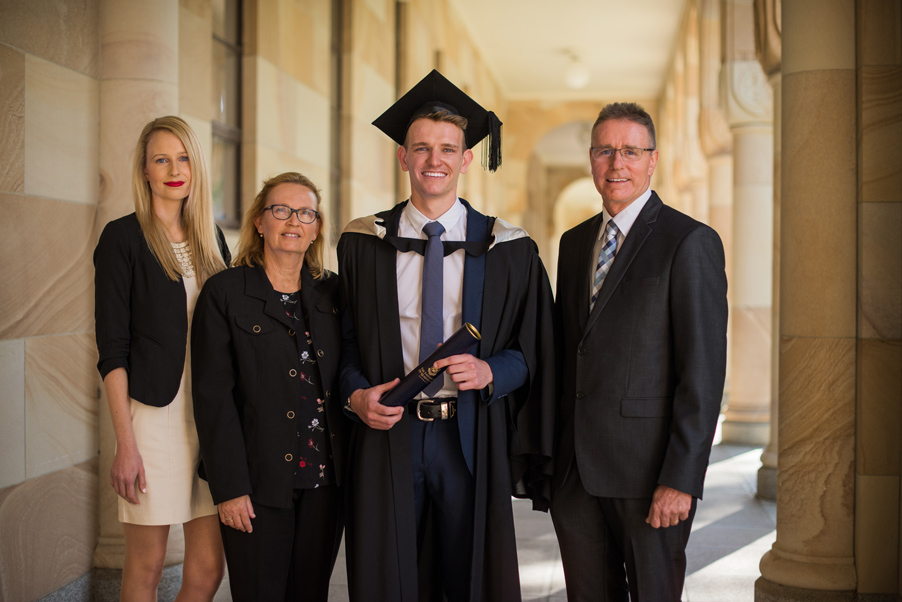 Although the pair chose to close up shop last year, Mr Coverdale said Finlit taught them an important lesson: when to move on.
"Finlit was going well; we were working hard and we had acquired customers and a team of interns," Mr Coverdale said.
"After a year, we decided to shut it down to focus on tackling the problem of financial illiteracy in other ways.
"It was sad at first but you learn to move on, and I've done some fantastic things since."
Following the shutdown, Mr Coverdale participated in the 2017 UQ Idea Hub Startup Adventure in Tel Aviv, Israel, interning at a company called The Floor – a major innovation hub for six of the world's largest banks – and inspiration struck again.
"There are two big issues I'd like to work on in the future," Mr Coverdale said.
"One is 'banking the unbanked', or finding a way to help the two billion people across the world who don't have access to traditional banking services like online transaction accounts or loans. 
"This aligns with my vision to help teach essential financial literacy skills worldwide.
"The other issue is impact evaluation for the billions of dollars spent on global development, which is something that needs to be tracked and studied."
Mr Coverdale intends to maintain links with UQ as a tutor and first-year coordinator for the School of Economics.
He's also planning to travel to Vietnam and the US to look at startup ecosystems.
Next year he will take on an economics and policy role at PwC Australia in Brisbane. 
"After working and interning in the industry, I've discovered that what I learnt at UQ is directly relevant to the policy work I'll be doing," he said.
"I'm also confident in my ability to create real change wherever I go.
"That confidence comes from learning from top academics and being surrounded by a group of passionate, talented peers."
Media: Alysha Hilevuo, media@bel.uq.edu.au, +61 7 3346 9349, +61 409 612 798.