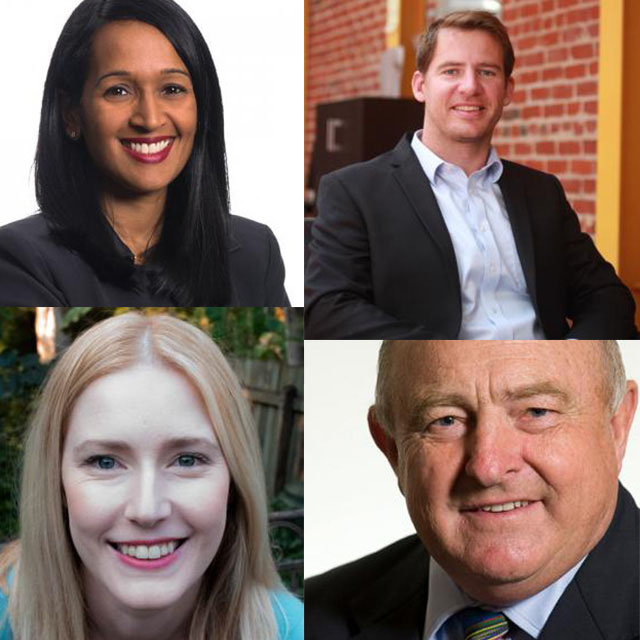 Four alumni from The University of Queensland's Faculty of Business, Economics and Law have been recognised with 2018 UQ Alumni Awards for their exemplary contributions in fields ranging from social enterprise to agricultural innovation.
The four BEL Faculty recipients – Raynuha Sinnathamby, Cameron Bellamy, Zoe Black and David Crombie AM – were honoured in the Vice-Chancellor's Alumni Excellence Award, Distinguished Young Alumni Award and Colleges' UQ Alumni Award categories.
BEL Faculty Executive Dean Professor Andrew Griffiths said the annual awards celebrated alumni who had created positive change locally and globally.
"BEL alumni are well known for their strong leadership and entrepreneurial spirit, and the enthusiasm with which they give back to their communities," Professor Griffiths said.
"Our 2018 UQ Alumni Award recipients are no exception.
"Collectively, they have advocated for progressive agricultural policies, championed gender diversity in the property development industry, raised funds to support some of Africa's poorest communities, and connected vulnerable members of society with animals in need for mutual therapy.
"Congratulations to Raynuha, Cameron, Zoe and David – you have made the BEL community very proud."
The UQ Alumni Awards will be presented at the annual Courting the Greats ceremony on 17 October, where the UQ Sportswoman and Sportsman of the Year will also be acknowledged.
Award recipients were nominated by their peers and selected by a committee led by UQ Vice-Chancellor and President Professor Peter Høj.
BEL Faculty UQ Alumni Award recipients are:
Vice-Chancellor's Alumni Excellence Award
Ms Raynuha Sinnathamby (Bachelor of Arts '92, Bachelor of Laws '95, and Master of Business Administration '99) – one of the business leaders who drove the development of the Springfield satellite city.
Distinguished Young Alumni Award
Mr Cameron Bellamy (Master of International Economics and Finance, '06) – an endurance athlete and entrepreneur who has succeeded in social enterprise and commercial ventures.
Ms Zoe Black (Bachelor of Communication '05, Master of Business Administration '11) – a social enterprise leader with a passion for mental health and empowering vulnerable people as the co-founder and CEO of the Happy Paws Happy Hearts Foundation.
Colleges' UQ Alumni Award
Mr David Crombie AM (Bachelor of Economics '66) – a leader in Australian agricultural innovation and industry.
See the full list of 2018 UQ Alumni Award recipients.
Media: Alysha Hilevuo, media@bel.uq.edu.au, +61 7 3346 9349, +61 409 612 798.