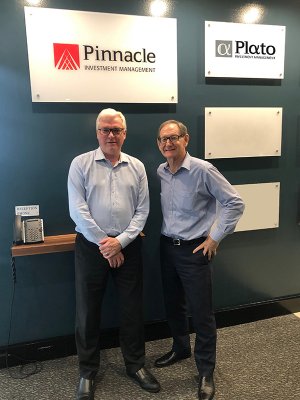 Aspiring women in finance are set to benefit from a partnership between two of Australia's leading investment management firms and The University of Queensland.
Plato Investment Management and Pinnacle Investment Management, led by UQ Business School alumni, will provide nine $5000 scholarships and nine internships to support exceptional undergraduate students in 2019.
Plato Managing Director Dr Don Hamson said change was needed to address the under-representation of women in the sector.
"Investment management is a global industry, and the diversity of our people, ideas and experiences is just as important for success as the diversity of our funds," Dr Hamson said.
"There are nowhere near as many women in finance as there ought to be, which means we need to do more and quickly.
"We see our partnership with UQ as an important step towards empowering talented students to join the profession and creating a more sustainable and equitable future for our industry.
"This starts with building the pipeline at the university level and doing what we can to improve the number of women applying for jobs and holding leadership positions."
Pinnacle Managing Director Ian Macoun said he hoped the combination of financial and practical support would help students to fast-track their careers.
"University is a time when people make major career decisions, and support and encouragement at this time can make a lifetime of difference," Mr Macoun said.
"I received a scholarship to study at UQ many years ago, and it was the combination of both financial and professional support in my early days that enabled me to make the most of my career.
"We hope our scholarships will encourage young women to consider investment management as a career path, and our internships will help them get a foot in the door and gain the experience and connections they need to get started.
"I hope, in time, we can grow the reach and impact of this program, and encourage others in our industry to follow our lead and help change the gender balance for the better."
UQ Faculty of Business, Economics and Law Executive Dean Professor Andrew Griffiths said the University shared the firms' commitment to building a more diverse and inclusive future for the financial management sector.
"These generous scholarship and internship opportunities will change the way our students learn from and connect with global leaders in their field," Professor Griffiths said.
"Don and Ian are true champions of change, and I congratulate and thank them, together with their respective firms, for partnering with UQ and supporting our future women in finance to build meaningful careers and networks."
Eligible students can apply for one of nine $5000 Women in Finance scholarships until 1 March 2019.
This story was originally published on UQ News. 
Media: Gemma Ward, media@bel.uq.edu.au, +61 7 3346 0700, +61 439 651 107; Guy McKanna, Honner Media, guy@honner.com.au, +61 2 8248 3740, +61 430 355 985.