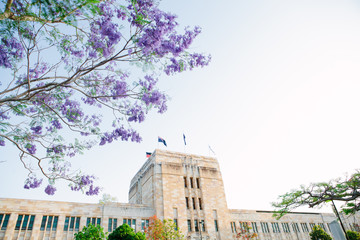 A Supreme Court of Queensland judge, a leading scholar in management and an Australian sporting legend were among the roll call of University of Queensland community members celebrated this week for creating positive change.
Within UQ's Faculty of Business, Economics and Law, nine alumni and staff were recognised in the 2019 Queen's Birthday Honours, and two BEL community members were named 2019 Queensland Greats.
BEL Faculty Executive Dean Professor Andrew Griffiths said the awards highlighted the many strengths of the BEL community.  
"Our BEL community members set an example for the rest of the world," Professor Griffiths said.
"Not only do they excel in their chosen field, but they also demonstrate exceptional leadership, community spirit and advocacy, and lift others with their words and actions.
"Congratulations to all of the recipients on their well-deserved awards." 
---
2019 Queen's Birthday Honours list
The annual Queen's Birthday Honours list celebrates Australia's finest philanthropists, leaders, activists, researchers and visionaries and their contributions to Australia.
Queen's Birthday honourees from the BEL community include*:
Officer (AO) in the General Division of the Order of Australia
The Honourable Justice Debra Mullins AO (Bachelor of Commerce '77, Bachelor of Laws '80, Master Laws '87, Master of Laws (Adv) '99)
For distinguished service to the law, and to the judiciary, to professional development and legal education, and to women.
The Honourable Justice Mullins AO has been a Judge of the Supreme Court of Queensland since 2000. She is a trustee of the Sylvia and Charles Viertel Charitable Foundation and the Chancellor of the Anglican Diocese of Brisbane. She is also extensively involved in judicial education through her work with the National Judicial College of Australia.
Member (AM) in the General Division of the Order of Australia
The Honourable Justice Graham Bell AM (Bachelor of Laws '61)
For significant service to family law, and to the judiciary.
The Honourable Justice Bell AM was appointed to the Family Court in 1976, where he served until his retirement in 2015. He was one of Australia's longest serving judges.
Professor Victor Callan AM
For significant service to higher education in the field of management.
Professor Callan AM is a Professor of Management and Leadership at UQ Business School, and a respected global scholar, award-winning educator and experienced consultant in the fields of management, leadership, organisational behaviour, corporate change and workplace stress. He was Associate (Dean) Research at the BEL Faculty from 2013 to 2018.
Emeritus Professor Gabriel Moens AM (Grad Cert Education '98)
For significant service to the law, and to higher education.
Emeritus Professor Moens AM has taught extensively at universities around the world, including UQ. He is currently an Emeritus Professor at UQ's TC Beirne School of Law, and a board member and Fellow of the Australian Centre for International Commercial Arbitration.
Stephen Sheaffe AM (Bachelor of Laws '83, Master of Laws '97)
For significant service to community history preservation.
Mr Sheaffe AM is the President of the Royal Historical Society of Queensland and a barrister-at-law. He is also a member of the Heritage Advisory Committee at the Brisbane City Council.
Medal (OAM) of the Order of Australia in the General Division
Professor Peta Ashworth OAM (Graduate Certificate in Management '00, Graduate Diploma in Business Administration '02, Master of Business Administration (Executive) '03)
For service to science in the field of sustainable energy.
Professor Ashworth OAM is the Chair in Sustainable Energy Futures at UQ's School of Chemical Engineering. She is also the Chair of the International Energy Agency, Greenhouse Gas Social Research Network, and an Affiliate Professor at UQ's School of Social Science and the Centre for Coal Seam Gas.
Damien Atkinson OAM (Bachelor of Arts '86, Bachelor of Laws (Honours) '89)
For service to youth.
Mr Atkinson OAM is a barrister-at-law and the Chair of the Youth Advocacy Centre in Brisbane, which deals with casework and policy related to young people. He is also the Chair of the Human Rights Committee for the Bar Association of Queensland.
Desmond Hogan OAM (Associate in Commerce '66)
For service to rugby union.
Mr Hogan OAM is the Administration Manager of the Brothers Rugby Club. He previously served as a committee member for Queensland Rugby Union and Queensland Junior Rugby Union.
Daniel O'Connor OAM (Bachelor of Educational Studies '90, Master of Laws '98)
For service to the law, and to the community.
Mr O'Connor OAM is the Deputy President of the Queensland Industrial Relations Commission and the Deputy President of the Industrial Court of Queensland. He is also the Senior Vice-President of the Royal National Agricultural and Industrial Association of Queensland.
---
2019 Queensland Greats
The Queensland Greats Awards recognise exceptional individuals and institutions for their invaluable contributions to the history and development of Queensland.
This year, two BEL community members have been named Queensland Greats*:
Individual
Dr Mark Loane AM (Bachelor of Medicine and Bachelor of Surgery '77, Doctor of Medicine honoris causa '17)
Dr Loane AM is a respected ophthalmologist, former Australian Wallabies rugby captain and an Australian sporting legend. While he is regarded as one of Queensland's top 50 sportspeople of all time, Dr Loane is also known for establishing the Cape York Eye Health Project, which provides health services to many remote Indigenous communities in northern Queensland.
In 2014, UQ and BEL commissioned a medal in his name to be awarded annually to America's most outstanding high school rugby athlete. The Mark Loane Medal gives these athletes the opportunity to travel to Australia to play for the UQ Rugby Club.
Posthumous
Dr John Sinclair AO (Diploma in Agriculture '59, Bachelor of Economics '74)
Dr Sinclair AO, a highly regarded conservationist, was posthumously acknowledged for his advocacy and drive to protect the natural habitat of Fraser Island.
---
*Accurate at the time of publication.
Read more about the 2019 Queen's Birthday honourees from UQ  | Read more about UQ's 2019 Queensland Greats
Contact: BEL Communications, media@bel.uq.edu.au