A University of Queensland researcher has received an international grant to fund collaborative research into investor behaviour and how it changes – or doesn't change – over time.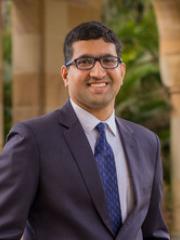 Ankit Jain, an early career academic from UQ Business School, was awarded US$7500 in funding from the NSE-NYU Stern Initiative on the Study of Indian Financial Markets program.  
The NSE-NYU grant program is a joint venture of the National Stock Exchange of India (NSE) and the Center for Global Economy and Business at New York University's Stern School of Business. The program supports research that provides a better understanding of the Indian financial sector.
Jain said his research focused on how investors interpreted 'textual disclosures' – the information contained in documents like annual reports.
"If you look at the annual report of any company, you will find financial statements with very precise information about the company's earnings and cash flow," Jain said.
"But aside from the financial statements, there is usually a lot of other information in text format.
"However, unlike the financial statements, which are examined by external auditors, there are no specific regulatory guidelines around how these textual disclosures are made.
"A manager could say their company is expected to grow by 20 per cent, for example, but this information is not necessarily reliable because the future is uncertain."
Jain said he was interested in exploring under what circumstances this textual information was either useful or misleading to investors when making investment decisions. 
To facilitate this research, Jain and his co-collaborators from the Indian School of Business have exclusive access to Bombay Stock Exchange data on 1.1 billion trades from 18 million unique traders over 13 years.
"Using this data, we will be able to see whether the investment behaviour of the same investor changes over time and whether they are 'learning' from their trading experiences or not," he said.
"For instance – if investors were misled by an overly optimistic manager of a company, did they learn from that experience the next time they made an investment decision? Did they consider the credibility of the manager in their future investment decisions?"
Jain said the research findings could improve understanding of the secondary market consequences of textual disclosures, and should be of interest to regulators who want to protect and safeguard investors.
Although their data comes from the Indian stock market, Jain said he hoped the research findings would also apply to other markets.
Jain first became interested in textual disclosures while completing his doctoral studies in India.
"I took a seminar on text analytics by one of the leading scholars in my area, and that's all it took," he said.
"It became the focus of my dissertation and now my current research."
Following his move from India to Australia in 2018, Jain joined UQ Business School as an accounting lecturer.
The NSE-NYU grant is his first as a principal investigator. Former colleagues Abdul Khizer and Ramabhadran Thirumalai from the Indian School of Business are his collaborators on the project.  
Their preliminary research findings will be presented to the NSE in India in December, with the project expected to wrap up in April next year.
Media: BEL Communications, media@bel.uq.edu.au, +61 7 3346 9349