The Forgan Smith building is the visual centrepiece of UQ's St Lucia campus and home to the School that has nurtured some of Australia's most influential legal professionals, politicians and business leaders.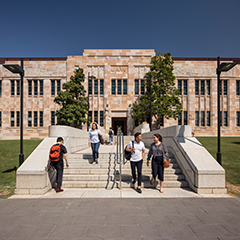 In March 2017, we revealed the breathtaking internal transformation to the Brisbane icon when it was officially opened by The Honourable Susan Kiefel AC, Chief Justice of the High Court of Australia.
The recent refurbishment, supported by University capital works funding and philanthropic donations, includes collaborative research spaces, independent study areas, and facilities for mobile technology and innovative learning.
The reimagination was designed by BVN Architecture's Brian Donovan and Damian Eckersley under the guidance of heritage architect Andrew Ladlay.
National recognition for UQ law school refurbishment
In November 2017, the team behind the refurbishment was recognised at the Australian Institute of Architects' National Awards.
The judging panel noted that the project team went to great lengths to ensure their design reflected the traditions and substance of the legal profession while creating a state-of-the-art collaborative space for teaching and research.
The design was also informed by the three legal pillars of knowledge, learning and inquiry, with each pillar visually represented throughout the building by colours and details.
BVN principal architect Brian Donovan said it was rewarding to see the project recognised at the national level.
"The award juries have endorsed the University and the School's strategy to adaptively reimagine this historic Queensland building as a memorable, contemporary and globally influential law school," Mr Donovan said.
"Implicit in this strategy is the commitment to the capacity for architecture to provide both an identity and a place that ultimately benefits the broader community."
The Forgan Smith building refurbishment project also won the educational architecture and interior architecture categories at the Queensland State Architecture Awards in June, and has been shortlisted for the INSIDE World Interior of the Year Awards in the health and education category.

Fostering a culture of legal excellence
However, the re-imagination extends beyond the building. The TC Beirne School of Law is also investing in a change to the way in which the Law School develops within its students fundamental legal knowledge and skills, within a strong and vibrant research environment, while fostering within our future lawyers the notion of their place within a profession that is dedicated to upholding the rule of law and strives for access to justice for all people.
With a revised curriculum, enhanced facilities, small group setting, low student-to-teacher ratios and collaborative learning opportunities position the School as an Australian leader in legal education.
Thanks to your support, the re-imagination of Forgan Smith will ensure future generations of UQ law students will continue to enjoy the highest quality and most relevant legal educational experience.
Give through BEL
Support BEL Faculty researchers and students as they strive to create change locally and globally. Please donate online, or update your details to keep in touch.