More than 50 outstanding teachers, researchers and professional staff were honoured at the 2020 Faculty of Business, Economics and Law Employee Excellence Awards.
This year, 19 awards and commendations were presented to individuals and teams across the Faculty in recognition of their efforts over the past 12 months. 
In addition to the traditional awards for professional excellence, research and education, the Faculty created a special, one-time award to acknowledge staff who have played a critical role throughout the COVID-19 pandemic.  
BEL Faculty Executive Dean Professor Andrew Griffiths and Associate Dean (Research) Professor Brent Ritchie presented the awards and applauded staff for their commitment, leadership and innovation during a turbulent and challenging year. 
Congratulations to the 2020 award winners.
---
2020 BEL Awards for Excellence in Research
The awards celebrate achievements of individuals or teams that contribute positively to the Faculty's high-quality research and research training environment.
This category reflects the vision and goals of the University to enhance high-quality research through collaboration, and to transform our students into game-changing graduates who make outstanding contributions.
Excellence in Higher Degree Research Supervision – Individual Award
Winner: Dr Kelvin Tan, Business School
Kelvin led 27 finance PhD students between 2017 and 2020 as a joint Postgraduate Coordinator (PGC). In his role of PGC, he pioneered both the Fast Study Team (FAST) Program and the inaugural PhD research day in the finance discipline. Students can present their work, and staff and students can act as the discussant of these presentations. These initiatives were well received by students and staff alike. PhD students have not only been more confident in their presentation, but they have also received a lot of valuable feedback from their peers and academic staff to pursue excellence in their theses and research papers.
Kelvin has also demonstrated excellence in PhD research supervision and provides research and supervision mentoring for junior faculty members. Kelvin is a leading expert in his field beyond academia through the media and the finance industry with significant industry-relevant publications and a strong track record in attracting competitive research grants. For example, he managed to attract $110,000 from an industry partner (Commonwealth Bank of Australia – CBA) to conduct an interdisciplinary research project in smart lending using Blockchain technology. In this project, he led more than ten researchers, directors and students from UQ Schools of Business, Economics, Information Technology and Electrical Engineering (ITEE), UQ iLab and UQ Idea Hub.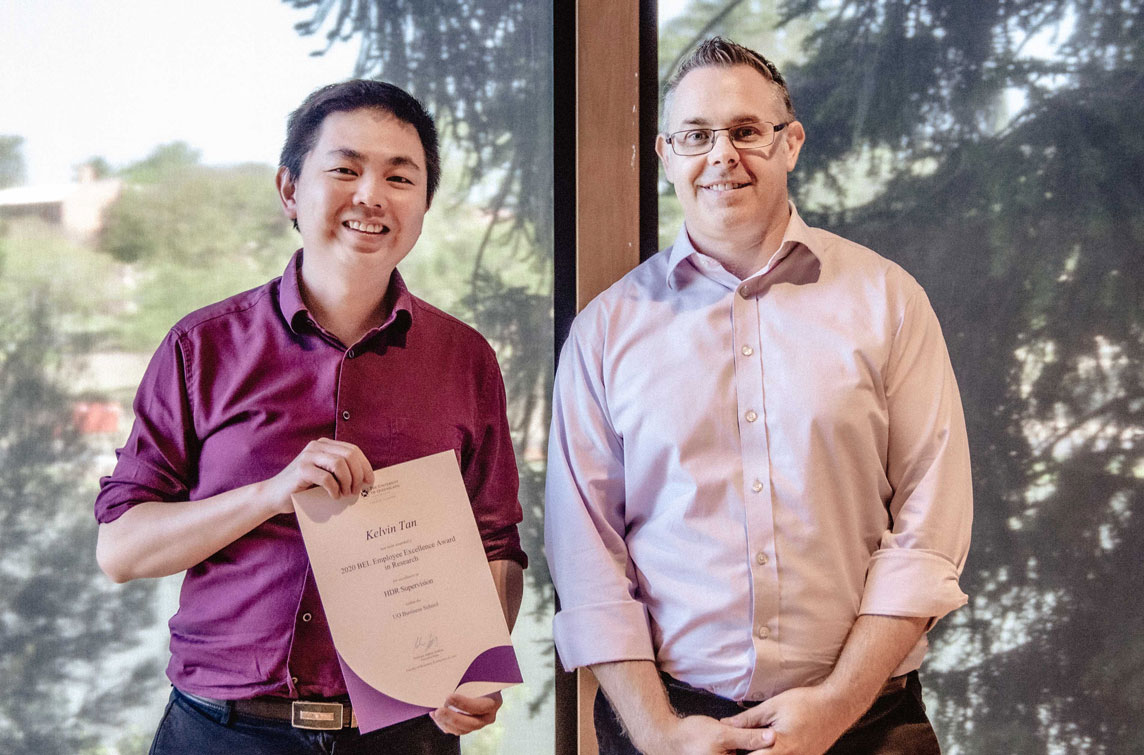 ---
Excellence in Higher Degree Research – Individual Award
Winner: Sabrina Lenzen, School of Economics
Sabrina Lenzen is an outstanding all-rounder third-year HDR student who produces excellence in quality academic outputs. Her first PhD paper A dynamic microeconomics analysis of physical activity on cognition among older people was accepted for publication at A-rated journal Economics and Human Biology. She has a revise and resubmit in Medical Care, another highly rated journal, of which she is an invited reviewer. Sabrina has developed industry understanding through her six-week UQ PhD industry placement at the Economic and Social Research Institute (ESRI) in Ireland.
Sabrina's research presentations and publications will contribute towards increased awareness of dementia burden, which affects one in every 10 people, and will lead to important policy implications to help decrease social and financial costs of an ageing population. She organised a joint academic policy workshop on the economics of ageing with her supervisor in 2018, which provided the initial pathway to impact for the dissemination of her findings.
Sabrina has been approached to become an AI, as an early career researcher, in an NHMRC interdisciplinary grant application for a Centre of Excellence – a significant achievement for an HDR student.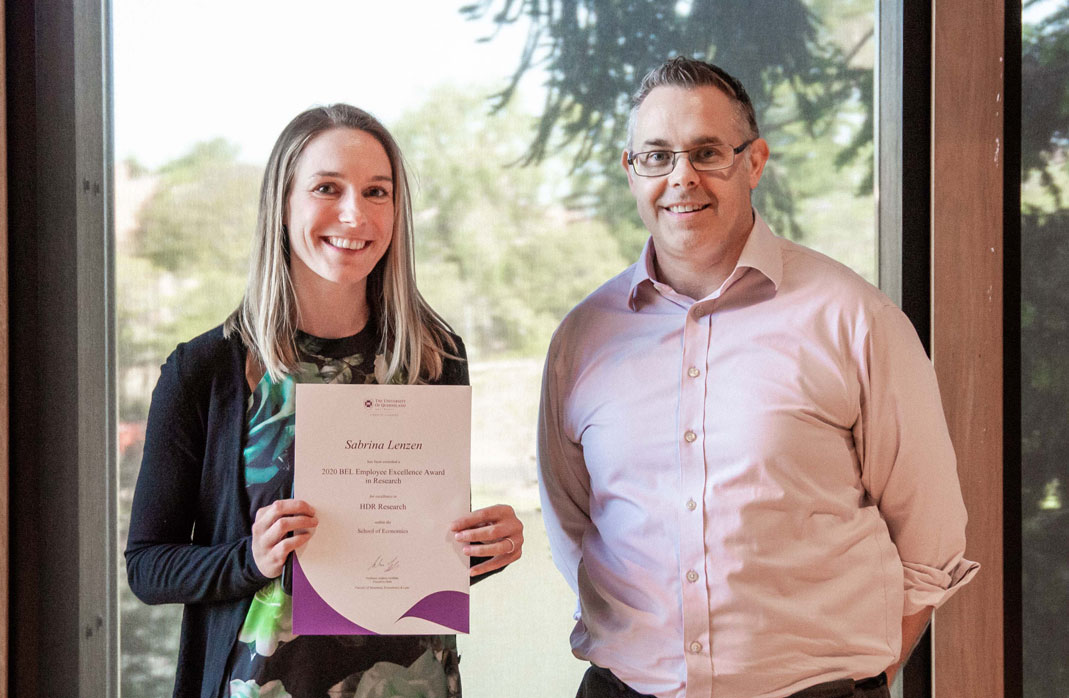 ---
Excellence in Early Career Research – Individual Award
Winner: Dr Robert Mullins, Law School
Dr Robert Mullins is an outstanding early career scholar in the theory of legal reasoning. His work is an inspiring example of the pursuit of excellence. Dr Mullins's research has been highly innovative by constructing new models of legal reasoning that draw on scholarship in artificial intelligence and law. Since completing his PhD at Oxford in 2017, Dr Mullins has maintained his strong links in the UK and was awarded prestigious visiting fellowships at Rutgers Law School (USA) and Auckland University (NZ). Dr Mullins has presented at leading international and national conferences and seminars, has been on the committee for two prominent international conferences and is the book reviews editor for the international journal Law and Philosophy.
According to PhilPapers, Dr Mullins is among the top four per cent most cited scholars publishing in legal philosophy, and among the top eight per cent in value theory generally. In 2018, he was awarded a UQ Law Award for Teaching Excellence in Undergraduate Compulsory Courses (for Contract II). He has built collaborations with industry (CSIRO data61 group) and with other disciplines as an associate investigator in the ARC Centre of Excellence for Automated Decision-Making and Society. Dr Mullins has been awarded funding through the UQ ECR schemes and is currently pursuing a DECRA to further the construction of a model in legal reasoning to inform judicial reasoning in artificial intelligence and law. Dr Mullins is an emerging international scholar at the forefront of his field while still being at the threshold of his career.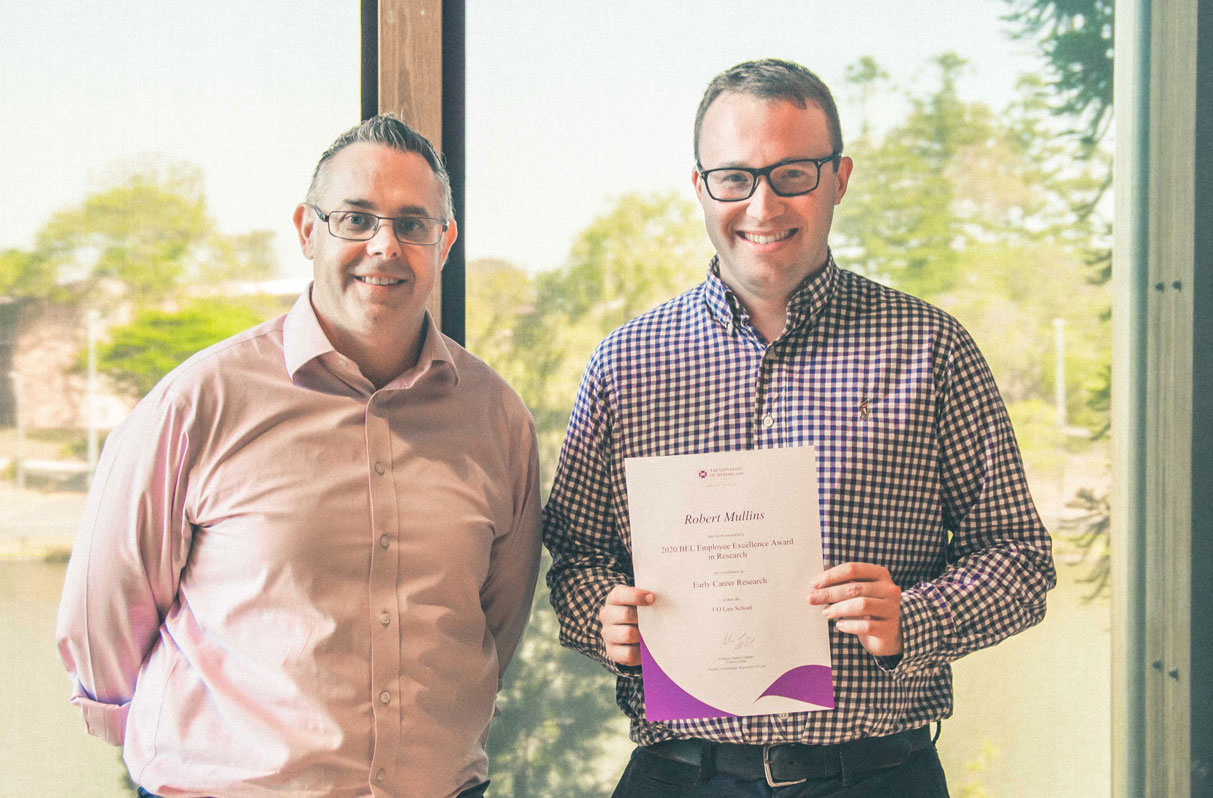 ---
Excellence in Early Career Research – Individual Award
Commendation: Dr Christiern Rose, School of Economics
---
Excellence in Cross-Faculty Research – Team Award
Winner: the ARC Laureate Team under the mentorship of Professor Brad Sherman, including
Professor Brad Sherman, Law School
Dr Kamalesh Adhikari, Law School
Dr Tad Brown, Law School
Dr Susannah Chapman, Law School
Jocelyn Bosse, Law School
Dr Xan Chacko, Law School
Dr David Jefferson, Law School
Hamish MacDonald, Law School
The ARC Laureate Team has links across the BEL and Science Faculties and the Queensland Alliance for Agriculture and Food Innovation (QAAFI) to further research on sustainable agriculture and food security. The team has an extensive program of research that has provided insight into royalties on mangos, informed intellectual property surrounding Indigenous foods including the Kakadu plum, and explored legal regulation and process across supply chains.
Their interest in the legal and intellectual property law implications on agricultural interests – including genetic resources, plant breeder's rights and farming practices, supply and consumption – has fostered strong partnerships with QAAFI and the Centre for Nutrition and Food Sciences.
The Laureate Team is informing the practical impact that IP laws have on targeted groups including breeders and farmers. They have established a significant network of collaborators, facilitating collaboration with important agricultural research groups in the Asia Pacific, and providing access to local farmers, national agricultural agencies, government departments, policy advisors, traditional peoples and local authorities in Asia Pacific countries.
The outcomes from the team have been outstanding and have facilitated high-quality publications (including in Nature) and multiple conference presentations. The team has been involved in multiple successful bids with their QAAFI collaborators, securing funding for the ARC Centre of Excellence for Plant Success in Nature and Agriculture, the ARC Training Centre for Uniquely Australian Foods, the CRC for Developing Northern Australia and the ARC Centre of Excellence (Synthetic Biology). They continue to contribute to building capacity in the field and training and mentoring early career researchers and PhD scholars.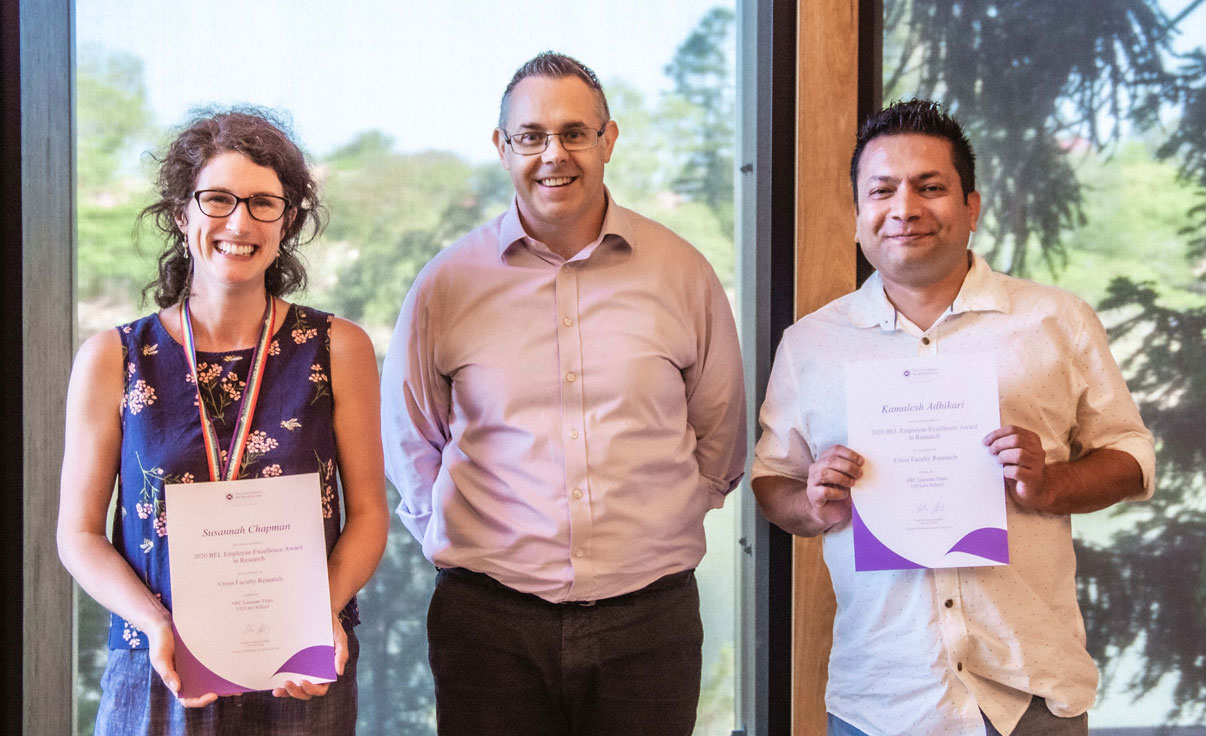 ---
2020 BEL Awards for Excellence in Education
The awards reflect the vision and goals of the UQ Student Strategy and Higher Education Learning Framework, as well as the areas of activity, core knowledge and professional values of the Higher Education Academy Professional Standards Framework.
Excellence in Designing Learning – Team Award
Winner: BEL Student Orientation Team
Aliisa Mylonas, BEL Faculty
Jessica Leonard, BEL Faculty
Prue Johnson, BEL Faculty
Bec Wood, BEL Faculty
Danika Neldner, BEL Faculty
Suzy Byrnes, BEL Faculty
Sarah Brischetto, BEL Faculty
The BEL Student Orientation Team received this award for their work in redesigning, piloting and evaluating a new BEL student orientation experience, based on the latest research, prioritising peer engagement, connection and belonging. The team successfully delivered (along with contributions from teams across BEL and UQ) the Faculty's first virtual orientation in July 2020 involving 15 interactive online sessions and UQ's first 'virtual campus' app, which allowed students to create an avatar, explore the St Lucia campus and virtually meet other BEL students. Strongly aligned with UQ's value of pursuing excellence, this team's vision has been to provide an exceptional experience for all new BEL students. In doing so, this team has managed to create and nurture an inclusive community focused on promoting student success. 88 per cent of orientation students surveyed said the virtual campus helped them feel excited about studying at UQ and more connected to the UQ community and 97 per cent said they felt they had made the right choice to study at UQ.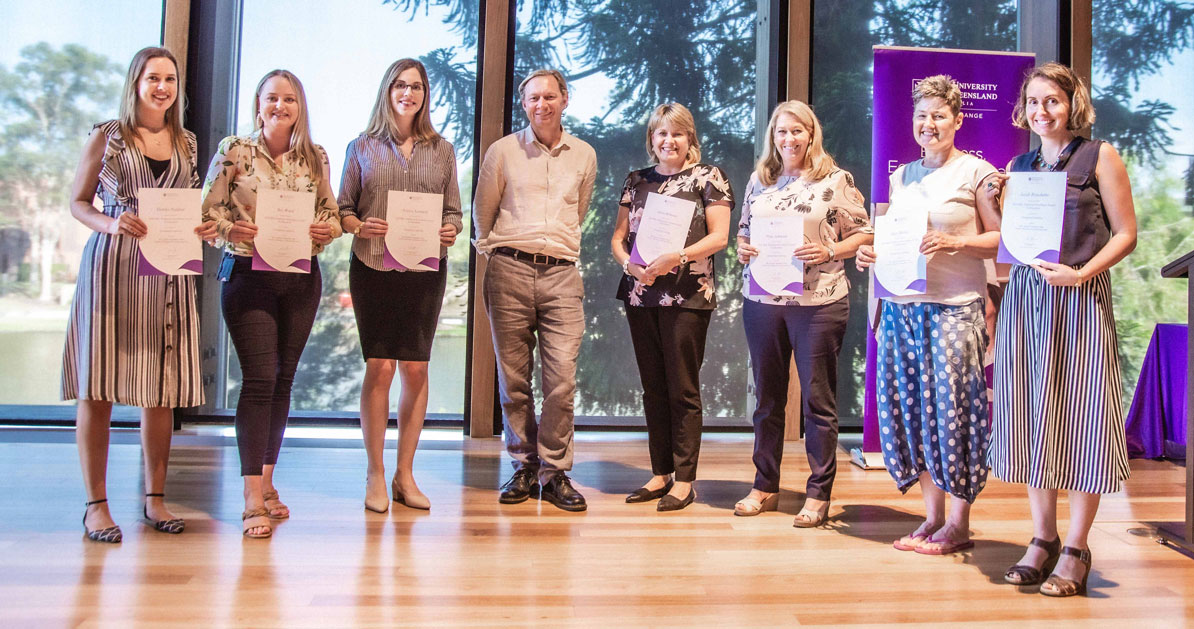 ---
Excellence in Designing Assessment – Individual Award
Winner: Lisa Samarkovski, Law School
Lisa received this award for designing assessment in LAWS7012 Business Taxation. Capital gain tax is a highly technical and complex area of tax law. Although accountants work with the tax law, not all are skilled in researching and applying the law. In LAWS7012, students are taught to identify, understand and apply the relevant legislative provisions to real-world scenarios. The assessment supports the pursuit of excellence and develops independent thinking graduates who understand their accountability to clients.  
---
Excellence in Building Integrated Learning Environments – Individual Award
Winner: Dr Stuart Middleton, Business School
Stuart received this award for building a suite of approaches to motivate students to engage and persist in learning in MGTS3301 Business Policy and Strategy. The approaches included piloting UQ teaching in outdoor spaces, developing an experiential case study that provides links between in-class and out-of-class activities, implementing a scavenger hunt which combined online collaboration with face-to-face learning experiences and creating a murder mystery that encouraged critical thinking and the opportunity to learn from multiple perspectives. Student feedback to the course was overwhelmingly positive. Stuart has gone on to present a BEL Faculty webinar on engaging learning through online learning and to create an ITaLI video case for promoting UQ to future students.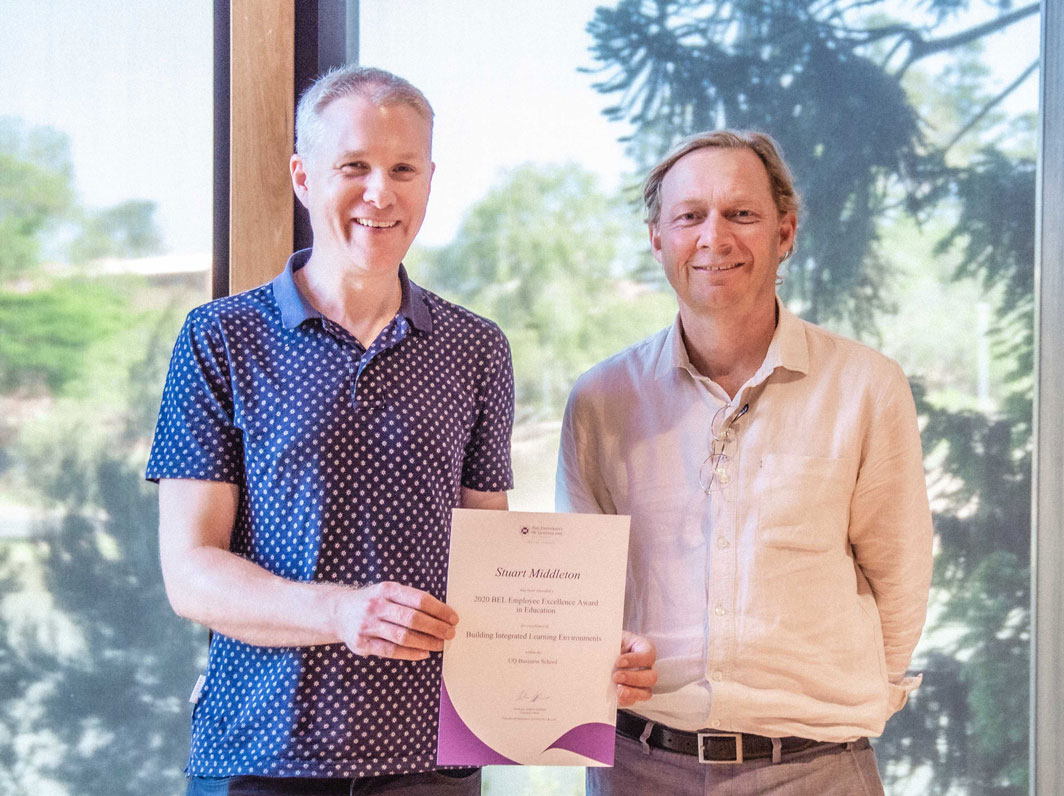 ---
Excellence in Enhancing Employability – Individual Award
Winner: Associate Professor Gabby Walters, Business School
Gabby received this award for designing assessment that required students to produce a feasibility analysis report for an innovation proposed by an industry partner from the tourism and hospitality sectors. The project was conducted as a consultancy project in a real work environment and allowed students to integrate theory with practice. Students gained a solid understanding of and were able to apply the principles of successful entrepreneurship to a real-world tourism and hospitality setting. Feedback from industry partners indicated they found the initiative greatly beneficial and they were highly impressed by the quality and professionalism of the student reports.
---
Excellence in Leading Teaching – Team Award
Winner: Education@BEL Community of Practice Team
Aliisa Mylonas, BEL Faculty
Associate Professor Pierre Benckendorff, Business School
The Education@BEL Community of Practice Team received this award for their work in creating the Faculty's Education@BEL Community of Practice. At a time of significant uncertainty created by the pandemic, Aliisa and Pierre offered their expertise and leadership, and through the Education@BEL CoP provided an inclusive and supportive community for teachers to share and learn from each other. The establishment of the COP has been significant and far-reaching with membership increasing to 221 academic staff. The COP initiative has helped to lead a culture of support within the Faculty, which is crucial to teaching success.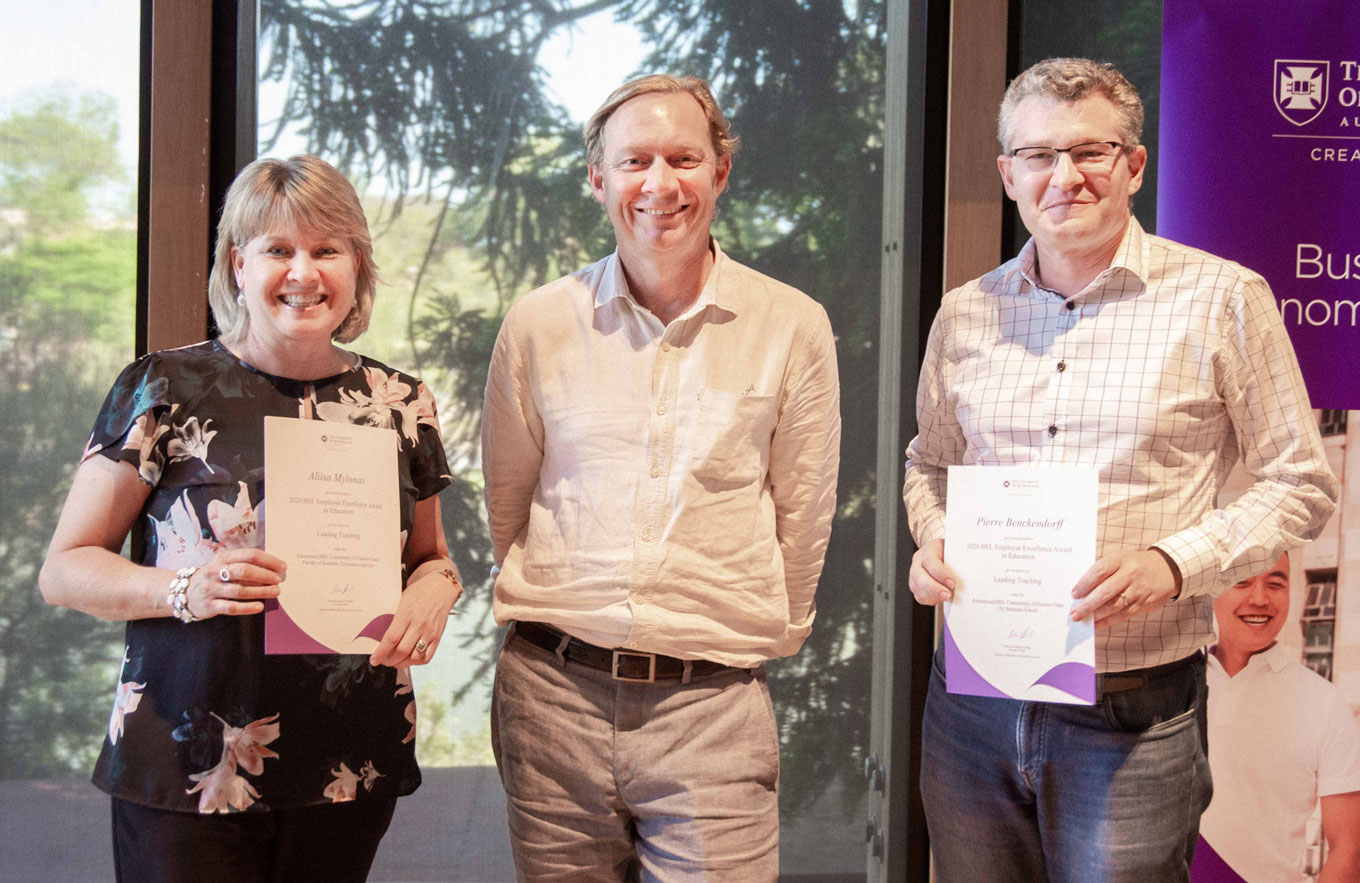 ---
2020 BEL Awards for Professional Excellence
The awards provide an opportunity to acknowledge and celebrate the achievements and contributions of professional colleagues that reflect and support the UQ values. These awards celebrate individuals or teams across all levels of the organisation, regardless of their position.
Excellence in Innovation – Individual Award
Winner: Joshua Hartmann, Business School
Joshua built and designed the Deaths in Custody website. The DIC Project is staffed by volunteer law students and was created by Professor Tamara Walsh in partnership with Sisters Inside Inc to shine a light on deaths in custody in Australia. The project was initiated because coroners' inquest findings were not accessible in any central place, which meant research and reporting on deaths in custody was difficult and time-consuming. There are now 700 cases on the searchable website, allowing the team to make their findings available to the public.
Josh's creativity, hard work and dedication to the website has made it an amazing success. The DIC team regularly receives emails from researchers, coroners and members of the public thanking them for this resource, and it would not have been possible without Josh.
The team considers this project to be a wonderful example of the important work that universities can achieve through true pro bono partnerships between professional staff, academic staff and students.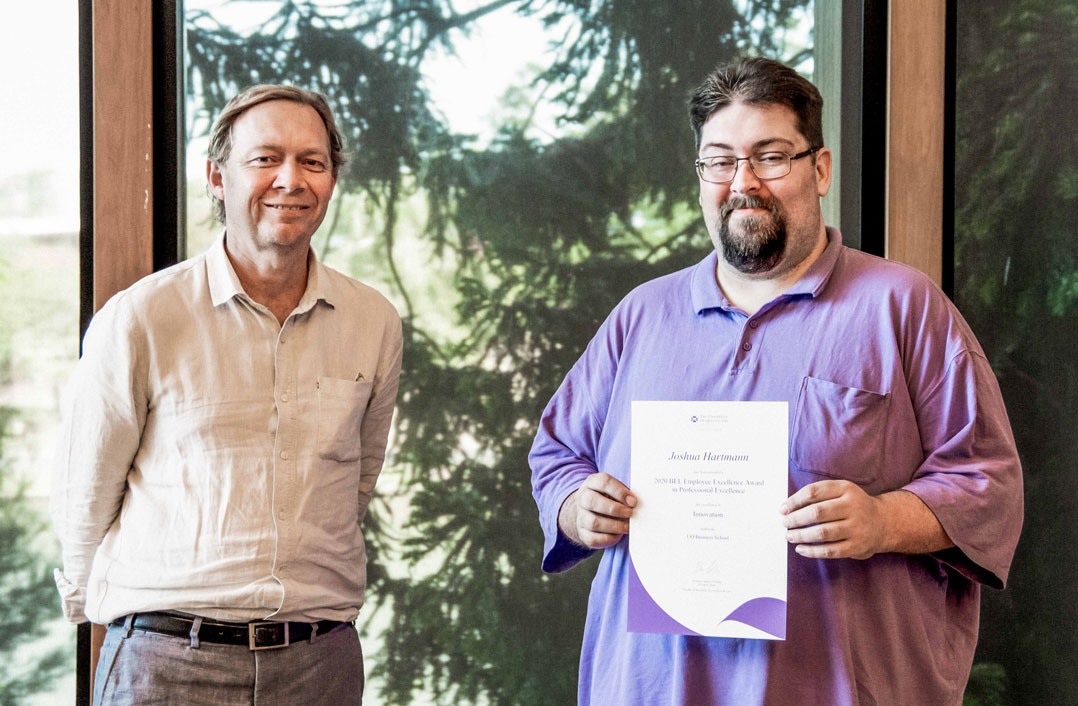 ---
Excellence in Customer Service – Individual Award
Winner: Hannah Fannin, Law School
Hannah is the face of the UQ Pro Bono Centre, working with students, community organisations, academics and governing bodies to ensure that the numerous programs of the Centre are run effectively and efficiently. Her commitment to the Centre and students goes well beyond her position requirements. She is respected and admired by all for her professionalism and exceptional quality of service. Her outstanding engagement with and service to partners and students is viewed as a key reason the Centre is held in such high regard within the UQ and legal community.
The Centre runs a number of significant programs including clinical legal education, pro bono roster and partner research projects. It has over 100 current partnership agreements – all of which are managed by Hannah. She has developed effective administrative processes to manage projects between partners and students, keep community partners informed, encourage timely and quality project outcomes from students and promote the Centre's work. Her emails to students are not only informative but are warm and full of praise for their work, creating within the student group a sense of collegiality, pride and a commitment to excellence.
During 2020, not only has Hannah had to manage the projects and changes to the clinical legal education program through the pandemic, but she has also supervised a significant student project with one of the Centre's community legal centre partners. This has required Hannah to spend a day a week throughout the second semester at the legal centre assisting students to produce intake, referral and administrative forms for the community group. Hannah has done this while managing the Centre for two months without a Director and also ensuring that the incoming Director's transition to the role was as seamless as possible.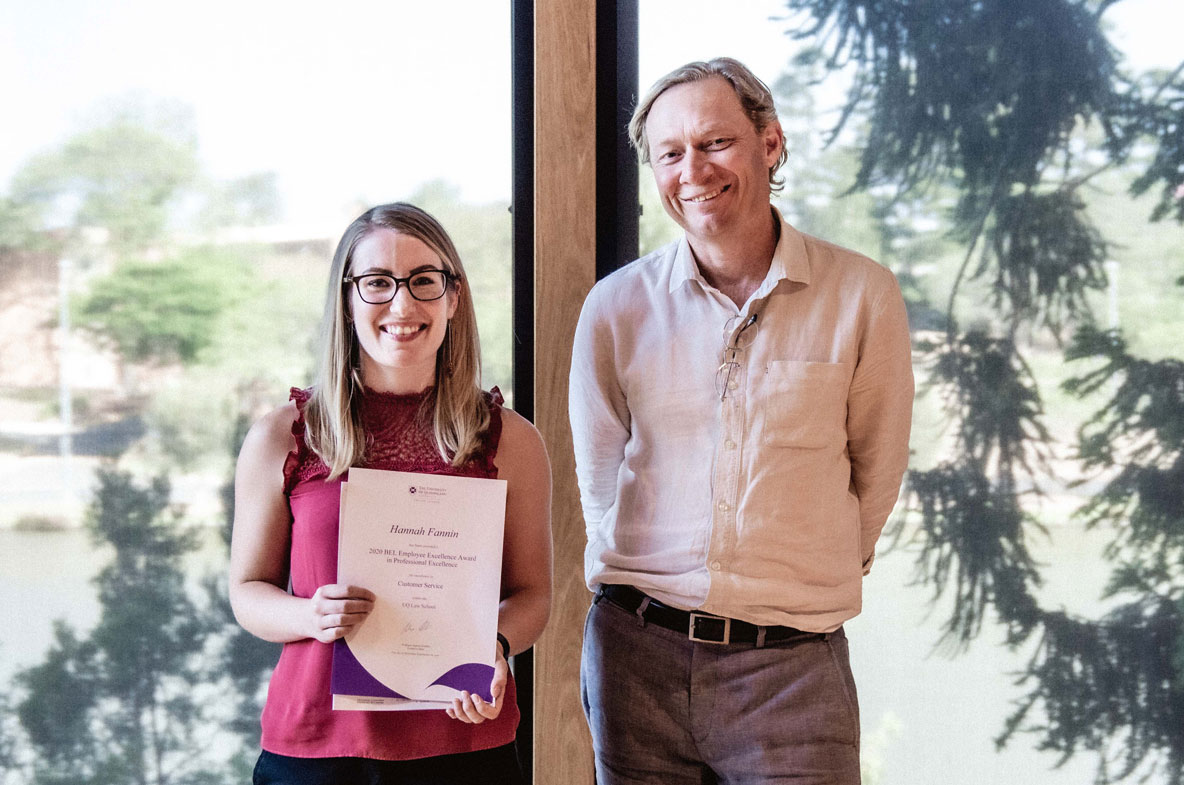 ---
Excellence in Customer Service – Individual Award
Commendation: Lyn Holland, Business School
Lyn was nominated for consistently providing outstanding and exceptional quality of service to students and staff. Lyn, as Operations Administrative Assistant, has contributed to the Business School and the School of Government for over 25 years. She is always totally reliable, always does an excellent and thorough job and is scrupulously honest. Never is anything too much of an ask for Lyn. 
---
Excellence in Engagement – Team Award
Winner: Business School Marketing and Engagement team
Jordan McCarthy
Kate Cupples
Laura Armistead
Leah Ellis
Francesca Hawkes
Chantal Henderson
Emma Bell
Hannah Paterson
Jessica Dobson
Emma Pryor
Erin Houselander
Throughout 2020, the Business School Marketing and Engagement team have showcased excellence in engagement through innovation, always taking a 'One UQ' approach and demonstrating strong leadership during one of the most challenging years we have faced. Below are just a few examples of the engagement successes the team have achieved this year:
In alignment with UQ's value of the pursuit of excellence, the team successfully redeveloped the School's multiple postgraduate student recruitment campaigns in the midst of the pandemic crisis.
The team demonstrated creativity and independent thinking through the Standing with you during uncertain times campaign. To support the hard-hit business community in the height of the pandemic, in partnership with edX, UQx, academic and professional staff across the Business School, the team developed an innovative engagement response offering three of the most popular online courses for free.
When social distancing restrictions came in, the team went above and beyond to find innovative ways to build and sustain relationships with alumni, industry partners and current and future students through developing and delivering online, interactive events.
Through close partnerships with Business School academic staff highlighting mutual respect and diversity, the team have achieved overwhelming media success to showcase the impact of the latest cutting-edge research.
The team delivered excellent leadership highlighting the importance of honesty and accountability by project managing the transition to the Raiser's Edge CRM for all Business School industry-facing staff in partnership with the central CX and Advancement teams.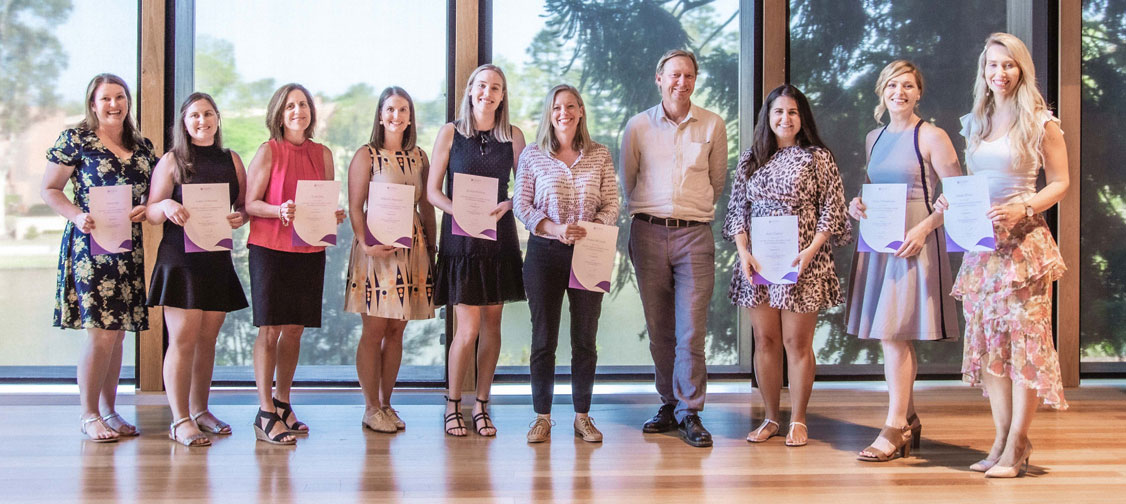 ---
Excellence in Leadership – Individual Award
Winner: Dr Carol Bell, School of Economics
In just 18 months since she was appointed in the School of Economics, Dr Bell has made an outstanding leadership contribution to the successful review and implementation of the new School workload model and the write up of role descriptions for all academic roles in the School in liaison with the School Leadership Team and appropriate role holders. She has also reviewed terms and conditions of School prizes and domestic scholarships and made many other key contributions with a range of stakeholders (including contributions to Graduate School processes and marketing research).
Dr Bell has made significant improvements in systems and practices and led to clear efficiency enhancement advancement in workplace practices. Her work supports the School's people and has been conducted under a firm compass of honesty and accountability, which exemplifies personal credibility and integrity. This is buttressed by her calm and professional demeanour and by her impeccable work ethic.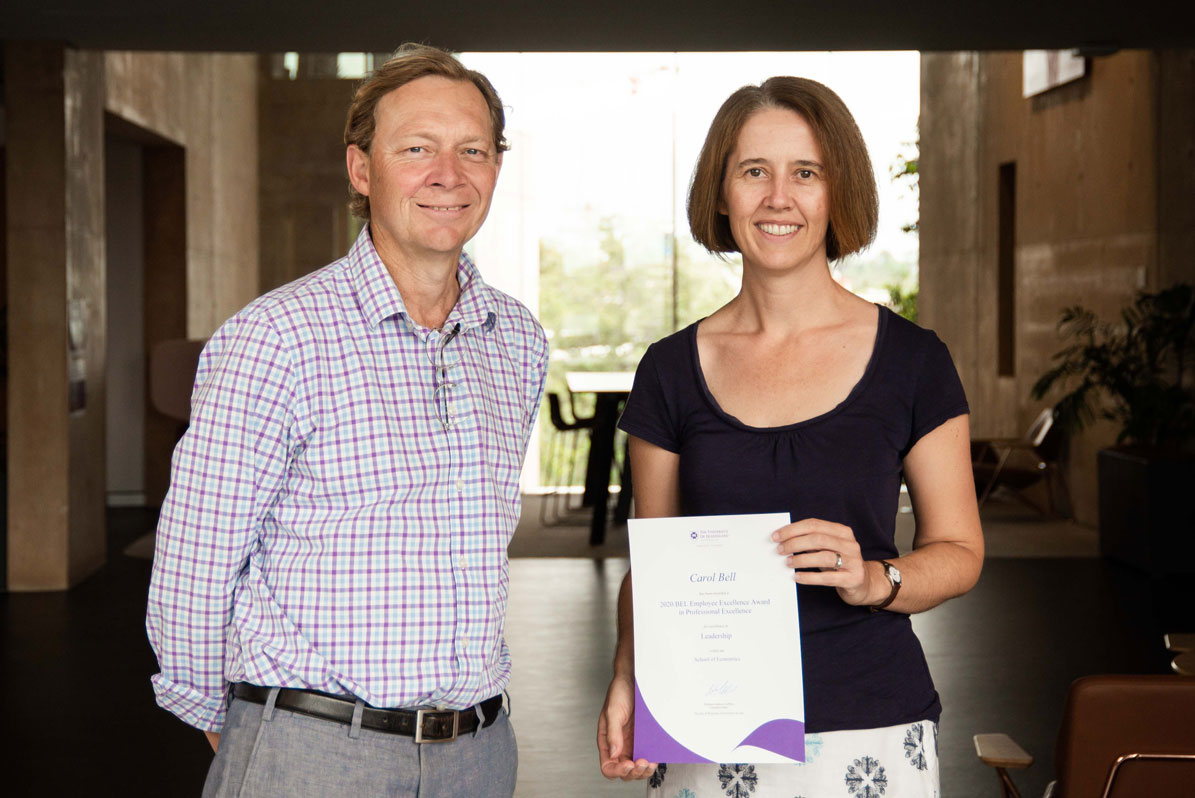 ---
2020 BEL Awards for Excellence in Response to COVID-19 
This one-time award recognises and celebrates individuals or teams who have played a crucial role during the COVID-19 pandemic. It acknowledges significant and outstanding contributions that have led to improved outcomes for students, staff or the wider community during this unprecedented time.
Excellence in Response to COVID-19 – Individual Award
Winner: Dony Rodriguez, Law School
Dony Rodriguez was appointed to a new Student Support and Wellness role at the beginning of the year to improve engagement of law students in the life of the School. One month into Dony's appointment, the COVID-19 pandemic forced staff and students into lockdown.
Despite facing both existing and rapidly developing challenges, Dony was able to quickly and creatively adapt to the changing environment. In a very short space of time, Dony introduced several new initiatives as a means to connect to the students. This included the 'War Cabinet', bringing together members of the Executive and student reps to identify student concerns during COVID and actions to address them, such as a video series by the Head of School. He set up 'The Witness Box' (an online series where law students interview noteworthy guests), and an online Student Hub (which brings together all relevant student-focused news, opportunities and events) – both these initiatives are set to continue. Dony also introduced the 'Quarantini Hour' for Law School professional staff as a means of engagement during lockdown. Dony clearly demonstrated creativity and support of our people (both staff and students) during an unprecedented time.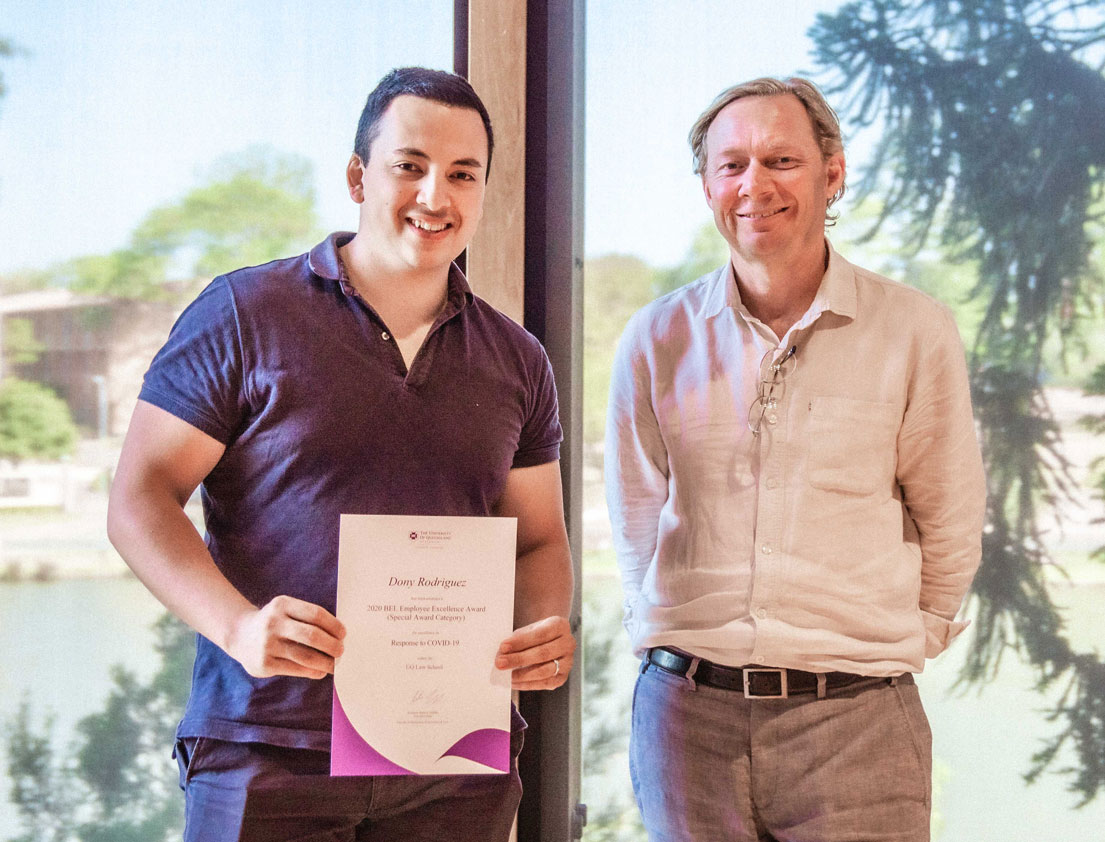 ---
Excellence in Response to COVID-19 – Team Award #1
Winner: members of the BEL COVID-19 return to campus working group
Karen Teitzel, Business School
Hollie Duncan-Tibbey, BEL Faculty
Scott Tucker, BEL Faculty
Natasha Bromilow, BEL Faculty
Tom Barker, School of Economics
Maria Parnell, Law School
Dr Zoe Cahill, BEL Faculty
This team from business areas across BEL worked collaboratively to ensure workplaces across the Faculty were prepared for the return of staff and students. The efforts of the COVID-19 return to campus working group played a vital role in supporting the safe return of staff and students to campus and supporting teaching and work activities to continue right across the Faculty. Many members of the working group went above and beyond to contribute additional time and resources while adapting to the fast-changing environment.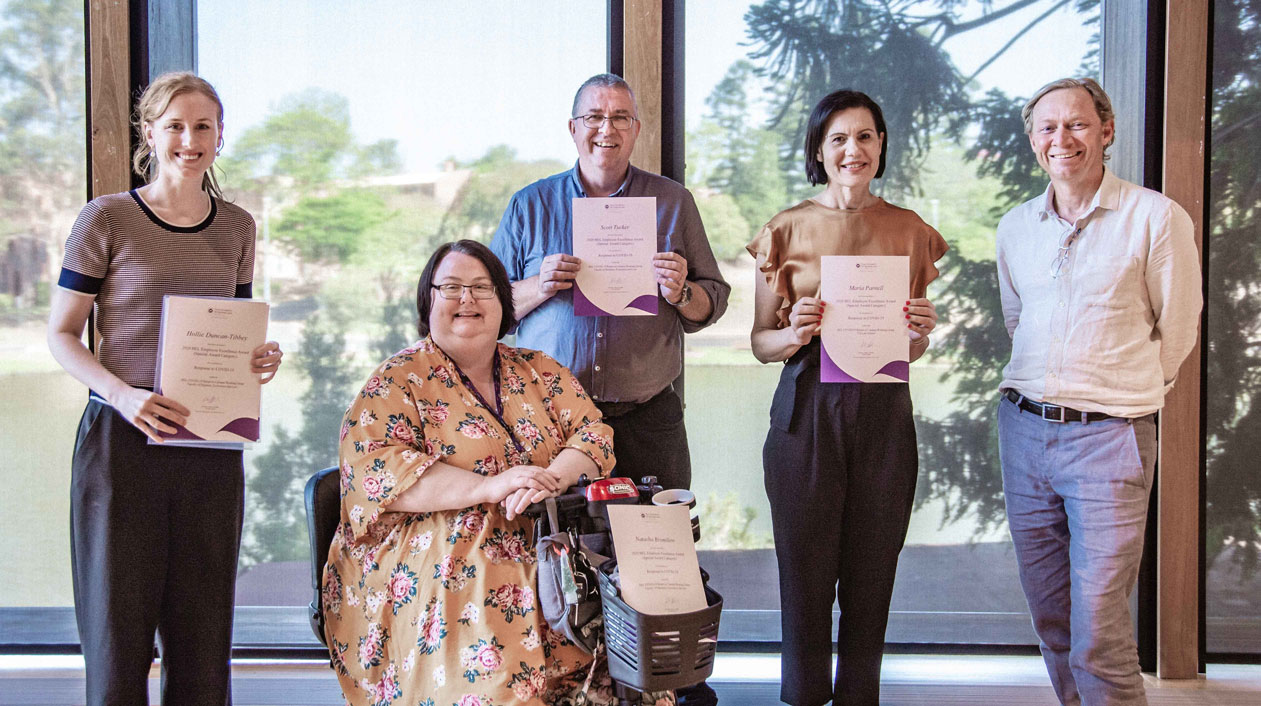 ---
Excellence in Response to COVID-19 – Team Award #2
Winner: BEL HR Team
Rebecca Dorman, BEL Faculty
Jane Dermody, BEL Faculty
Melissa Figueroa, BEL Faculty
Robyn Rossback, BEL Faculty
Never has there been a time where the support of the HR team has been so vital as during this pandemic due to the wide scope of impact it has had on the mental and physical health of staff across the Faculty. The rapidly changing environment required the HR team to develop and interpret new guidance that could often change at very short notice. Their tireless support for academic staff, professional staff, team leaders and supervisors during this extremely challenging, fast-changing and exhausting pandemic has been critical to the wellbeing of staff and for the continuation of Faculty operations.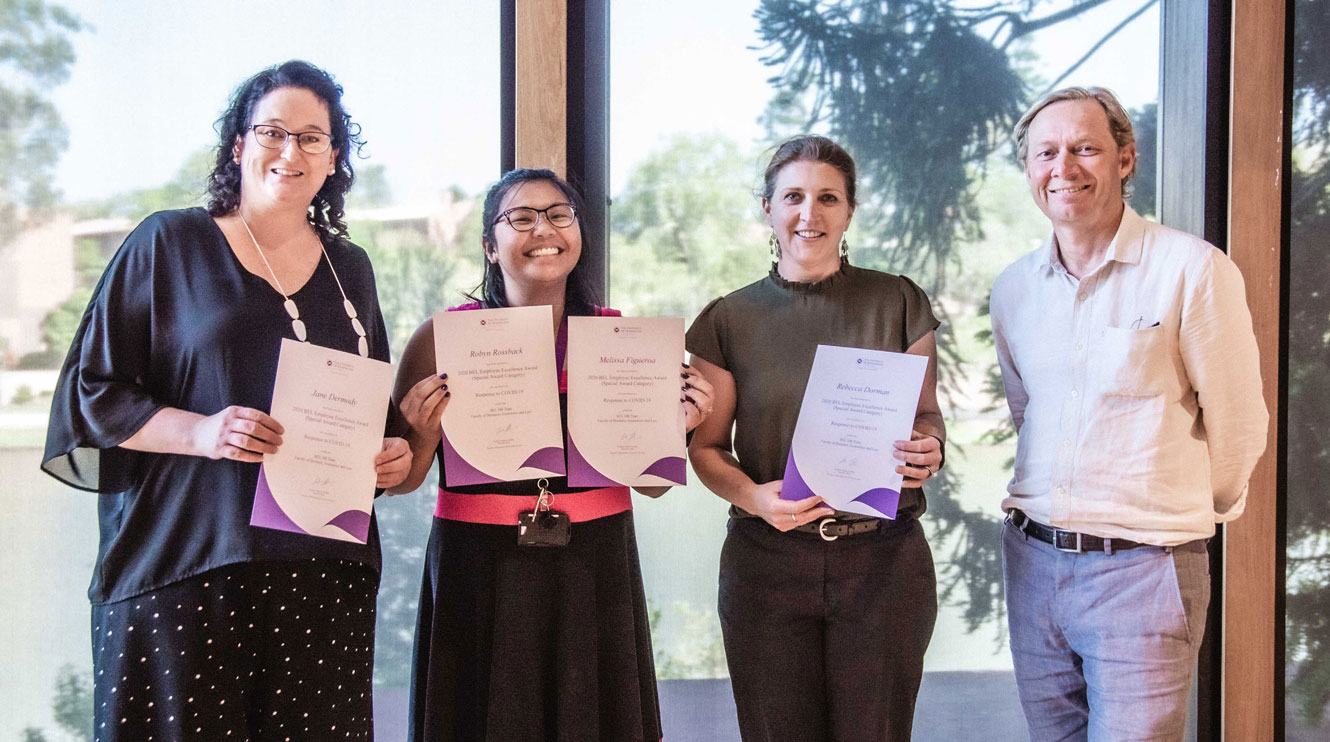 ---
Excellence in Response to COVID-19 – Team Award #3
Winner: Business School Student Administration Leadership Team
Allanah Yu, Business School
Jacqui McGoon, Business School
Michelle Goward, Business School
The Business School Student Administration Team clearly demonstrated the UQ values of excellence and supporting our people as soon as the COVID-19 pandemic first impacted students based in China. As a team already working at capacity to efficiently and effectively service our large student cohort, the team came together to develop a plan on how to best support a large cohort of students who were unsure as to whether they could come to Australia, were in transit, and basically were looking for reassurance and support from UQ. The team worked above and beyond to set up a range of online drop-in sessions, Zoom consultations and various email communications to share information. They did this proactively and independently reflecting their commitment to supporting our students and the Faculty. In addition, the team also provided an increased level of support to all students due to the ever-changing environment caused by COVID-19 and the changes due to PA2. Their level of enquiries during this year was significantly up on last year and they worked collaboratively to ensure student satisfaction and retention.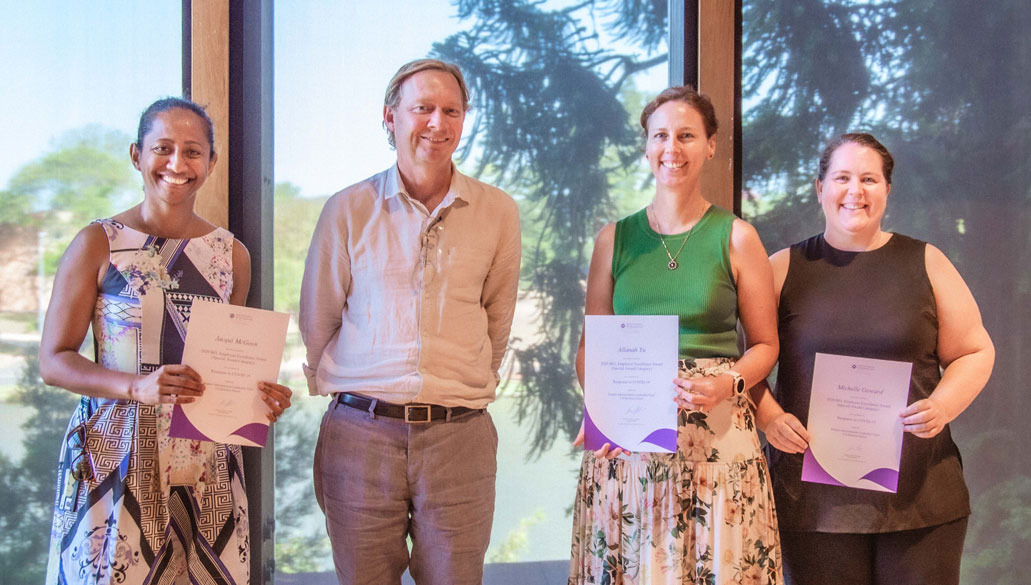 ---
Contact: BEL Communications, media@bel.uq.edu.au