More than 50 exceptional researchers, teachers and professional staff have received 2021 BEL Employee Excellence Awards.
Individuals and teams across the Faculty were recognised for their achievements and dedication over the previous 12 months.
BEL Faculty Executive Dean Professor Andrew Griffiths, Associate Dean (Academic) Professor Polly Parker and former Associate Dean (Research) Professor Brent Ritchie presented the awards and congratulated all staff on their outstanding work during another challenging year.
Congratulations to the 2021 award winners.
---
2021 Awards for Excellence in Research
Award for HDR Supervision
Winner: Professor Sara Dolnicar, AIBE and Business School
Professor Dolnicar is a passionate mentor of HDR students, having completed supervision of 24 students and currently supervising four. She trains young researchers with a philosophy that values meaningful, impactful and high-quality research. Professor Dolnicar does not teach her students the tricks of the trade, but the trade itself. She also gives her time to students across UQ, Australia and internationally through her involvement in seminars, workshops and mentoring initiatives. Her work in this space was recognised when she was shortlisted for a 2021 Eureka Prize for the outstanding mentoring of young researchers.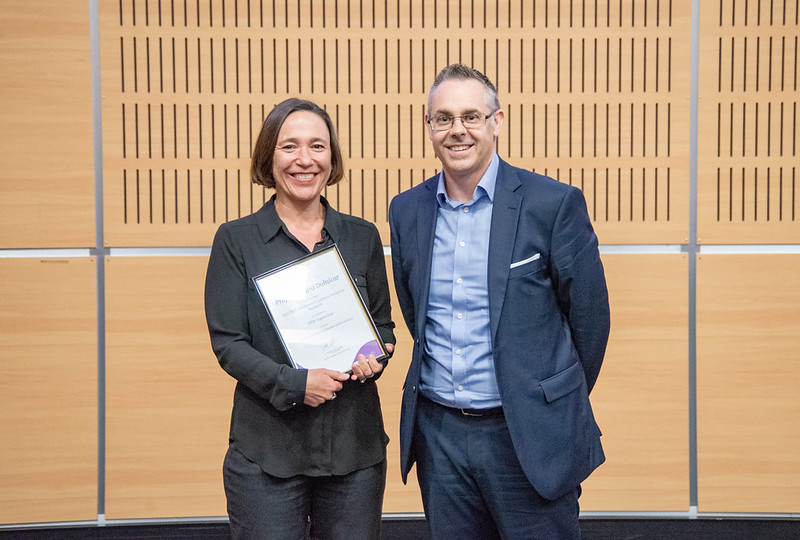 Award for HDR Research
Winner: Ms Trinh Hue Le, Business School
Trinh is an HDR student in the finance discipline within the Business School. Her thesis investigates the effect of regulatory changes on corporate finance activities. Among her most impressive achievements are a best paper award, a publication in a top journal and a second paper under revision. Trinh is the President of the HDR Student Committee in the Business School and helped organise the School's Bootcamp and PhD Research Colloquium. Trinh attends seminars in the finance discipline and is also the HDR rep on the Faculty HDR Committee.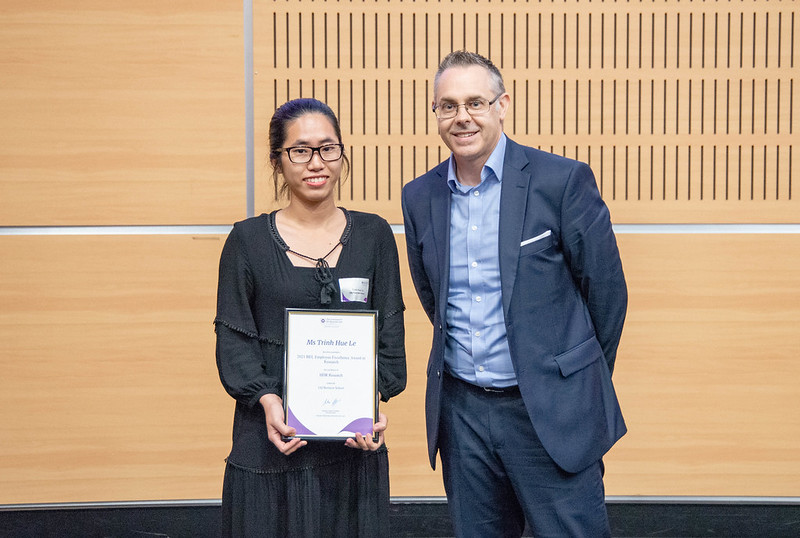 Award for Early Career Research
Winners: Dr Rigissa Megalokonomou, School of Economics; and Dr Faith Ong, Business School
Dr Megalokonomou's work spans economics, education and sociology. Her high-quality research is evidenced by publications in leading economics journals. In a short space of time, Dr Megalokonomou has published seven articles and has several papers under revision, including a paper in a top five economics journal. She received a UQ Early Career Researcher Award and was also awarded several best paper awards. She has also consulted for the Australian Treasury and is working with the Queensland Department of Education.
Dr Ong has been at UQ for three years and in that time has published eight journal articles in top journals. She was a CI on a BEL Connect Grant, which led to a recent ARC Linkage Grant on hotel plate waste. Dr Ong is an associate editor for an international journal, has been invited onto conference committees and is the recipient of a visiting fellowship in Japan – all this despite facing COVID-related difficulties and spending time in Melbourne.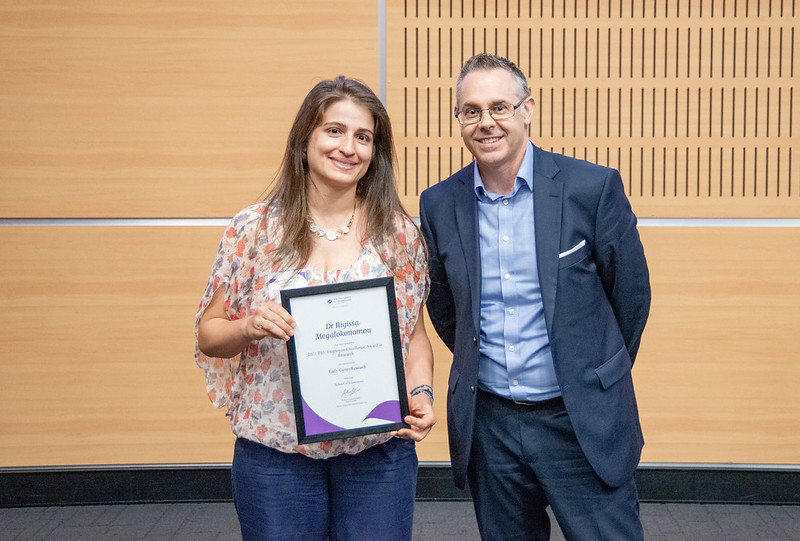 Award for Cross-Faculty Research
Winner (individual award): Associate Professor Paul Harpur, Law School
Associate Professor Harpur's research on disability inclusion cuts across disciplinary boundaries. With colleagues across UQ and with international collaborators, his work has informed policy changes and helped develop UQ as a disability champion. Associate Professor Harpur's work has provided opportunities for academics to network, publish and develop proposals for external funding. This is only possible because he collaborates with colleagues from outside the School and Faculty.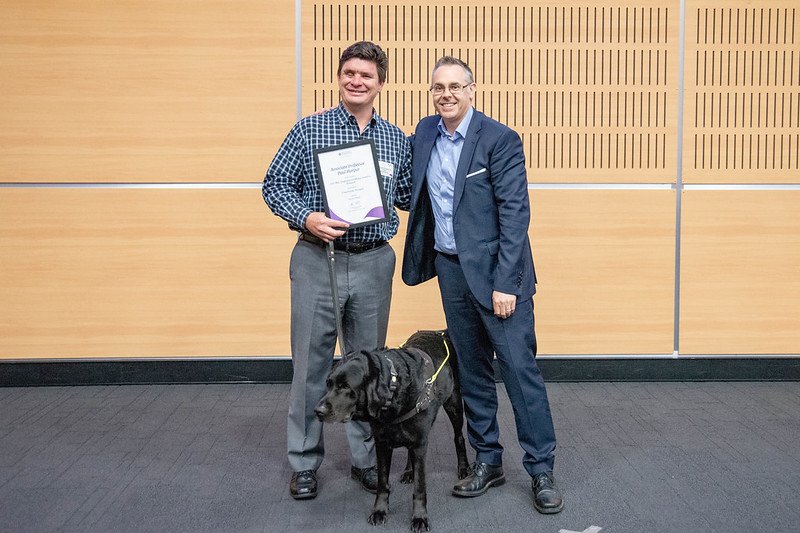 Winner (team award): Centre for the Business and Economics of Health Research Team
Professor Stephen Birch, Taylor Chair and Director of CBEH

Professor Luke Connelly, Professor, CBEH

Dr Jonas Fooken, Senior Research Fellow, CBEH

Professor Brenda Gannon, Affiliate Professor, CBEH

Dr Danusha Jayawardana, Research Fellow, CBEH

Dr Sue McAvoy, Senior Research Fellow, CBEH

Dr Tina Rampino, Research Fellow, AIBE

Dr David Rowell, Research Fellow, CBEH

Dr Marcin Sowa, Senior Research Fellow, CBEH

Dr Haitham Tuffaha, Associate Professor, CBEH
The CBEH research team has collaborated with colleagues from every UQ faculty over the last 18 months. This research seeks to help build healthier populations, improve resource allocation for health care and has developed novel ways to value health investments. Outcomes include $19 million in funding, including six centres (five NHMRC and one Training Centre), 25 co-authored journal papers and seven research students. They have also collaborated with the Faculty of Medicine to provide economic evaluations for the Pharmaceutical Benefits Advisory Committee (PBAC).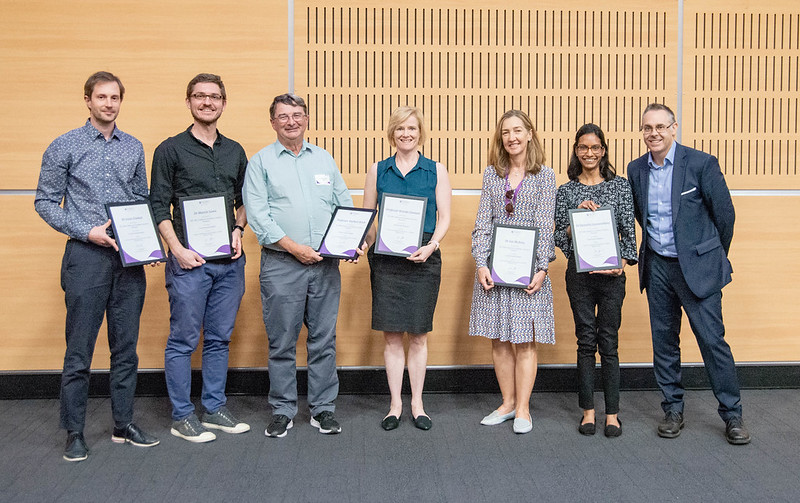 Commendation – Scholarship of Teaching and Learning
Winner: Dr Adam Kay, Business School
Amid the COVID-19 pandemic, Dr Kay established an innovative study to examine the effects of online mindfulness training on the wellbeing of his students, which has implications for physically distanced education. He has published his work in a leading journal for management learning and education and wrote a piece for The Conversation that has been read more than 10,000 times. Dr Kay has also been commissioned to write an article for the Times Higher Education.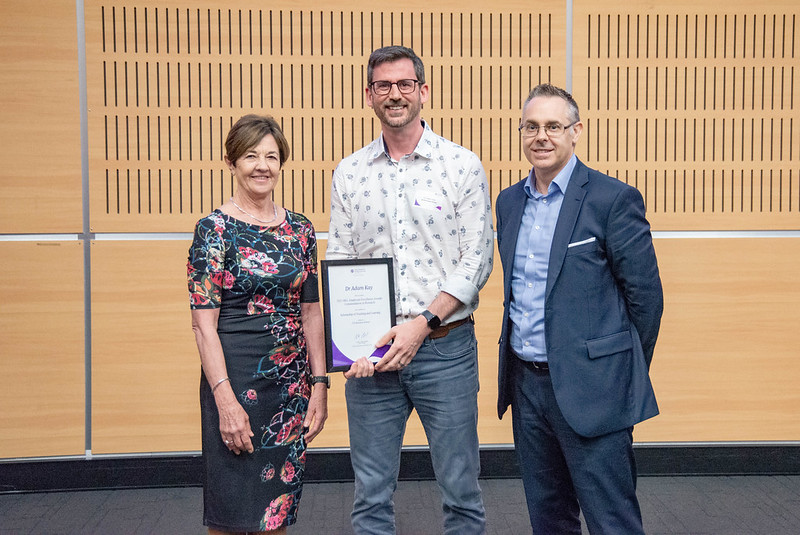 Award for Scholarship of Teaching and Learning
Winner: Dr Marissa Edwards, Business School
Dr Edwards has made an outstanding contribution to the scholarship of teaching and learning, specifically in management education. She is a co-editor of the Journal of Management Education and a lead co-editor for a top-selling Australian textbook. Her work on mental health and psychological wellbeing has been widely read and helps normalise discussions of mental health. Dr Edwards co-founded and curates the Voices of Academia blog, which has 11.5k Twitter followers. She also supports teaching and learning across UQ and is a facilitator for the TeachingPlus@UQ professional development program.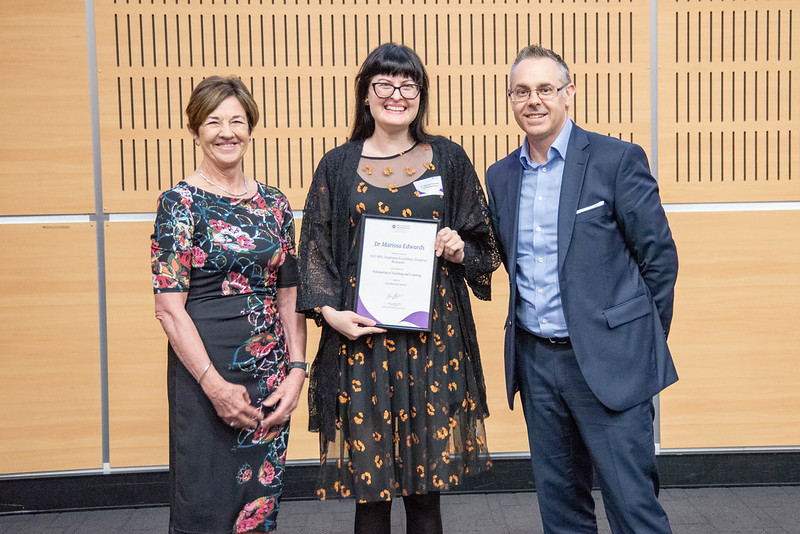 ---
2021 Awards for Excellence in Education
Award for Designing Student Learning
Winner: Dr Frederique Bracoud, School of Economics
Dr Bracoud designed and implemented an innovative three colour tutorial model that supports students' collaborative learning. In choosing green ("I feel prepared"), blue ("I prepared but do not feel confident"), or yellow ("I haven't had much exposure to the topic yet"), Dr Bracoud provides students with differentiated but parallel tutorial group activities customised to suit their needs. This helps to create a sense of belonging for students as they feel safe to engage in these activities.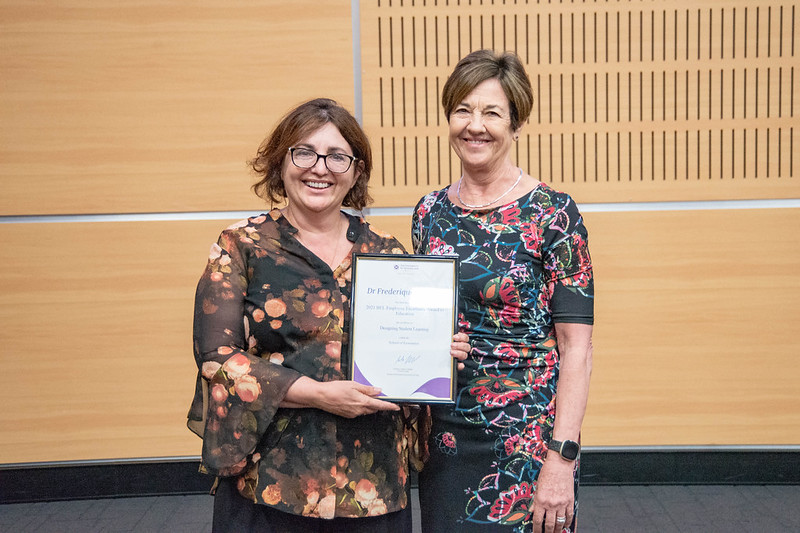 Commendation for Enhancing Employability
Winner: Dr Nicolas Pontes, Business School
Dr Pontes designed and established Newish Communications, a student-run communications agency that is the first of its kind in Australia. Under the guidance of an academic advisor and industry mentors, students from multiple disciplines work together to manage the agency's processes, planning, finances, client negotiations and client complaints to deliver projects that have real impact on the business community.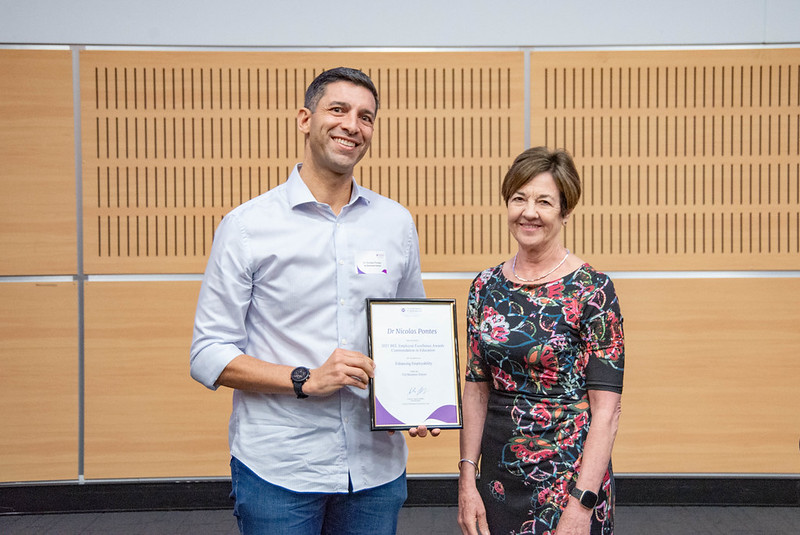 Award for Enhancing Employability
Winner: Associate Professor Sabine Matook, Business School
Associate Professor Matook received this award for enhancing student learning and engagement in a large postgraduate Business Information Systems course by designing authentic WIL tasks that build employability skills. Students work in teams to develop ready-to-use software products that are industry-ready and of immense benefit and value to business and the community. Associate Professor Matook challenges her students to use theory to solve real-life problems, and to innovate using technology they will need to use in their future careers.
Commendation for Leading Teaching
Winner: Australasian Teaching Economics Conference (ATEC) organisation team, including Dr Frederique Bracoud, Dr Suzanne Bonner and Dr Axel Wieneke – School of Economics
The team ensured the continuation of ATEC, the Australasian Teaching Economics Conference, by designing and delivering ATEC's first fully online conference. As the only annual event in Australasia for the dissemination of best teaching practices in the economics discipline, this team's thoughtful design of the program, combined with their active management of sessions, were conducive to inspiring presentations and conversations, as well as the wide dissemination of teaching innovations and practices.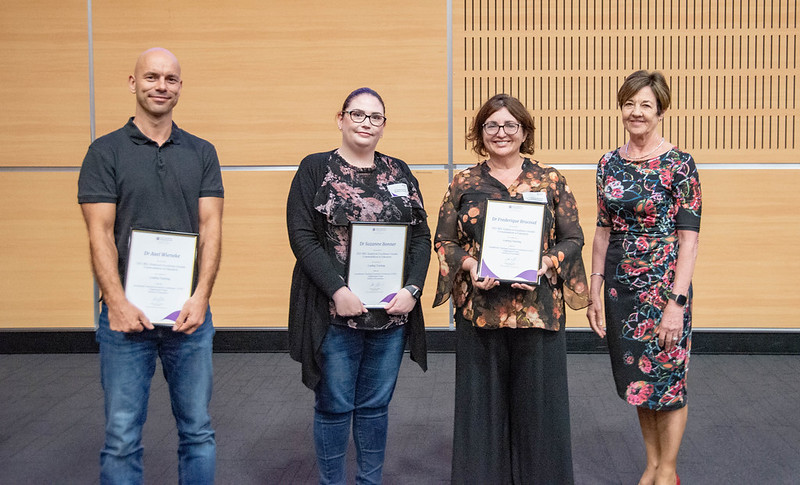 Award for Leading Teaching
Winner: Huu Phat (Kevin) Thai, Business School
Kevin received this award for his professional expertise in enhancing the undergraduate Accounting major offerings, his leadership of professional activities relating to teaching and learning in financial and management accounting over 13 consecutive teaching semesters, and his mentoring of colleagues (often more senior than him) in developing their online assessment practice. The continued improvement of the quality of assessment, positive student experiences and maintenance of academic integrity are also attributed to his sustained teaching leadership within the accounting discipline.
---
2021 Awards for Professional Excellence
Award for Innovation
Winner: Brendan Hughes, Business School
Brendan has been awarded for his work to develop a dashboard to review undergraduate and postgraduate programs within the Business School. A long-standing issue has been the ability to access course information from UQ systems to evaluate program integrity and make decisions about improvements. Brendan taught himself to use PowerBI, wrote code to pull data from public ECP websites, identified methods for pulling data from other uncooperative systems and used innovative thinking to design a specific platform that has drastically improved the accuracy of the information that is used to make program decisions.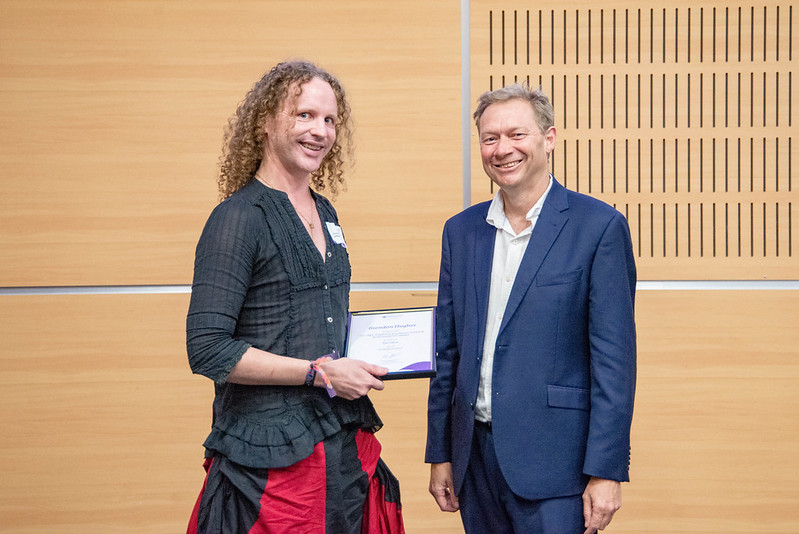 Award for Customer Service
Winner: Cameron Morgan, Business School
Cameron was nominated for the outstanding support he gave to Law School staff members when creating video content for online learning and research outreach, particularly for use as part of a recent research showcase. He is highly regarded for his level of professionalism, thoroughness and genuine interest in helping academic staff become better communicators. His creative skills in media production and attention to detail in providing support when creating content are very impressive. Cameron's coaching skills in supporting academics new at professional video recording and content creation have resulted in professional and engaging outputs. He is dedicated to his work and is a great asset to the Business School, the BEL Faculty and UQ.
Award for Engagement
Winner: BEL International Services Unit, Faculty office
Ana Abubakar

Lorraine Chan

Michael Chen

Maj Coop

Erin de Lacy

Lisa Drew

Laura Hassett

Janardan Kewin

Helen Lee

Alistair Laurenceson

Sarah Manrique

Yvonne Zhang

Han Zhu
The International Services Unit has been working under challenging conditions for the last two years, given the impact of COVID-19 on international student travel. The team has worked tirelessly to meet and communicate with agents, partners, students and their parents in different time zones, fostering proactive and positive relationships with all stakeholders. They have preserved strong partnerships, which have enabled BEL to maintain healthy international student enrolments and retention rates. The team also provide a dedicated student support service to undergraduate students in their first semester to help with program planning and any issues navigating UQ. This greatly assists international students to feel part of the BEL Faculty and the UQ community. In addition, dedicated staff within the team continue to process a large volume of undergraduate international student applications to assist with a timely made offer process.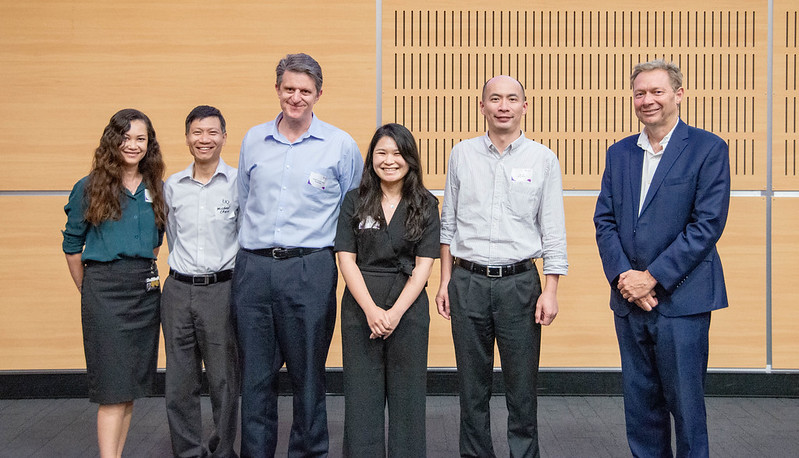 Commendation for Teamwork
Winner: George Jansen van Vuuren, Faculty office
George has been acknowledged for his ability to quickly develop the skills and expertise required in his role as Senior Academic Support Officer and to train new staff. He has taken on extra work, sometimes at very short notice, and has proven himself to be a valued and dedicated staff member. He readily supports team members and ensures the completion of all required work.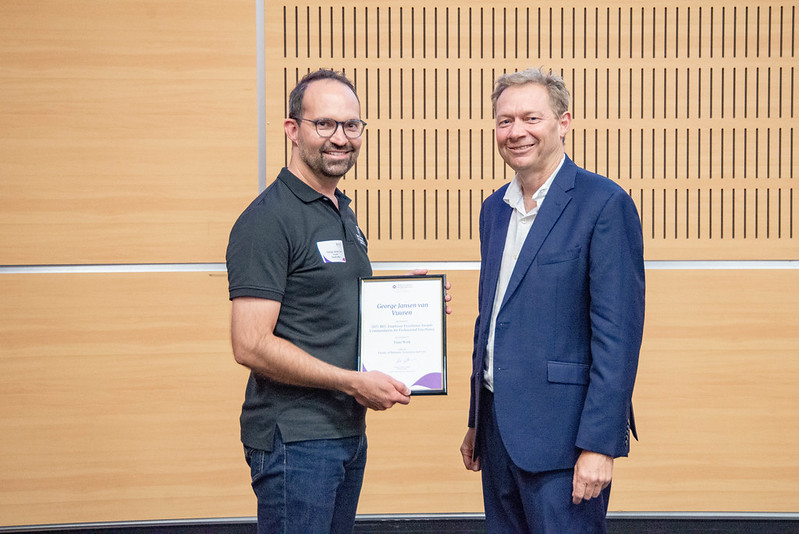 Award for Teamwork
Winner: The Low Harm Hedonism Initiative, AIBE and Business School
Professor Sara Dolnicar, Professor, AIBE and Business School

Dr Sabina Albrecht, Postdoctoral Fellow, AIBE

Dr Monica Chien, Senior Lecturer, Business School

Ms Csilla Demeter, PhD candidate, Business School

Ms Jenna Farmer, Project Officer, AIBE

Dr David Fechner, Postdoctoral Fellow, AIBE

Ms Sarah MacInnes, PhD candidate, Business School

Dr Faith Ong, Lecturer, Business School

Dr Ya-Yen Sun, Senior Lecturer, Business School

Ms Dorine von Briel, PhD candidate, Business School

Mr Oscar Zhu, PhD candidate, Business School
The Low Harm Hedonism Initiative is a research group funded by Professor Sara Dolnicar's ARC Laureate Fellowship. The team has been recognised for being collaborative in their work with other disciplines, schools and faculties, displaying a high level of communication skills and deeply respecting their colleagues. Mentoring plays a large role in their activities, either through weekly team meetings or informally by postdoctoral fellows to PhD students. Collectively, the team has demonstrated that they can all benefit from the achievements of the Low Harm Hedonism Initiative by working together and learning from and supporting each other. They have a group profile on The Global Academy website, and recently won an award by a Spanish industry body for their innovative work in sustainable tourism.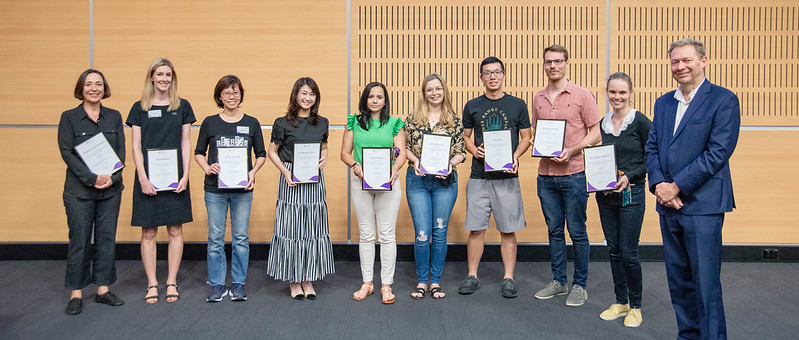 Award for Leadership
Winner: Aliisa Mylonas, Faculty office
Aliisa has been recognised for her sustained and exceptional leadership as Senior Educational Designer. She has demonstrated a strong commitment to listening to and representing the student voice and improving the student experience. She is highly regarded for her ability to leverage her experiences to mentor and develop others. Aliisa engages with academic and professional staff to support their development. One recent example is the successful BEL community of practice program "Valuing Teaching", which this year alone attracted 275 participants from BEL and the University academic community. Her contribution to the University's success in national teaching awards is significant and her support of applicants for various teaching and innovation grants has been invaluable.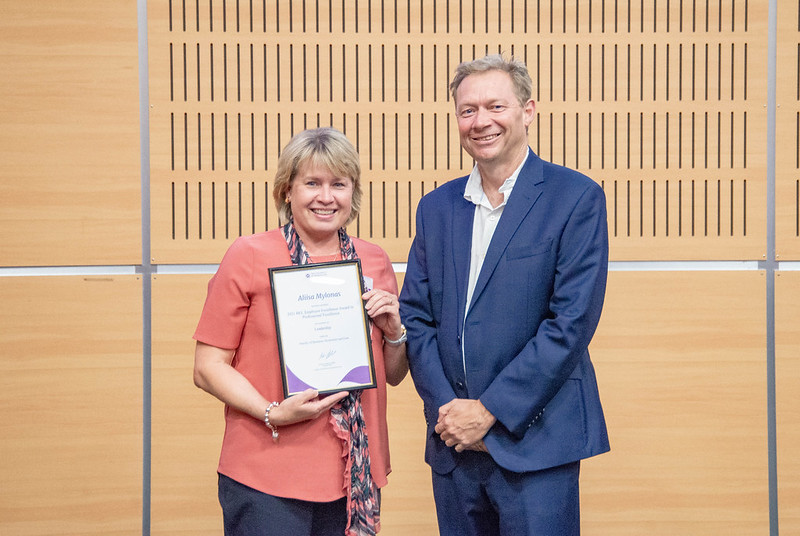 2021 Award for Excellence in Improving Workplace Culture
Winners: Associate Professor Kathleen Herbohn, Business School; and Professor Rick Bigwood, Law School
Associate Professor Herbohn is the accounting discipline leader in the Business School. She has been recognised for demonstrating outstanding leadership and fostering a more productive working environment across teaching, research and service. She has devoted a great deal of time to mentoring early career researchers in the discipline. Associate Professor Herbohn has developed positive, proactive and practical initiatives for achieving high-quality academic work. She has championed technological changes in teaching accounting and has actively developed ways to address any gaps in the course structure that need refreshing and updating. Her collegial style in leading the discipline and her ongoing support for junior staff fosters a team environment and encourages mutual respect between colleagues.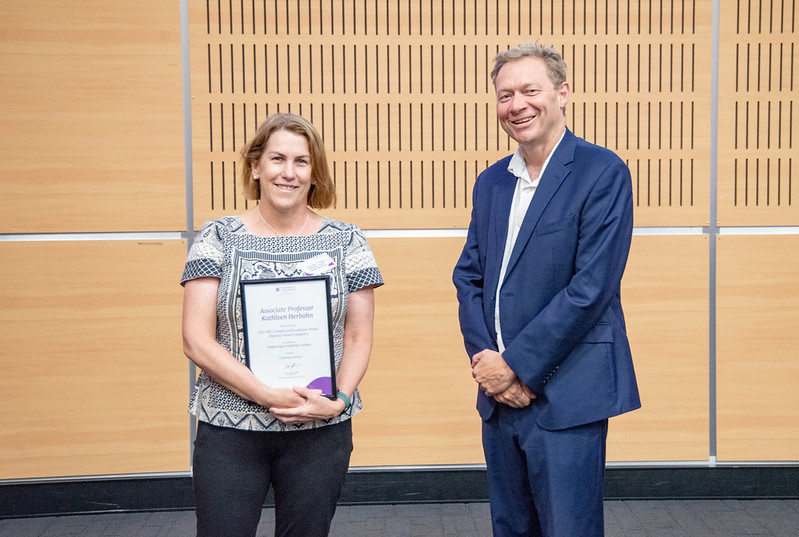 Professor Bigwood has shown outstanding leadership in building a positive and collegiate culture in the Law School this year since officially becoming Head of School. He has also facilitated a more positive relationship between the School and the Faculty office leadership teams to ensure greater alignment and communication between the two. Since becoming Head of School, Professor Bigwood is well known for baking pastries for whole-of-School morning teas. His open communication style is evident in his Monday morning emails to the School staff, which show humour and humility rather than hierarchy. In the recent Pulse survey results, feedback received from Law School staff regarding Professor Bigwood continuing as Head of School was extremely positive, particularly around his leadership style and ability to engage and support staff.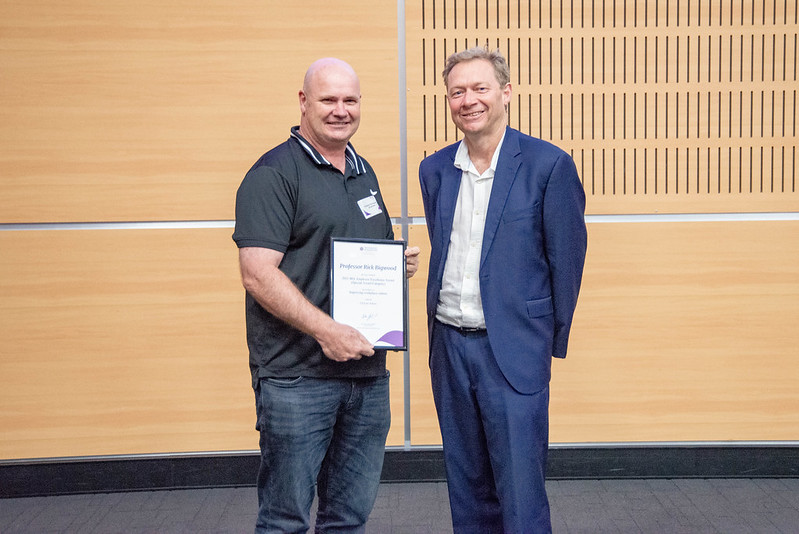 ---
Contact: BEL Communications, communications@bel.uq.edu.au