International Women's Day Series: Associate Professor Justine Bell-James
Our International Women's Day Series celebrates UQ business, economics and law professionals excelling in their careers.
Championing the protection of our environment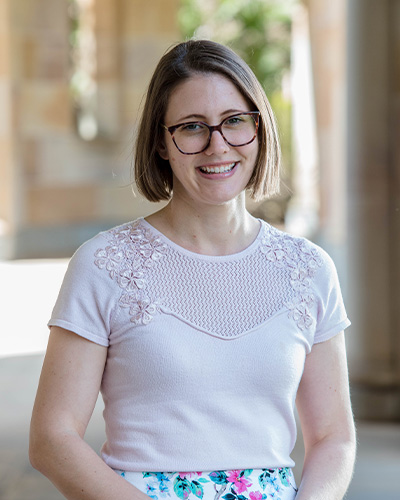 Associate Professor Justine Bell-James works in the Law School and has expertise in environmental and climate change law. Her research focuses on legal mechanisms to protect the coast under climate change, incorporating both human settlements and coastal ecosystems. She's currently leading an ARC Discovery Project considering how coastal wetland ecosystem services can be integrated into legal frameworks.
Justine also has expertise in climate change litigation, and her work on opportunities for litigation under Queensland's Human Rights Act 2019 has underpinned the first test case in this area. Her recent collaborations and consultancies have involved colleagues from science, industry, NGOs, government and legal practice.
What do you love most about your job?
I love the relative freedom I have to pursue research on areas that interest me. I work in environmental law, and I'm very passionate about trying to improve our environment for future generations.
I also love the people in the Law School, BEL and UQ more generally, and I consider myself extremely fortunate to be surrounded by smart, supportive and collaborative academic and professional staff.
How do you define success?
Success to me means feeling that I'm making a difference in my work – that might be helping my students to learn new concepts or seeing a policy change based on my research.
What do you think is the most significant barrier to female leadership?
I'm always wary of conflating women with mothers – but certainly, from the perspective of someone with young children, caring responsibilities seem like a significant barrier to leadership. Like a lot of other women, my career has been really disrupted over the past few years, and having young children impacts my ability to pursue opportunities like travel and evening networking activities.
That said, I think UQ and academia generally are getting quite good at recognising these disruptions. There is always more to be done, though, so it's important to keep discussions going. I also recognise that this is my lived experience, and there is a whole spectrum of other experiences that raise barriers to female leadership as well.
Who inspires you?
Despite my answer above and my tongue-in-cheek reference to them as my 'little career interruptions', it's my two young daughters. They make me want to be better at everything so that I can hopefully, in turn, inspire them.
Who or what has been your greatest source of support?
At home, my husband Doug – he's incredibly supportive of my career and a true equal in raising our daughters. At work, I'm incredibly fortunate to have a very supportive Head of School in Professor Rick Bigwood. I'm also really grateful to have a great network of colleagues, both women and men, who have provided considerable mentorship to me over my career. The best mentors have been the ones who have 'lowered the ladder' for me and provided opportunities, and as I progress further in my career, I'm mindful of trying to do this for the more junior staff I mentor.
What's been the biggest 'pinch me' moment of your career?
Going to the UN Climate Change negotiations in Paris in 2015 and getting to meet Sir David Attenborough! This was because of one of those great ladder-lowering moments where a senior Professor at UQ took me along and provided me with this opportunity.
What are your tips for other women hoping to excel in their careers?
My network of mentors is broad and diverse – they're not all in BEL, nor are they all at UQ or even in academia. Find a group of people who can give you trusted advice, and don't expect everything to come from one person or a formal mentoring scheme.
---
View more inspiring stories from female-identifying UQ staff working in the Faculty of Business, Economics and Law.