Before washing machines were invented in the 1850s, gathering to wash clothes by the river was a way for people to connect, according to Nic Marchesi, executive director and co-founder of Orange Sky.
Orange Sky recently turned to a cohort of University of Queensland students to help achieve their mission of tripling their impact by 2025 by connecting with 40,000 people.
The project is part of UQ's Learning by Doing in a Disruptive World (PBEL3000) course, which runs in intensive mode over 10 days during the Summer Semester. The work-integrated learning (WIL) course gives final-year undergraduate students from across UQ's business, economics and law programs the opportunity to work in teams to tackle real challenges from industry partners like Orange Sky.
Shayne Herriott, the company's senior venture manager for innovation products, said innovation was part of Orange Sky's DNA.
"We asked the students how we might innovate our offerings to help new communities and support existing users of our services in a deeper, more meaningful way," he said.
Founded in 2014 by Marchesi and his friend Lucas Patchett, Orange Sky has grown into a nationwide network of volunteers who offer free mobile laundry services for people experiencing homelessness.
What started as an idea to improve hygiene standards and restore dignity to people doing it tough has evolved into something much bigger and more powerful. Their core purpose, though – to positively connect people – has remained unchanged.
A hands-on approach to learning
Riley Wimhurst, a final-year Bachelor of Commerce student who took part in the course, said that working with Orange Sky was an incredibly rewarding experience.
"What makes this course so great is its grounding in reality," Wimhurst said.
"Like many people, I learn best by doing. It's been an excellent opportunity to practise the skills I've learned in my commerce degree for the sake of solving a real problem for a real industry client.
"Not only were we able to apply what we had learned in our studies to a real-world situation, but we were also able to make a tangible impact on the lives of people in need.
"It was a reminder that even small actions can make a big difference."
Coffee is always a good idea
The interdisciplinary student teams were invited to pitch their ideas to Orange Sky at their Brisbane HQ.
Wimhurst said his team leveraged their combined backgrounds in commerce, economics and marketing and pitched the idea for "Orange Sky Coffee" – a commercial opportunity to sell specialty coffee to paying consumers to direct profits back into Orange Sky's core operations.
"This concept would create a new revenue stream while expanding their reach beyond their existing client base," he explained.
Herriott – also a UQ Bachelor of Commerce and Bachelor of Economics alum – said all of the ideas presented were creative and innovative in their own way.
"There was a good blend of practicality while also being scalable if we're able to pilot them," he said.
"We look forward to considering elements of the coffee idea to see how we can link the concept of connecting with friends over a coffee to connecting with people doing it tough.
"We were also inspired by the students' solutions to provide waterless washing for remote Indigenous communities."
Innovation is the new black
PBEL3000 course coordinator Dr Frederik von Briel is a Senior Lecturer in Strategy and Entrepreneurship at UQ Business School. He advocates that in today's constantly and often rapidly changing environment, traditional ways of doing things often don't work anymore.
"Innovative and creative mindsets help students succeed in such environments because they enable students to think outside the box and identify opportunities to do things differently and better," Dr von Briel said.
Dr von Briel recently won the 2022 UQ Excellence Award for Enhancing Employability for his work designing and delivering the course.
"One of the key skills students learn in this course is how to turn challenges into opportunities," he said.
"I teach the students new tools and techniques that they can apply to unpack the industry challenge to come up with increasingly refined and validated solutions."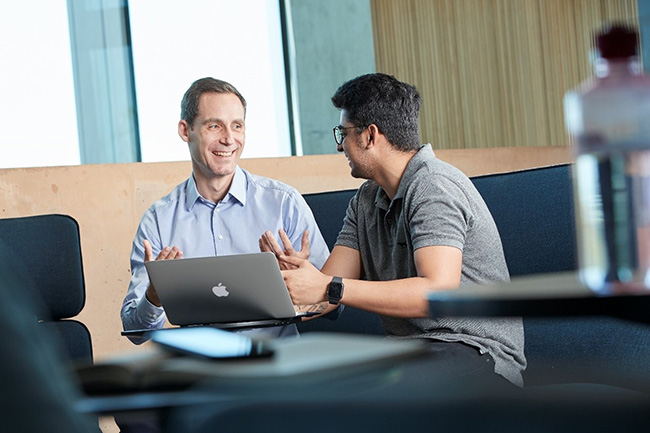 Essential 21st-century skills
Employers are seeking university graduates who not only have the relevant knowledge and technical skills but also key 21st-century skills such as the ability to effectively problem solve, communicate, collaborate, innovate and be creative. These skills are best developed through authentic and real-world learning experiences.
"Because learning by doing involves connecting with the world outside the classroom, collaborating with industry partners is an important aspect of the course," Dr von Briel said.
"It allows students to prepare for the demands of the job market while also building professional networks that can lead to future employment."
Connecting in new ways
Orange Sky is focused on building connections and friendships with those they serve. The team encourages its volunteers to spend time talking and interacting with the people they help to provide a sense of community and belonging.
"Orange Sky is an ideal partner to work with because they help people in need and are eager to identify opportunities for how they can make a positive difference in even more people's lives," Dr von Briel said.
"The collaboration with Orange Sky provides PBEL3000 students with the opportunity to make real change while also developing crucial industry-relevant skills."
In supporting the company's mission, students have brought together what many of us consider essential parts of our everyday lives – laundry, coffee, and human connection.
Discover work-integrated learning opportunities within UQ's Faculty of Business, Economics and Law.