International Women's Day Series: Dr Jean Spinks
Our International Women's Day Series celebrates UQ business, economics and law professionals excelling in their careers.
Using economic thinking to tackle healthcare challenges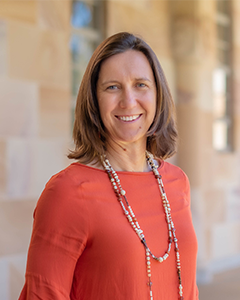 Dr Jean Spinks is committed to two noble causes: improving health outcomes and supporting female researchers to further their academic careers.
As a Senior Research Fellow in UQ's Centre for the Business and Economics of Health, Jean is currently leading a major Medical Research and Future Fund (MRFF) project, 'Activating pharmacists to reduce medication-related problems'. The aim of the project is to trial a new digital solution to support pharmacists and GPs to work together more effectively to reduce medication-related harms. Jean has engaged a team of emerging female researchers and PhD students, and works with multiple partner organisations including the Pharmaceutical Society of Australia, Brisbane South Primary Health Network, the National Aboriginal Community Controlled Health Organisation (NACCHO), the Australian Digital Health Agency, the Pharmacy Guild of Australia and MedAdvisor.
What are 3 words that best describe you?
Curious, friendly, unorganised.
What do you love most about your job?
Being able to use research to tackle real-life problems, particularly in health care, but also more generally. My expertise is in applying economic thinking and frameworks to a range of challenges including:
better integration of medicines services within primary care
the cultural acceptability of services
using digital health to reduce medicine-related problems
the use of appropriate financial incentives to increase the quality of care.
My current research focuses on improving medicines safety in primary care – one of the Australian Government's ten health priority areas. I'm driven by wanting to improve population health through the safe and appropriate use of medicines.
How do you define success?
Getting the work-life balance right – working hard enough to get good results but also stepping away from work so that you remember what is important in all facets of your life.
Why do you think education is so important in advancing a woman's career?
Education is the great leveller, not just for women, but everyone. I have a strong belief that education makes our society better, and I define 'education' very broadly. Not everyone needs to or should do a PhD, we need well-trained people in all aspects of life.
What do you think is the most significant barrier to female leadership?
It is multifactorial. Women often take on additional unpaid work roles, taking many different forms, which can lead to time constraints. Not being present when opportunities arise can mean missing out, which reduces the opportunity for progression. This reduces the number of women in senior management roles, which exacerbates the problem.
Who inspires you?
I really admire 'authentic' women leaders, people like Ngozi Okomjo-Iweala, Angela Merkel and Jacinta Ardern. They bring their own style of leadership that is different from what has gone before, showing alternative ways of providing strong leadership.
Who or what has been your greatest source of support?
My family and friends and some key mentors at critical points in my career.
What's been the biggest 'pinch me' moment of your career?
Being awarded my first Category A grant as lead investigator. They called up out of the blue and it was exciting, like winning the lottery.
What are your tips for other women hoping to excel in their career?
Stay true to your own values and use those as a template for making career decisions. Work with great people on projects that matter and don't forget to have some fun along the way.
---
View more inspiring stories from female-identifying UQ staff working in the Faculty of Business, Economics and Law.