An innovative series of student employability programs and industry partnerships has been recognised on the world stage after winning the inaugural QS Reimagine Education Best University-Employer Partnership Award in San Francisco, USA on 30 November.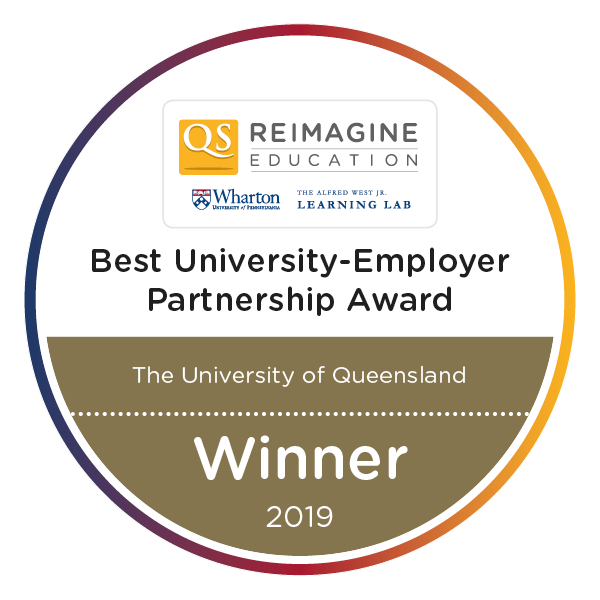 Led by the UQ Faculty of Business, Economics and Law Student Employability Team (BEL SET), the collaborative and experiential learning programs aim to help students bridge the gap between study, work readiness and life-long career success.
BEL SET Director Rhea Jain said giving students access to relevant employability services, support and opportunities had improved graduate employment rates for UQ's business, economics and law students.
"Unlike traditional career services, which tend to solely focus on individual aspects of graduate recruitment, we deliver a comprehensive suite of professional development programs and opportunities for applied learning and student-industry placements," Ms Jain said.
"BEL SET programs are deliberately run in person and in partnership with employers to encourage immersive and collaborative learning experiences, using interactive and practical scenarios that go beyond simply transmitting information."
Since 2015, BEL SET has worked with more than 4000 employers; recorded more than 45,000 student interactions through its programs, events, workshops and face-to-face consultations; and facilitated more than 6000 student work experience opportunities.
UQ Faculty of Business Economics and Law Associate Dean (Academic) Professor Polly Parker said this award built on the University's successful employability track record.
"UQ recorded an impressive performance in this year's QS Graduate Employability Rankings, receiving an exemplary score of 94.2 per cent in the Partnerships with Employers measure," Professor Parker said.
"This latest award recognises the strength and impact of our fruitful collaborations with leading employers, and an unrelenting focus on providing students with experiences beyond the formal curriculum and boosting graduate employability outcomes.
"The world is changing rapidly and the work of BEL SET – together with our professional, academic and teaching colleagues – is vital to helping our students adapt to and succeed in competitive workplace environments."
This year, the QS Reimagine Education Awards attracted 1150 applications from organisations around the world.
QS CEO Nunzio Quacquarelli congratulated UQ on its impressive global win.
"The QS Reimagine Education aims to reward the most innovative approaches to enhance learning outcomes and employability, the latter of which is a key focus for QS," Mr Quacquarelli said.
"Our QS University Rankings place a strong emphasis on the opinion of employers as we believe that a university aspiring to be truly world class must develop strong ties with employers and ensure that students can learn the hard skills and hone the soft skills that will make them employable or entrepreneurial.
"The 'UQ BEL Student Employability Team: Getting Students SET for their Future' is an excellent initiative which our panel of international judges rated to be the best in the category," he said.
Learn more about employability and partnering opportunities in business, economics and law.
Media: BEL Media, media@bel.uq.edu.au, +61 7 3346 0700, +61 439 651 107.