Celebrating academic excellence and fostering a sense of community among The University of Queensland's newest international scholarship recipients was the dual focus of this year's Faculty of Business, Economics and Law Global Leaders' Awards Dinner.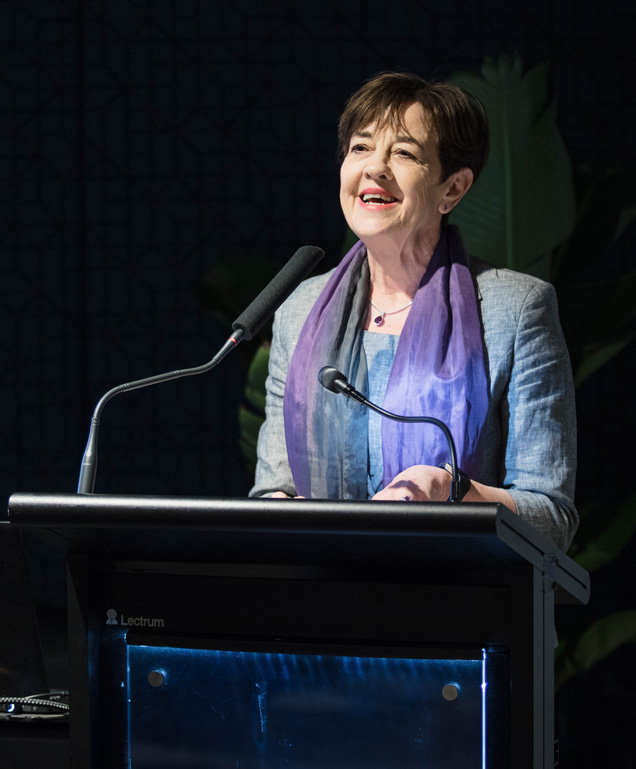 More than 30 UQ staff and students gathered at Customs House on 9 September to welcome and celebrate our new BEL Global Leaders Scholars.
UQ guests including Deputy Vice-Chancellor (Academic) Professor Joanne Wright, Faculty Associate Dean (Academic) Professor Polly Parker and BEL heads of school were on hand to meet and network with our international scholars.
Professor Parker thanked our newest students for choosing UQ, and wished them well for their studies.
"As a university in the world's top 100, we are proud to be able to support our future leaders in business, economics and law to continue their academic journey at UQ," Professor Parker said.
"Studying abroad is a remarkable experience that challenges our students to grow both personally and academically, gaining the skills to thrive in a constantly changing and globally connected environment.
"Our students also benefit from being part of an engaged and high-achieving community of current and former Global Leaders Scholars, providing them with a valuable professional network at home and abroad."
Since 2013, UQ has awarded 161 scholarships to business, economics and law students from 23 different countries.
UQ Global Leaders Scholarships contribute towards a student's tuition fees, and are available to students from Europe, Hong Kong, India, Indonesia, Latin America, Macau, Malaysia, Singapore, Japan, Taiwan and Vietnam.

Congratulations to our 2019 international scholarship recipients.
Europe Global Leaders Scholars: Benjamin Faudot (France), Anna Maria Fueldner (Germany).
Hong Kong Global Leaders Scholars: Ka Fung Ryan Chan, Kwan Ho Benjamin Wang, Sicheng Mark Wang.
Indonesia Global Leaders Scholars: Adelya Krista Putri, Riviana Susanto, Christophorus Calvin Wiryadinata.
Latin America Global Leaders Scholars: Julian Estefan Galvis (Colombia), Maria Eloisa Guerrero Castro (Mexico), Raul Mathias Leon (Peru), Jean Pierre Martinez Monterrey (Colombia), Laura Cristina Parra Navarrete (Colombia), Maria Ortiz Salazar (Colombia), Alonso Zagal Ratto (Peru).
Macau Global Leaders Scholar: Yonglin Wang.
Malaysia Global Leaders Scholars: Naziatul Alisha Aziz Shuhaimi, Aldwin Jiachen Lim, Shin Jin Lim, Ting Hong Tracy Ng, Sin Yih Shiuan.
Singapore Global Leaders Scholars: Dylan Chin, Jierui Goh, Jonathan Lun, Qin Yin Sek.
Taiwan Global Leaders Scholars: Ming-Hsun Lee, Cheng-Han Lu, Ting-Wan Lu, Ting-Yi Wu, Yi-Hua Wu, Chia-Hsuan Yu.
Contact: Maj Coop, BEL Regional Manager (South-East Asia), m.coop@uq.edu.au, +61 7 3346 9235; BEL Communications, media@bel.uq.edu.au.