As University of Queensland alumni, respected business leaders, and father and son, Rodney Wylie OBE (BCom '48 BA '50) and John Wylie AM (BCom Hons '83) have much in common.
But it's their shared commitment to lifelong learning and fostering a diverse community of knowledge seekers and exceptional leaders that has proven an enduring focus for the pair.
A decade after the Wylie family's initial gift to establish the Rodney Wylie Eminent Visiting Fellowship program at UQ, The John and Myriam Wylie Foundation has made a further major gift to continue the visionary fellowship program for the next 10 years.
Mr Wylie established the Fellowship in 2009 to continue his father's legacy, and help the University bring some of the world's brightest minds and accomplished change makers to Queensland.
Each year, these free events provide a valuable forum for UQ students, alumni and community to connect and gain insights and perspectives from experts in business, finance or economics.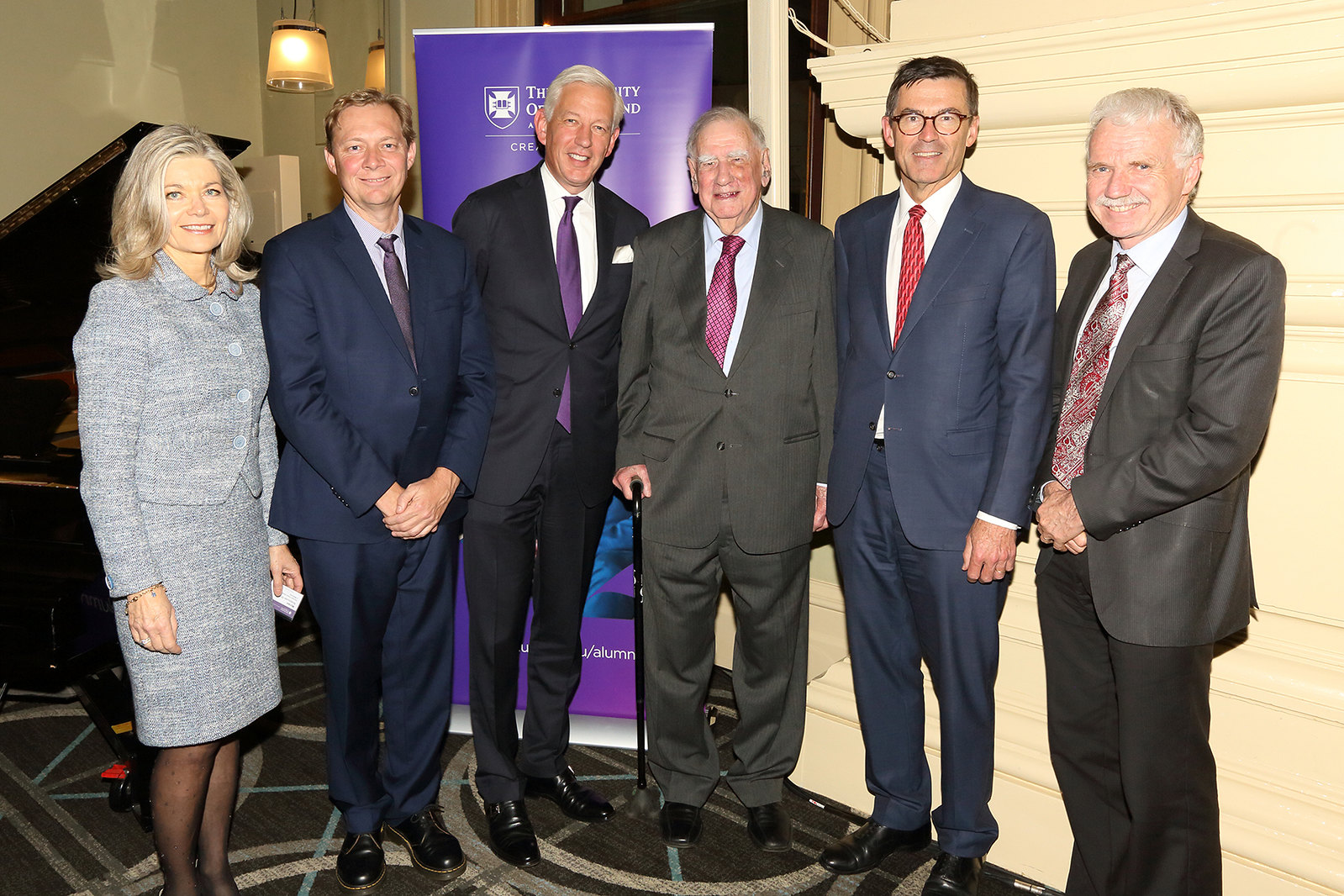 Celebrating a Queensland business legend
Mr Wylie said the lecture series, like his father's trailblazing career, focused on bringing business and community together to engage, learn and connect.
"My father, Rod, has been a mentor to many people, and this fellowship is to carry on this legacy in his name," Mr Wylie said.
"My Dad is 91 years old; he's fighting fit and a proud Queenslander.
"Dad was actually one of the first commerce students at The University of Queensland.
"For years I was proudly saying around town that Dad was one of the top five commerce students at UQ. And it was only years later he let slip that there were only six students in the year! But we're still proud of you, Dad.
"My Father had a stellar career in accountancy, business and finance. He's someone who's given a lot to this state, and – in recognition of his significant contributions – was named a member of the Queensland Business Leaders Hall of Fame in 2016.
"In everything he did during his career, Dad brought to the table a great degree of skill and wisdom.
"He also brought the timeless values of integrity, decency and modesty; valuing the long term over the short term; valuing achievement over money; and avoiding self-aggrandisement and self-promotion. These are timeless values for today's generation as well."
Building a legacy by sharing knowledge
The Wylie family's extraordinary gift will allow UQ's Faculty of Business, Economics and Law to invite an annual eminent visiting fellow to provide intellectual leadership and participate in community conversations through a series of public lectures in Brisbane, Sydney and Melbourne.
UQ Provost and Senior Vice-President Professor Aidan Byrne said inspired partnerships, such as this, between donors and the University had had a transformational impact on our community and state.
"Philanthropy boosts our capacity for innovation; it supports the increasingly diverse needs of our student community; it enables research and discovery in the areas that have significant impact in people's lives; and it ensures that we can continue to invest in our future generations.
"I want to thank and acknowledge the philanthropists, John Wylie and Myriam Boisbouvier-Wylie, whose gift to UQ created this esteemed lecture series in honour of John's father, Rodney, another outstanding UQ graduate who has had a distinguished career as a leader in the Australian accountancy sector."
BEL Faculty Executive Dean Professor Andrew Griffiths thanked the Wylie family for their vision and continued support.
"I would like to acknowledge and thank the Wylie family, especially John and Myriam, for starting this visionary fellowship and alumni lecture series in partnership with UQ, and for their generous gift to ensure it continues for the next decade.
"At UQ, we place a great deal of importance on supporting our graduates and friends to remain inspired, engaged and connected with each other and the University throughout their careers.
"It is impossible to place a value on the connections and ideas that have resulted from these events during the past decade, and I am confident the influence and impact of this important series will only continue to grow."
Previous Rodney Wylie Eminent Visiting Fellows
2019: Dominic Barton, Global Managing Partner Emeritus and Senior Partner, McKinsey & Company; Canada's Ambassador to China
2018 Ben Gray, Founding Partner, BGH Capital 
2015: Manuel Pinho, School of International and Public Affairs, Columbia University
2014: Jean-Charles Rochet, Swiss Finance Institute Professor of Banking, Banking and Finance Institute, Zürich University
2011: David Carpenter, Professor of Environmental Health Sciences, University of Albany, New York
2011: Sharon Strauss, Professor in Evolution and Ecology, University of California, Davis
2010: Joseph Stiglitz, Nobel Laureate in Economic Sciences
Together, we can provide opportunities for lifelong learning and leadership. Give now.
Media: BEL Communications, media@bel.uq.edu.au, (07) 3346 0700.
---
Related content
 View the photo galleries from our 2019 Rodney Wylie Lectures in Brisbane, Sydney and Melbourne.
 Watch videos of the key takeaways from Dominic Barton's 2019 lecture: the shift of economic power from west to east; technology accelerating industry disruption; searching for a new 'societal ideal'; and implications for organisations.
 Read a recap from a roundtable discussion with Dominc Barton on the future of work, hosted by UQ Business School's Service Innovation Alliance.