Future Fellowship for disability rights scholar Paul Harpur
Creating a better future for people with disabilities is the vision of a leading academic who has received a highly competitive ARC Future Fellowship.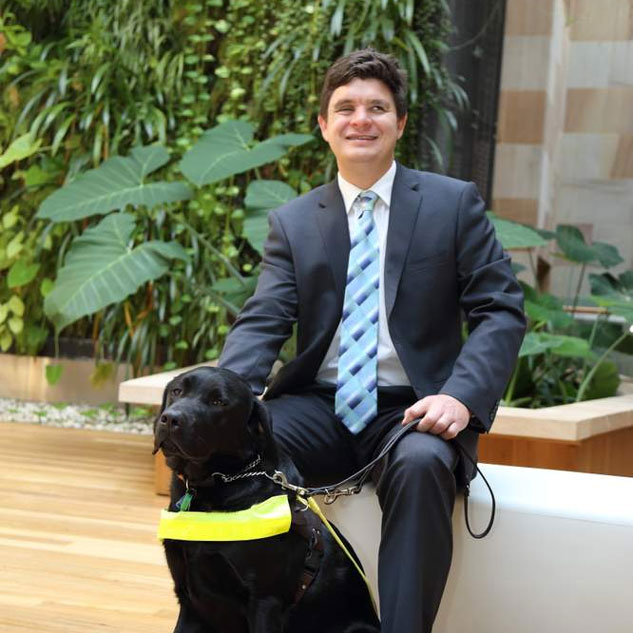 UQ Law School's Associate Professor Paul Harpur will use his four-year, $994,942 fellowship to investigate how the higher education sector can better support people with disabilities to transition from economic exclusion to work.
Dr Harpur said one in five Australians have a disability, and of these, just over 47 per cent are unemployed.
"This is a significant issue, with regulatory failures and challenges often affecting rights to education and work being exercised on an equal basis," he said.
As a Future Fellow, Dr Harpur will examine international legal norms, theories and strategic and operational practices in the higher education sector.
He said expected research outcomes include advances in scholarship on ableism, informed policy reform, and transferable operational processes for the education and employment sectors to improve the transition of people with disabilities to work.
Since becoming blind after a train accident at age 14, and throughout his career as a Paralympian, lawyer and legal academic, Dr Harpur has been devoted to the pursuit of inclusivity.  
His recent achievements in this space include a 2019 Citation for Outstanding Contributions to Student Learning "for outstanding leadership in translating disability strategy into a vision of ability equality and core university business".
Also in 2019, he received a prestigious Fulbright Future Scholarship for his project entitled Universally Designed for Whom? Disability, the Law and Practice of Expanding the 'Normal User'.
In 2020, Dr Harpur became an academic fellow at the Harvard Law School Project on Disability and was awarded a range of consultancies, including with the Royal Commission into Violence, Abuse, Neglect and Exploitation of People with Disability.
Dr Harpur said he was "deeply honoured" to add a Future Fellowship to the mix.
"I'm exceptionally excited by the possibility for industry-wide change," he said.

"I hope to create a world where we no longer talk about 'them and us'; instead, we talk about 'us'.

"Universities can become disability champions of change where there is institutional support on diversity and inclusion.

"At UQ, we have such support. Inclusion at the University is all about teamwork, and this is reflected in the industry and university level awards we receive."
At the industry level, Dr Harpur and his colleagues were acknowledged as Australian HR Awards 2021 Excellence Awardees in the Best Workplace Diversity and Inclusion Program category. 
In 2019, the UQ Disability Inclusion Group – chaired by Dr Harpur – won the Community, Diversity and Inclusion Award at the UQ Awards for Excellence. 
Dr Harpur is one of seven UQ researchers to receive a 2021 Future Fellowship. Future Fellowships are awarded to outstanding mid-career researchers undertaking high-quality research to benefit the Australian and international community.
Contact: BEL Communications, communications@bel.uq.edu.au