36 exceptional researchers, educators and professional staff have received 2022 BEL Awards for Excellence.
Individuals and teams across the Faculty were recognised for their achievements and dedication over the previous 12 months.
Faculty of Business, Economics and Law Executive Dean Professor Andrew Griffiths, Deputy Head of UQ Business School Professor Tyler Okimoto, Director of Teaching and Learning, School of Economics Professor KK Tang, and Head of School, TC Beirne School of Law Professor Rick Bigwood presented the awards and congratulated all staff on their outstanding work during the year.
Congratulations to the 2022 award winners.
---
2022 Awards for Excellence in Citizenship
Award for Innovation
Winner: Dr Thea Voogt and Vicky Chiu from the Inspera Team, Law School
In Semester 1 of this year, the Law School participated in a pilot for online assessment for a suite of subjects. As a team, Vicky and Thea developed the materials, established a process for introducing a new form of assessment, and contributed to the learning of the University. They worked tirelessly to become expert users in a new digital platform, consult with the Inspera team, educate relevant academics across the 7 courses, and provide on the spot advice and guidance during assessment periods.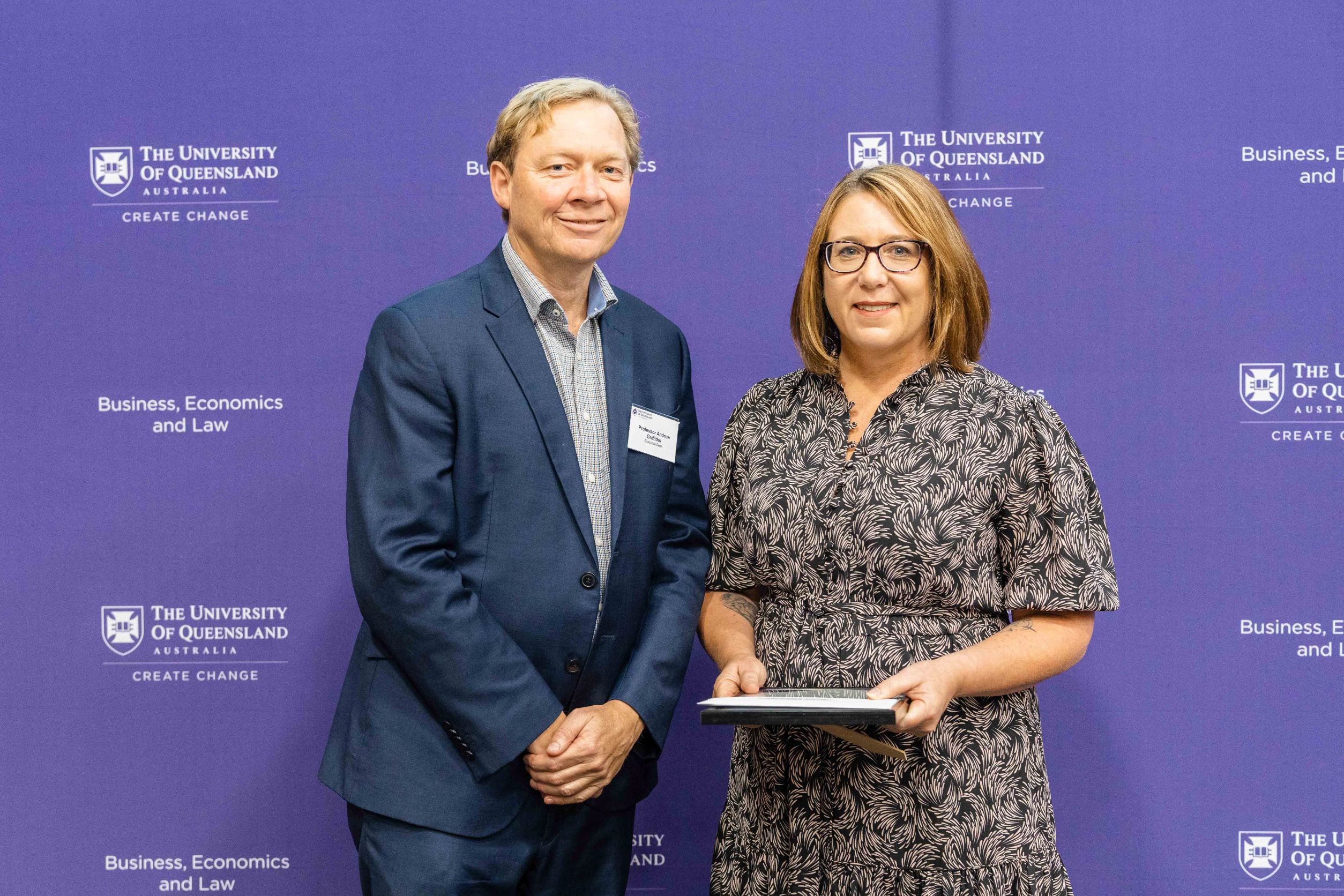 Award for Service
Winner (individual award): Zoe Penman, Faculty Office
Zoe's beginning with the BEL HR team coincided with the introduction of Workday. Although her Workday experience and understanding were extensive, she graciously worked with her client group and lent her support to other areas across the Faculty. She demonstrated patience, calmness, positivity and generosity of spirit in supporting clients and colleagues through what we all recognise was a challenging system implementation.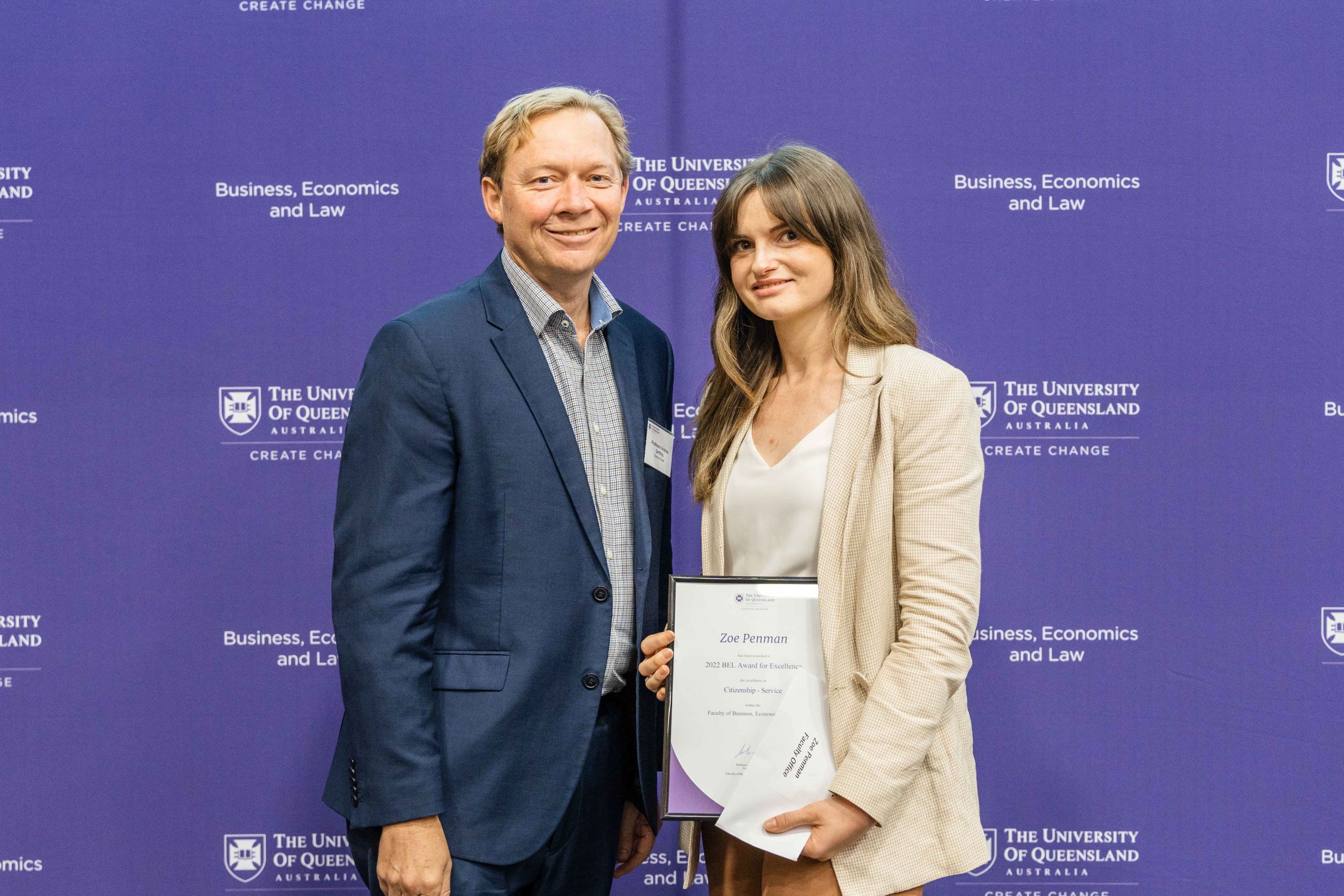 Winner (team award): Elaine Peng and Ella Rodda, Business School Timetabling Team
The Business School timetabling team demonstrate the highest level of commitment to delivering excellent and sustained customer service. Elaine and Ella have developed strong relationships and rapport with the +200 teaching academics across the School, as well as open and collegial relationships with Program and Discipline Leaders.
Commendation: Bev Forrest, Law School
Bev contributes a pivotal role in the Law School as a key administrative support officer that lends her reliable support and services to staff and students in the School, visiting academics and colleagues across UQ.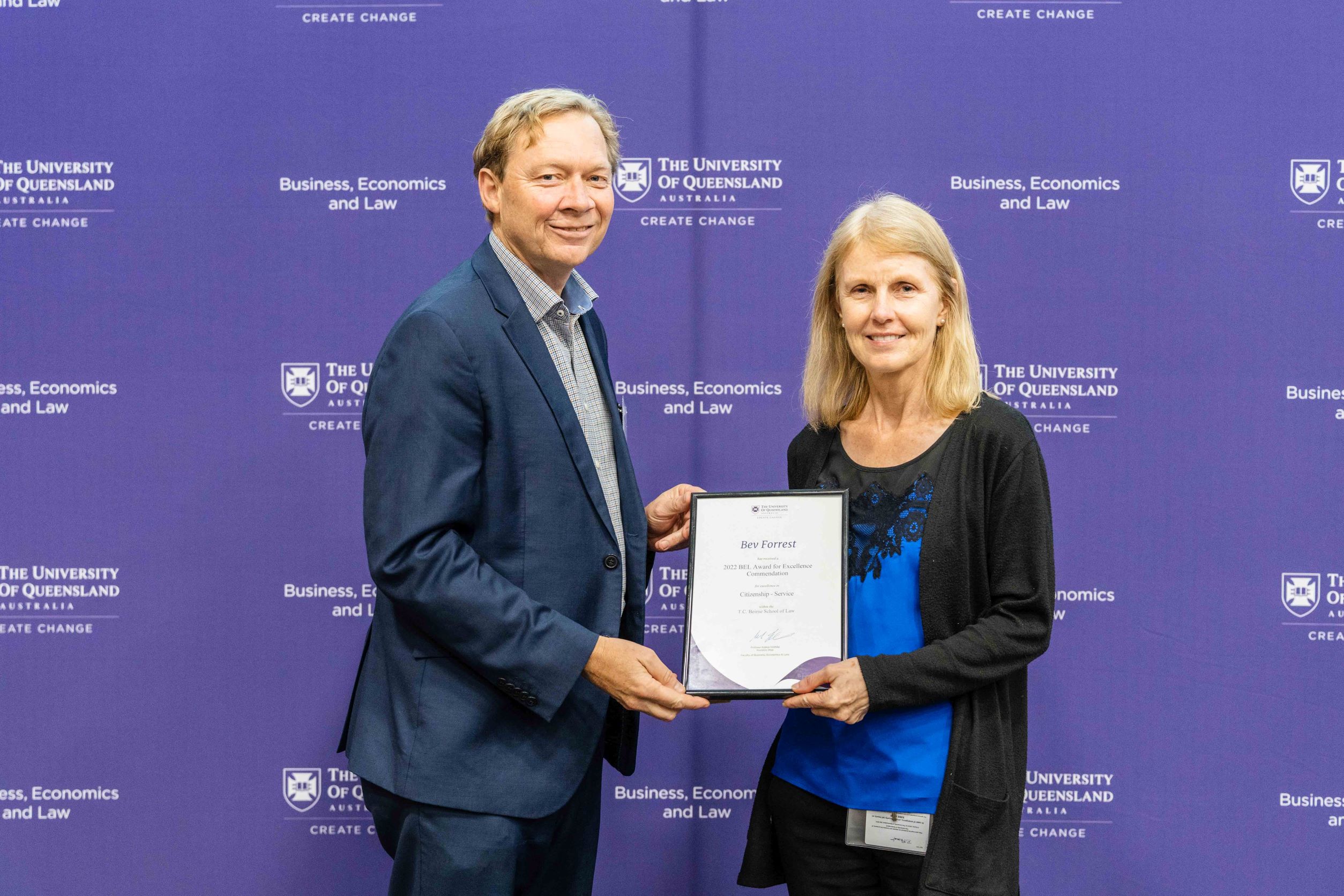 Award for Leadership
Winner: Carmen Buttery, Law School
Carmen contributes an integral role in fostering a culture of research excellence in the School of Law. She provides encouragement and expert guidance regarding research partnerships and external funding applications, and her knowledge in tracking research impact has served as a model for others. She is a valued and appreciated advisor on all research matters for the School.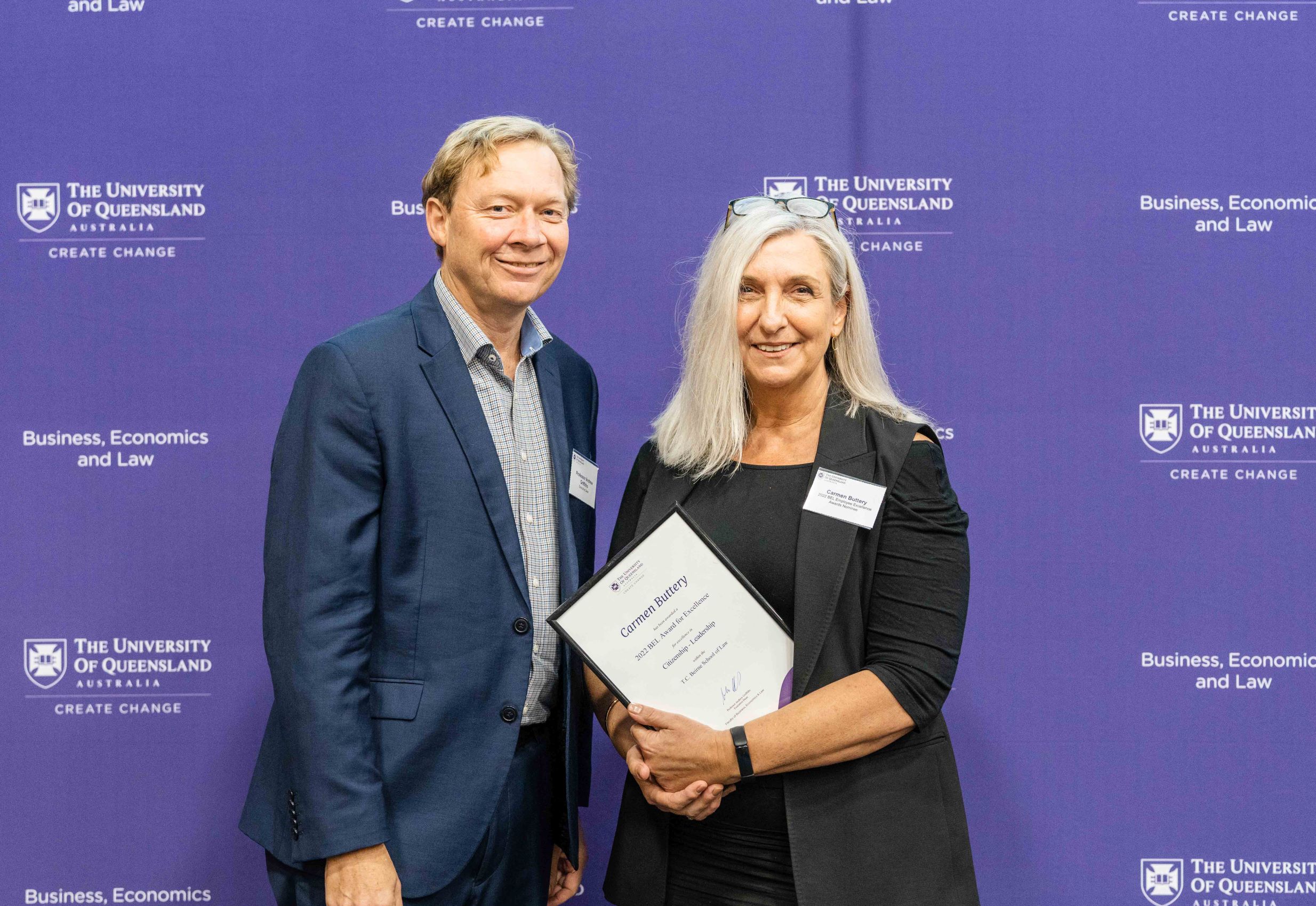 Award for Equity, Diversity & Inclusion
Winner (individual award): Dr Brydon Wang, Law School
Brydon has helped to raise the profile of UQ as champions and exemplars for diversity and inclusion. He has been involved in leading resilience and mental health discussions for the LGBT community, hosting former High Court Justice Michael Kirby to raise awareness of LGBT diversity and inclusion in the law profession, and he personally met with Prime Minister Anthony Albanese to advocate for greater parental support and affordable childcare for working parents and LGBT families.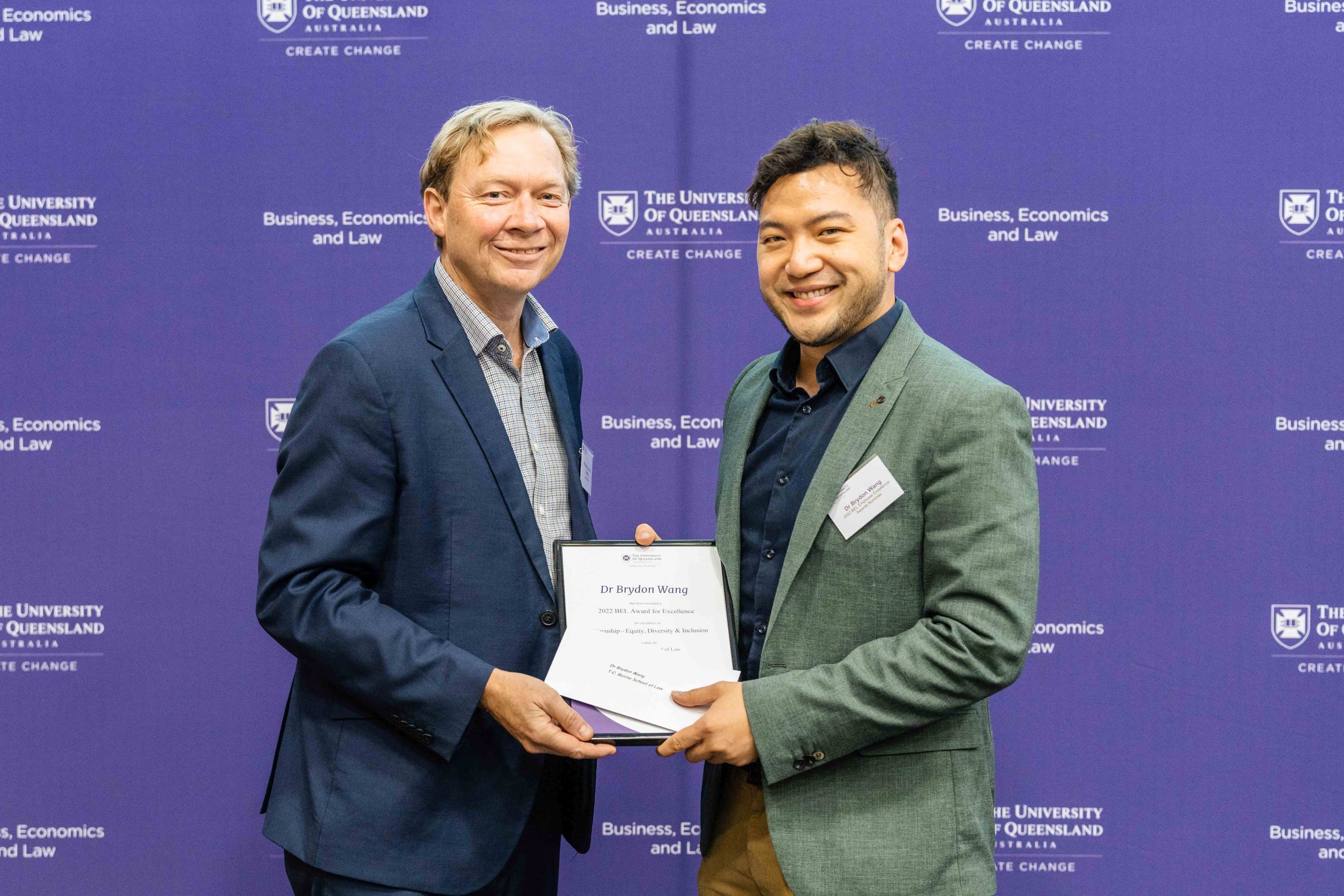 Winner (team award): BEL Faculty EDI Committee; and Professor Daniel Zizzo, School of Economics and Professor Rodney Strachan, School of Economics
The members of this Committee and Working Groups have contributed their time and effort in the endeavour of increasing awareness of equity, diversity and inclusion initiatives across the Faculty, through communication campaigns as well as coordinating and organising staff events. These efforts have reached many staff and positively impacted our EDI culture in BEL and the broader university.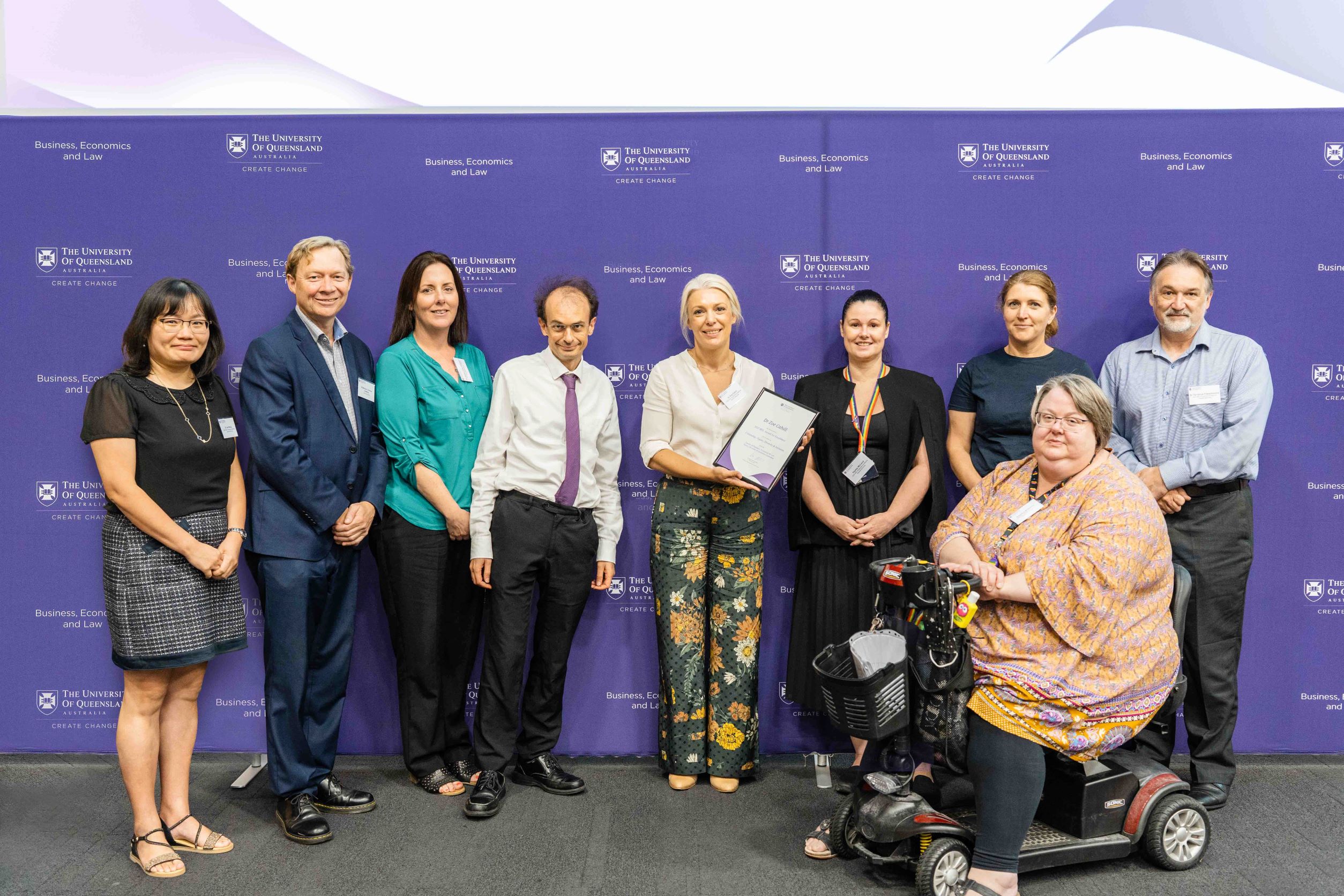 Award for Improving Workplace Culture
Winner: Professor Matthew Hornsey, Business School
Matthew has been described in his nominations as a colleague and Discipline Leader that dedicates abundant time to encouraging, stimulating, and facilitating the strengths of all members of the discipline, particularly providing support to early career scholars. He actively cultivates a collegial and supportive culture in the Business School, and listens to the needs and concerns of each individual team member and shares considered insights and individualised support in ways that feel nourishing.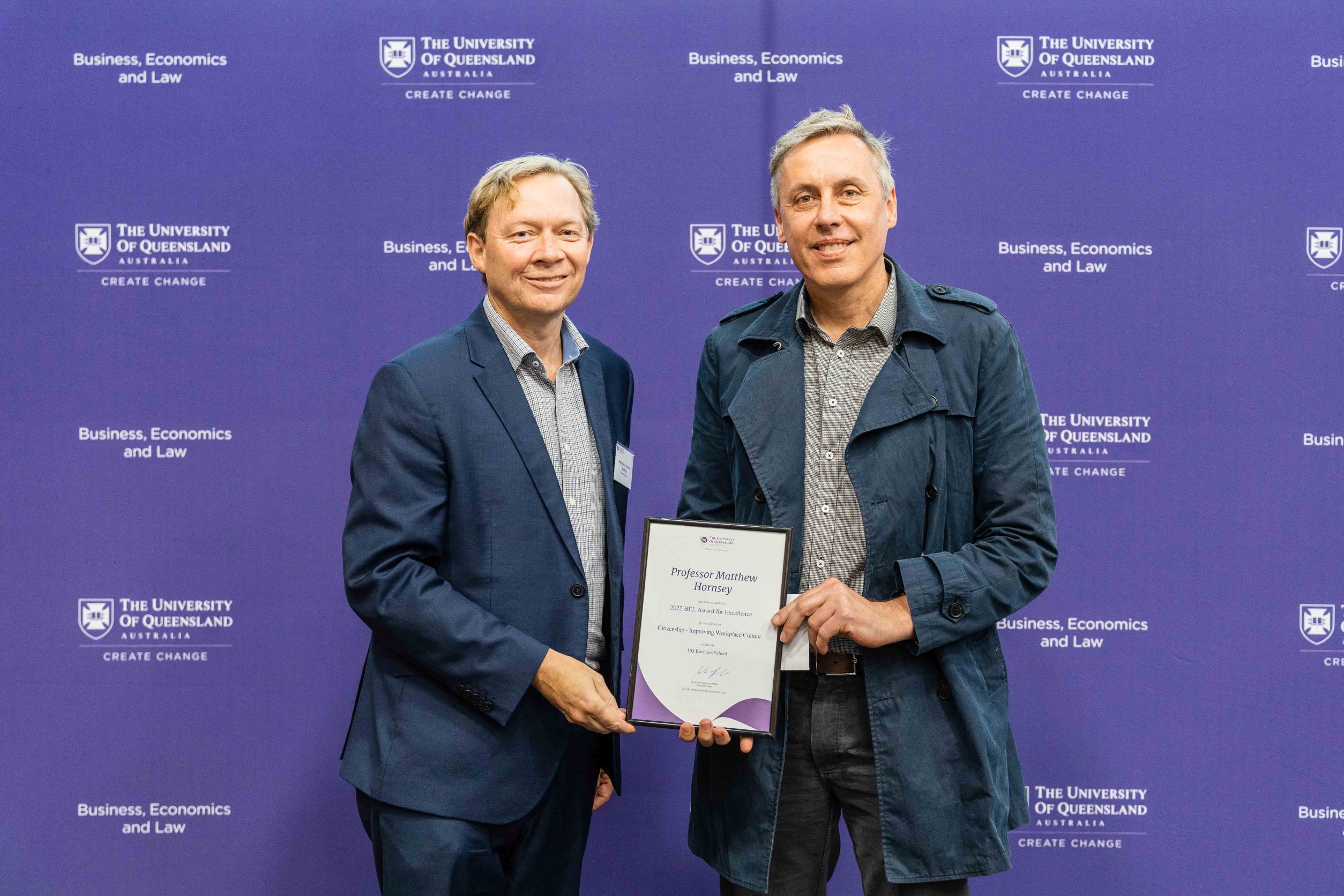 ---
2022 Awards for Excellence in Education
Award for Designing Student Learning
Winner: Dr Cassandra France, Business School
Cassandra's pursuit of excellence in education is evident in the major course improvement she undertook with the rapid shift to online learning. During COVID, Cassandra completely redeveloped her capstone course with new topics, all new mini lectures, all new resources and new assessment. In doing so, she has delivered exceptional learning experiences for her students.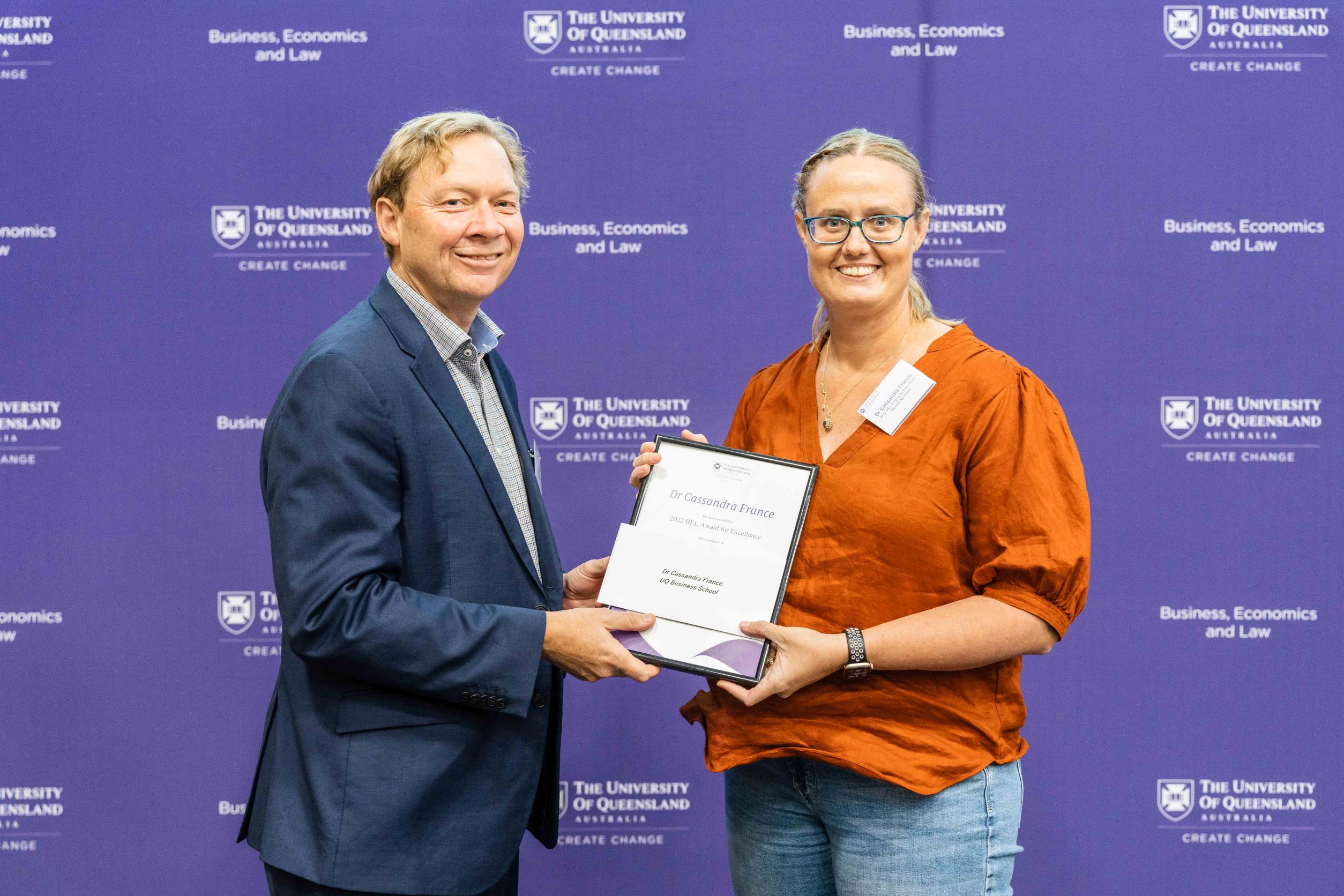 Award for Enhancing Employability
Winner: Dr Frederik von Briel, Business School
Frederik developed the innovative Faculty-level work-integrated-learning course "PBEL3000: Learning by doing in a disruptive world". The course fosters the employability of final year UG students, and has successfully improved the employability of students from across 10 programs and helped four industry partners with innovative solutions for their challenges.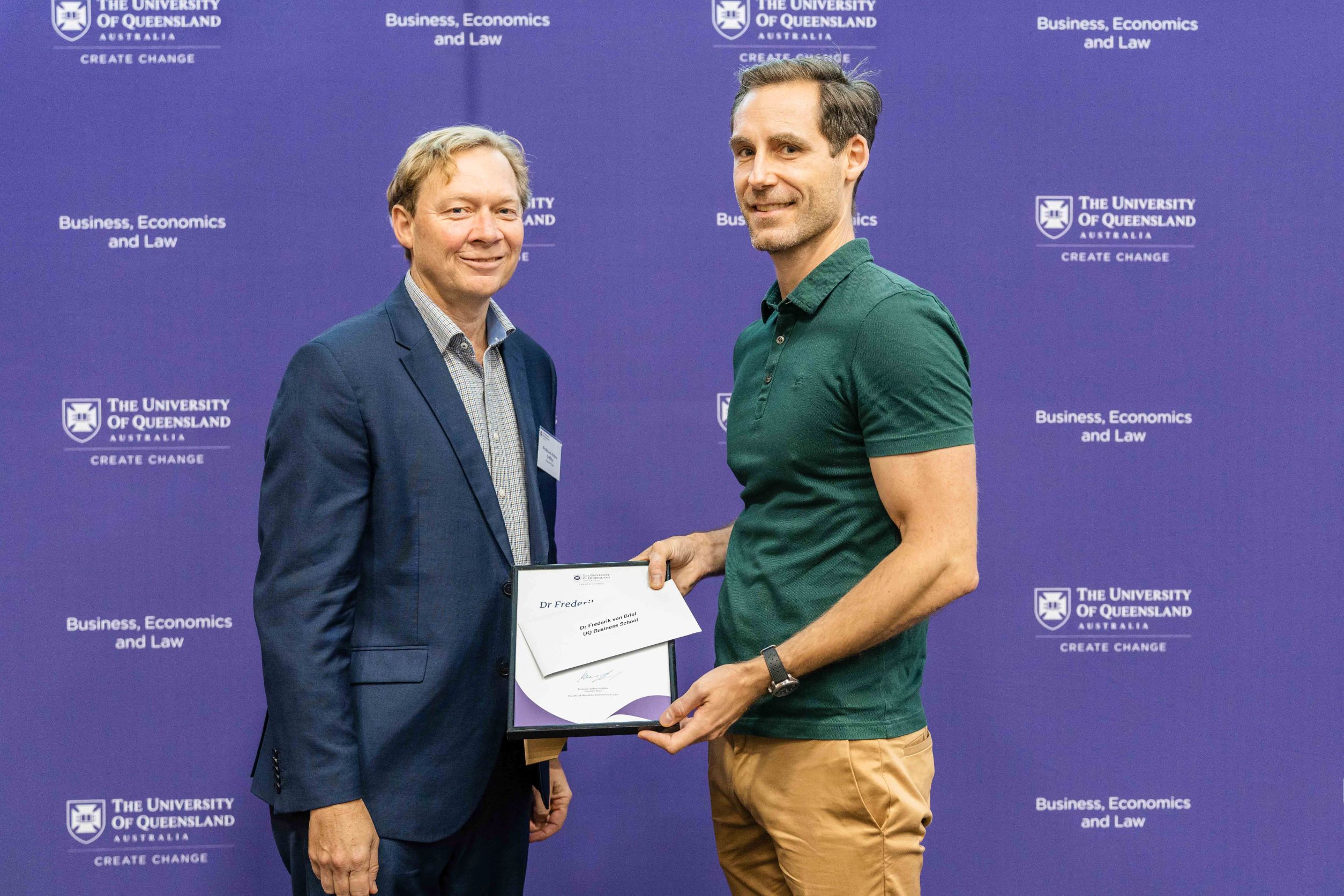 Winner: Associate Professor Sergeja Slapnicar, Business School
Sergeja has created an impressive accounting course for the BAFE program that is designed to enhance students' employability. Through partnership with UQ Ventures, the course requires students to develop a financial plan for student-led start-ups. The feedback from teaching evaluations have been outstanding, above 4.9, and UQ Ventures now consider this as an essential part of every start-up training.
Award for Leading Teaching
Winner: Dr Matt Peters, Business School
Matt has been able to draw on his industry experience to provide students with authentic learning experiences and assessment around complex real-world budget development. He has shown courage and creativity in developing materials for two new courses, learning from early classroom failures to now offer students a stimulating, collaborative and authentic learning experience.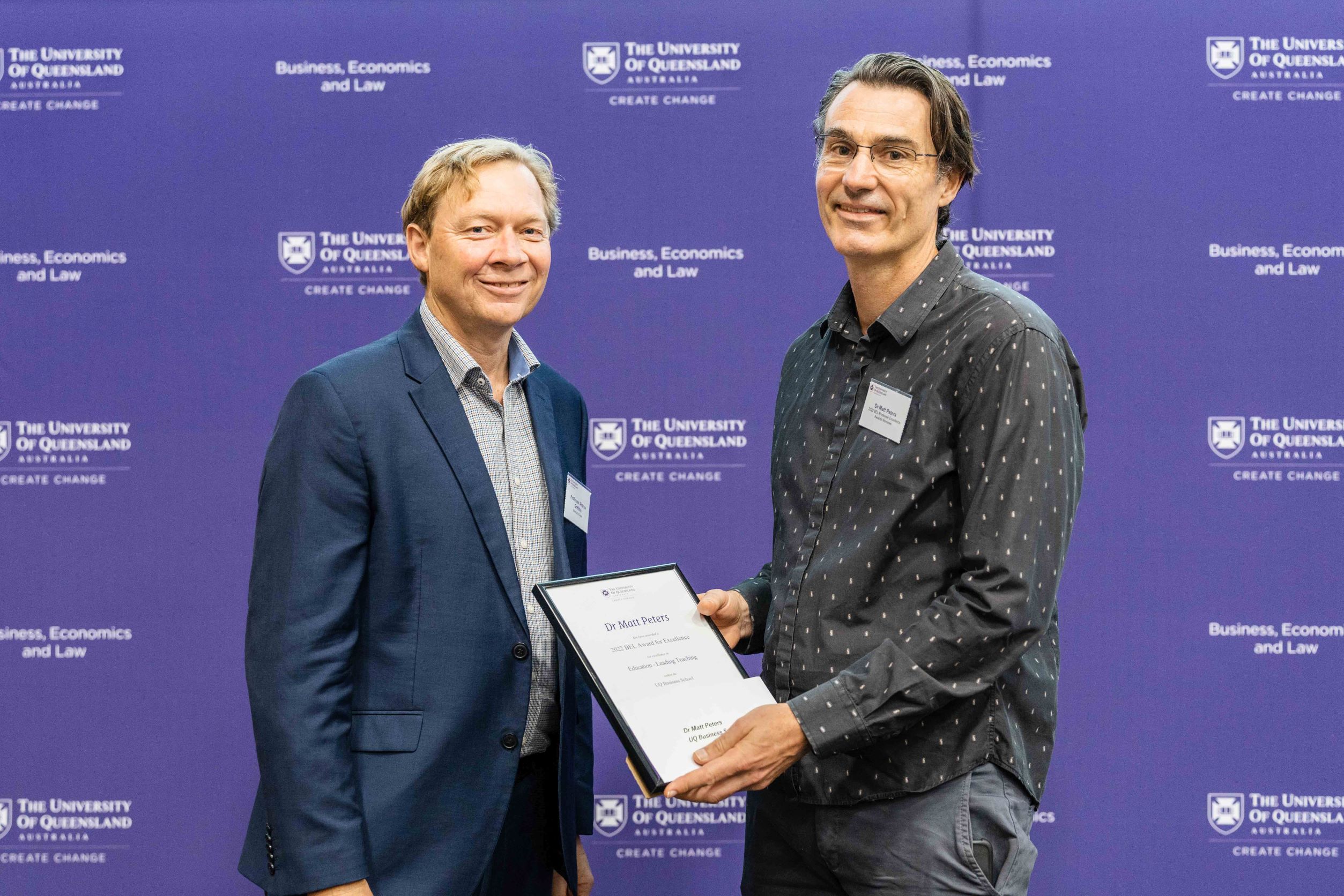 ---
2022 Awards for Excellence in Research
Award for HDR Supervision
Winner: Professor Peter Clarkson, Business School
Professor Peter Clarkson has been supervising HDR students for 24 years – a truly exceptional record within the Accounting discipline. In a quiet, unassuming manner, Peter embodies the UQ values of integrity, respect and inclusivity and striving for excellence in his supervisions. In the words of one of his former PhD students… "his contribution to the fabric of the quality of practitioners, researchers and academics is immeasurable and truly amazing."
Award for HDR Research
Winner: Rebecca Barber, Law School
Rebecca's PhD focuses on the powers of the UN General Assembly to prevent and respond to atrocity crimes. Her nomination for this award is based on her academic publications in leading international law journals and international law and policy forums, and presentations at international conferences. She is a three-time award winner for research excellence – one from UQ, as well as a national and international award.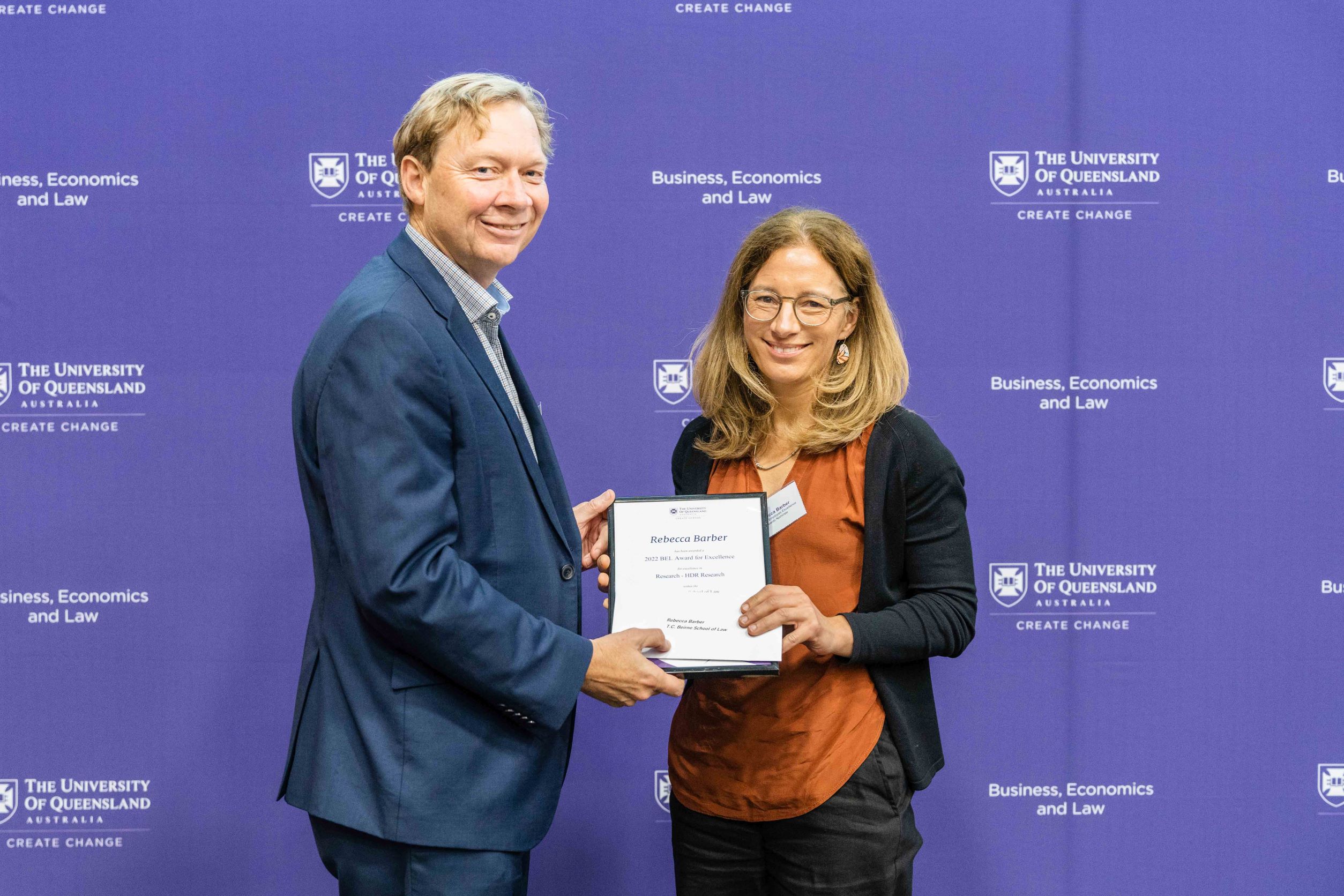 Winner: Michelle Tran, School of Economics
Michelle's PhD applies economics to answer policy-relevant questions. She has displayed outstanding research skills, evidenced by her quality publications in both traditional and non-traditional outlets. Her research has received praise from both academic audiences and non-academic groups, winning numerous prestigious awards and prizes. Michelle has also shown great commitment in research collaboration, partnering with researchers and industry partners in nationally and globally.
Award for Early Career Research
Winner: Dr Felix Septianto, Business School
Felix's research investigates the influence of emotions on consumer behaviour. His research contributions have been recognised with 5 research awards and 5 best paper awards, and the award of an ARC DECRA Fellowship. He has also collaborated with external organisations to develop advertising and marketing campaigns. He is an excellent researcher and valued colleague, and is well on his way to becoming an international leader in his field.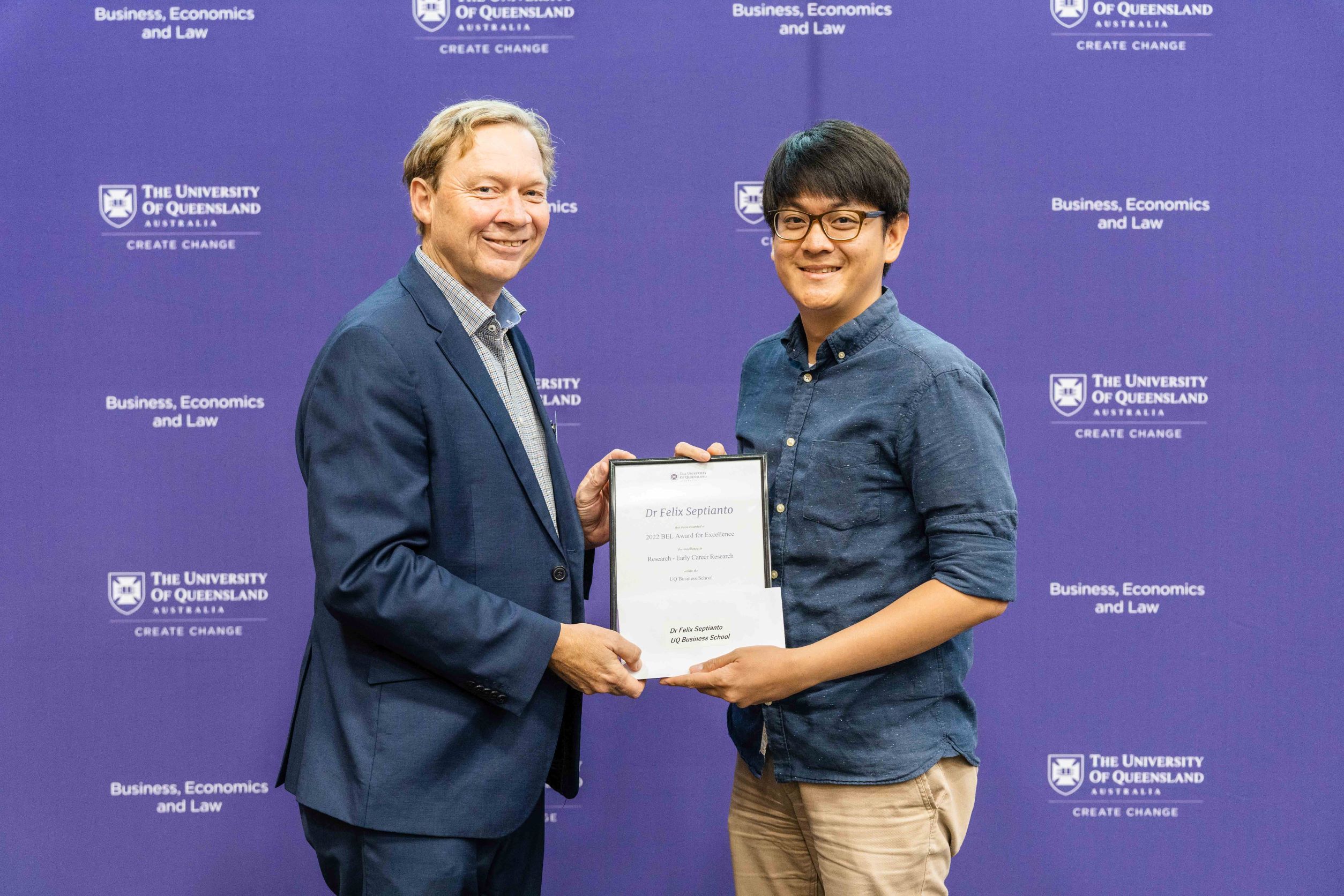 Award for Engagement and Impact
Winner (individual): Professor Alicia Rambaldi, School of Economics
Alicia has partnered with a multidisciplinary team spanning UQ's Science and Engineering Faculties and the Queensland Government to produce an integrated transport demand framework at the forefront of international research. The framework has been implemented as a prototype within the Government transport modelling architecture for the South-East QLD region, demonstrating its practical feasibility, measurable impact and academic excellence.
Winner (team): Dr Ida Asadi Someh, Dr Tapani Rinta-Kahila and Professor Marta Indulska from the Solving Wicked Problems Team, Business School
The team, led by Dr Ida Asadi Someh, have established a research program in partnership with SAP Institute for Digital Government to systematically investigate obstacles for value creation from AI and how they can be overcome. The research guides public sector leaders on how they can develop relevant AI capabilities, governance and leadership, work redesign approaches to mindfully integrate AI, transformation programs to up-skill the workforce, and create value for stakeholders.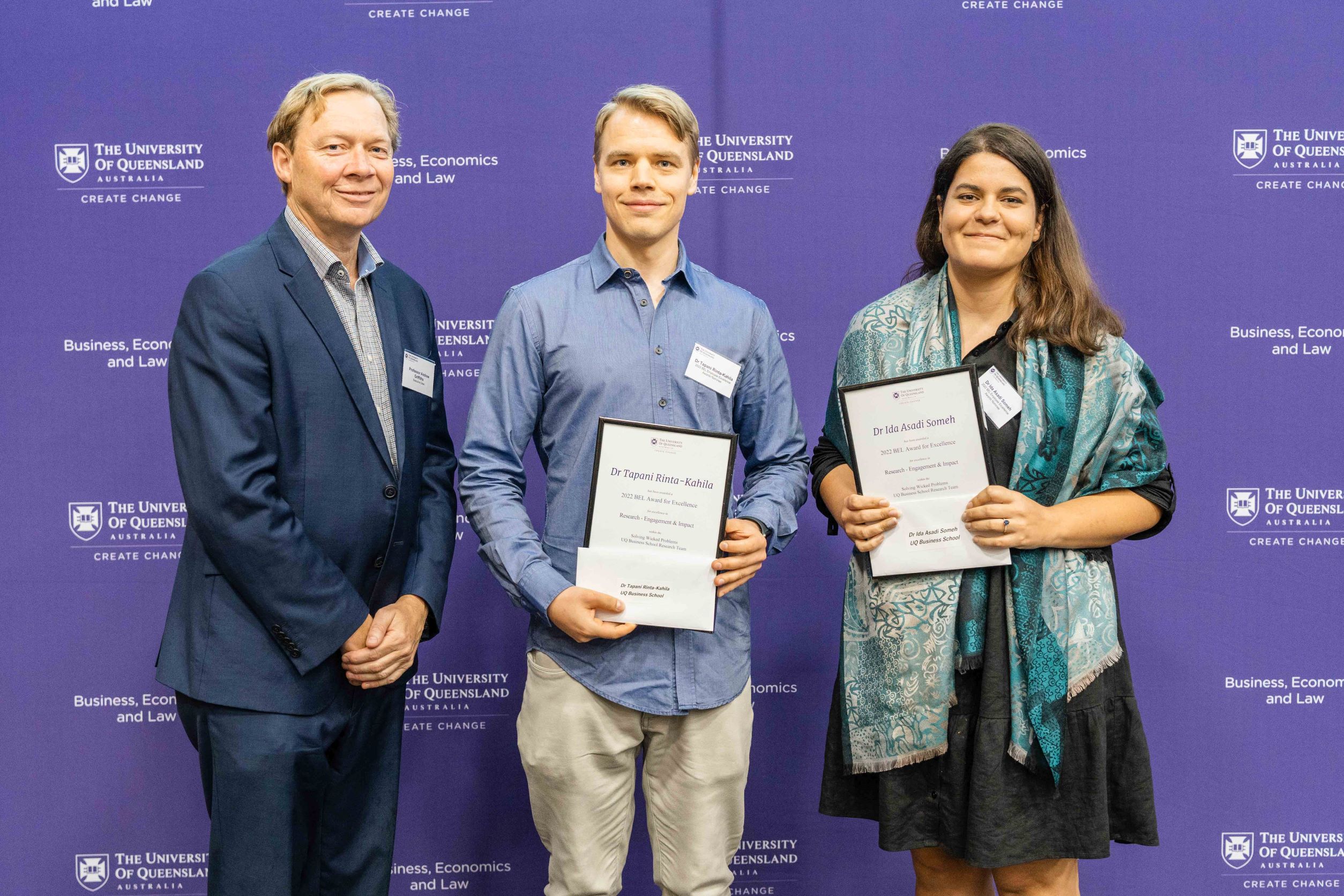 ---
Contact: BEL Communications, communications@bel.uq.edu.au