International Women's Day Series: Bronwyn Diffey
Our International Women's Day Series celebrates UQ business, economics and law professionals excelling in their careers.
Inspiring female leaders in business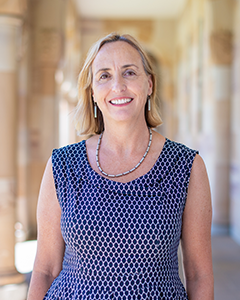 Bronwyn Diffey is the School General Manager at UQ Business School. She has more than 15 years' experience working as a senior manager in the higher education, government, corporate and not-for-profit sectors and is an advocate for improving health and education outcomes for all.
As the School General Manager Bronwyn takes a leadership role in the strategic and operational management of the School and contributes to the broader Faculty and UQ professional services operating environment. Bronwyn is responsible for overseeing the management of the professional staff, the School budget, operational plans and processes to ensure the School meets its academic research and teaching and learning outcomes and achieves impact for our students and industry, government and community partners.
3 words to describe you?
Positive, motivated, tall!
What do you love most about your job?
I love the people and the learning environment. I love new ideas, so having plenty at our fingertips is pretty exciting. I also love the diversity of my job. No day is ever the same, and I am lucky to work with amazing and driven academics and professional staff.
How do you define success?
Achieving goals that have been set for the organisation and seeing the impact (hopefully positive) for staff, students, industry and communities.
Why do you think education is so important in advancing a woman's career?
Education is important for everyone to pursue whatever goals they may have. Lifelong learning is important to continue to improve and develop new knowledge and skills to support your career at any point. Taking the time is worth it!
What do you think is the most significant barrier to female leadership?
Thinking you have to do it all! Be kinder to yourself, enjoy the different life stages and negotiate a good work-life balance. Women are still the main caregivers for children and family members, so they're required to balance these responsibilities to pursue leadership roles. Women also need to believe they can take on leadership roles and be confident in their own capabilities, to take a leap.
Who inspires you?
Smart, genuine and caring women - politicians, community advocates, leaders in their field, my colleagues and friends. So many great role models out there!
What's been the biggest 'pinch me' moment of your career?
Doing a halftime interview, shown on the big screens at AAMI Stadium in Melbourne, in front of 50,000 A-League fans to promote the work of the children's aid and development organisation I was working for at the time. I didn't think I would have the confidence, but I faked it and made it!
What are your tips for other women hoping to excel in their career?
Take risks and back yourself to do something outside your comfort zone so you develop new skills and build confidence.
---
View more inspiring stories from female-identifying UQ staff working in the Faculty of Business, Economics and Law.