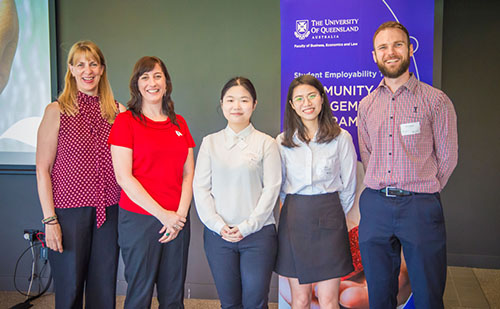 Findings from a University of Queensland student project have inspired YMCA Brisbane to explore an innovative new funding model for its community programs.
Over three months, five savvy Faculty of Business, Economics and Law (BEL) students researched the potential of the social impact investment landscape for YMCA Social Impact, the charitable arm of YMCA Brisbane.
Their project was the overall winner of last semester's Community Engagement Program (CEP), a BEL Student Employability Team initiative that gives students practical experience working with not-for-profit and community groups.
According to YMCA SI's Impact and Innovation Coordinator Dr Rebecca Duell, social impact investment is an emerging approach to funding important social causes.  
"The not-for-profit sector is a competitive funding environment, and we are always looking out for new ways to access funding and expand the work we do for disadvantaged people in our community," Dr Duell said.
"Under this model, government, private companies or financial institutions can invest in organisations like ours that offer both a financial return and a positive social impact." 
Dr Duell said the students' final report and recommendations – currently with the YMCA Brisbane board for review – gave her team valuable insight into the opportunities and risks of social impact investment.
"Working with the CEP students was a great way to help us get this project off the ground," she said.
"They added value to our work by lending us their diverse skills and expertise, especially in an area where we wanted to stretch our operation but didn't have the time or resources.
"Their work was of an exceptionally high standard, and we were really impressed with the breadth of their research and the depth of their recommendations.
"What I like about CEP is that it's a mutually beneficial arrangement.
"We benefit hugely from the students' output, and they get an insight into how a not-for-profit operates, and learn about the challenges we face and the innovative ways we're doing business."
Dr Duell said the YMCA Brisbane had already started to investigate some of the team's recommendations, including accessing the Australian Government's Readiness Fund and engaging with private ancillary funds.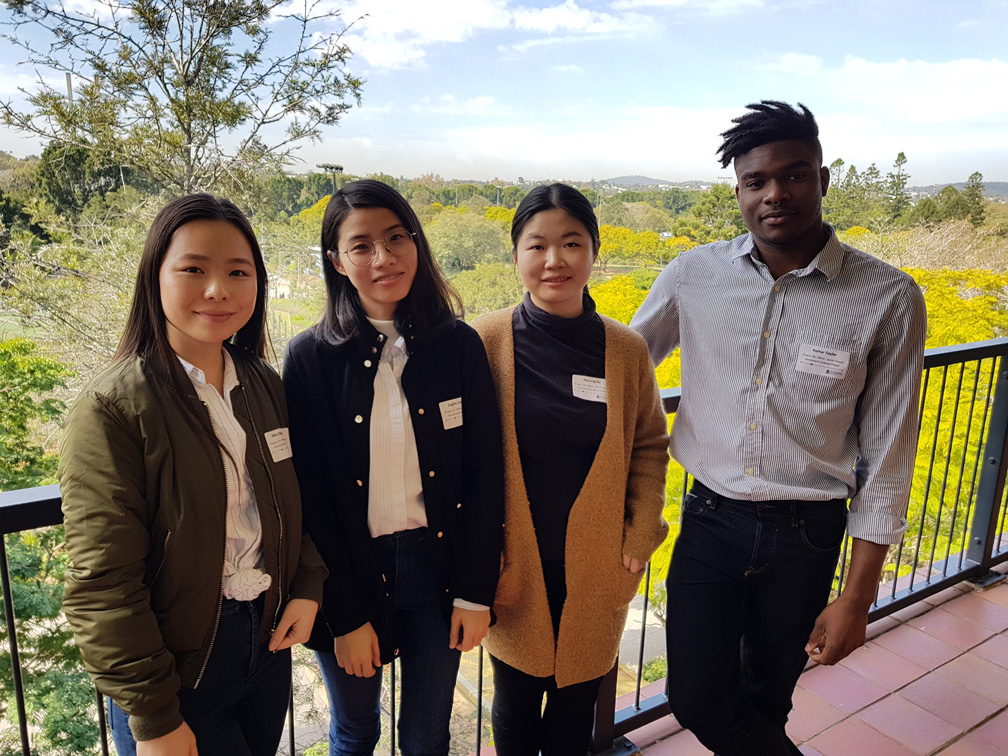 Team leader and fifth-year Bachelor of Commerce/Bachelor of Laws (Honours) student Maggie Cai said she was thrilled to be part of such a rewarding project.
"I didn't go into the CEP with the intention of winning; it was more about my passion to help other people in the community and work on real projects," Ms Cai said.
"Overall, it was a great experience. I had an incredible, supportive team, and it was brilliant working with Rebecca and Ben from the YMCA.
"They were very open to our ideas and recommendations.
"Career-wise, CEP has helped me develop my leadership, teamwork and collaboration skills. My experience has also helped prepare me for interviews and future work opportunities."
103 students completed 21 projects for 16 organisations during last semester's CEP.
In addition to the overall team award given to Ms Cai and her team members Janet He, Catherine Hu, Jacob Li and Kemar Taylor, CEP highly commended team awards went to project teams partnered with Bayside Respite Care, Gliding Queensland and Ipswich Housing Support Services Incorporated.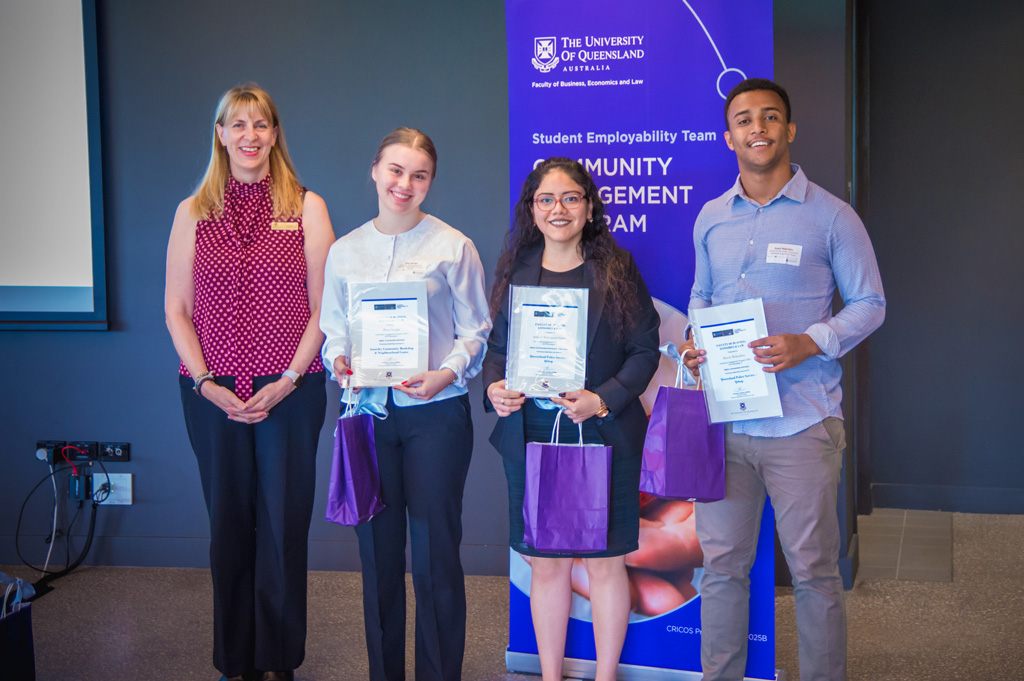 Ms Cai also received the overall individual achievement award for her stellar work as team leader, while four other students who worked with Annerley Community Bookshop and Neighbourhood Centre, Queensland Police Service – Qshop and Royal Flying Doctor Service – Queensland received highly commended individual awards.
BEL SET Employability Specialist and CEP Coordinator Carlene Kirvan said she was delighted with last semester's CEP outcomes, particularly those of the winning team.
"I'm very happy that this team was able to deliver some quality recommendations to one of our long-standing CEP clients," Ms Kirvan said.
"Congratulations to all of our CEP students on another fantastic semester." 
Read more about the mutual benefits of the Community Engagement Program.
View the CEP Semester 2, 2018 celebration photo gallery below. 
Media: Alysha Hilevuo, media@bel.uq.edu.au, +61 7 3346 9349.