Work experience is a crucial step for starting your career in law. Whether you want to be a solicitor, barrister, judge, or any other legal professional, building your industry experience while studying will help you explore different career pathways, confirm if your chosen career path is right for you, and provide you with a competitive edge when applying for graduate jobs.
Bachelor of Laws (Honours) and Arts student Stephanie Grob is in her second year of study at The University of Queensland (UQ).
One of her career goals is to combine her law degree with her interest in human rights. 
"I'm very passionate about dedicating my career to helping those in need – whoever they may be," Stephanie said.
"My goal is to follow a career path where I can defend vulnerable people and communities from breaches of their basic human rights." 
As part of the BEL Student Work Experience Program (SWEP), Stephanie completed a four-week placement in Queensland Health's Legal Branch, where she worked on subpoena requests, research tasks, and briefing notes for recent court decisions.
Impressing her supervisors, Stephanie was offered part-time employment as a paralegal after completing her placement. 
What is the BEL Student Work Experience Program?  
The BEL Student Work Experience Program (SWEP) is a BEL Careers and Employability extra-curricular program designed to complement your studies and help you develop your employability.
Run each semester, SWEP provides you with an opportunity to: 
participate in a recruitment process, like those used by many mid- and top-tier firms

undertake a four-week placement sourced and facilitated by BEL Careers and Employability. 
Why apply for SWEP? 
SWEP is designed to help students practise and prepare for real-life recruitment processes and job applications.
The experience gained from the SWEP recruitment process and the placement gives law students a huge advantage when it comes to clerkships and future employment opportunities.  
"I heard about SWEP through a friend and thought it was unique because not only did it offer the chance for work experience, but the entire program simulated the job application process based on those used in many law firms," Stephanie said. 
What can you learn through the SWEP recruitment process? 
The SWEP recruitment process includes a series of practice job application tasks to be completed throughout the semester.  
Stephanie said she learned how to create an effective resume, write a compelling cover letter, and present herself well in an interview. She was also given individual feedback at the end of the process, which pinpointed her strengths and areas for improvement.
"The most significant lesson I learned was the importance of being yourself in any recruitment process," Stephanie said.
"It can be easy to overthink how others may perceive you in a high-pressure environment such as a job interview, but I learned that one of the biggest things recruiters look for is authenticity.
"It's important to be genuine, especially when being asked more personal questions about your goals and interests." 
What opportunities are available during your SWEP placement?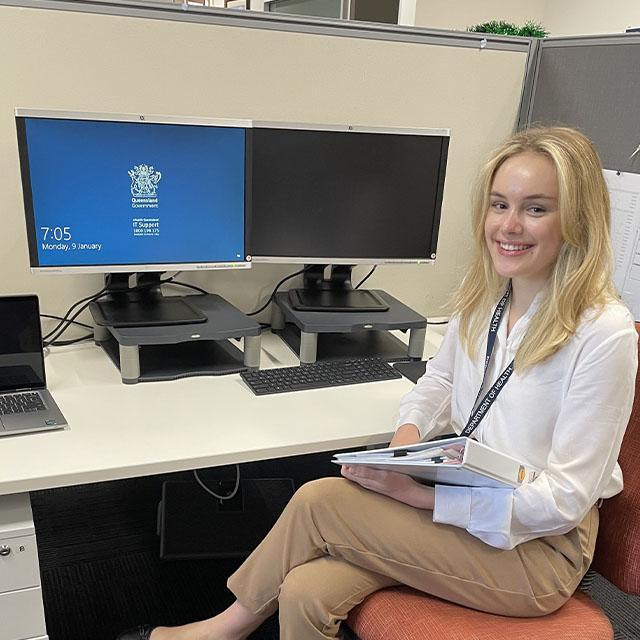 During her work experience at Queensland Health, Stephanie shadowed a Senior Principal Lawyer and gained insights into their approach to providing legal advice for different cases. 
"It was very interesting to observe the day-to-day activities and interactions that occur in an environment of lawyers, which has been helpful in contextualising the type of work I hope to do in my career," Stephanie said.  
"I think the most valuable part of the experience was the conversations I had with various lawyers. It was great to ask about their roles and discuss the various career paths they had taken to get to where they are today. The opportunity to have these conversations and ask for advice was extremely valuable."  
What are the benefits of SWEP? 
A SWEP placement gives you a taste of working life and an applied understanding of what you've learned in the classroom.  
"To actually witness and apply the concepts I had learned about in my courses was thoroughly rewarding," Stephanie said.
"The key benefit of undertaking work experience while studying has been the opportunity to view the legal field through a different lens."
Stephanie said she also got to immerse herself in various niche areas of law to which she's not been previously exposed.
"While I'm still exploring the exact career path I want to pursue, this work experience has inspired me to look into health law – a speciality I might explore and study later in my degree," she said. 
Apply for SWEP
Semester 2, 2023 SWEP applications are now open. Find out more about program and apply today. Applications close on Sunday, 13 August.